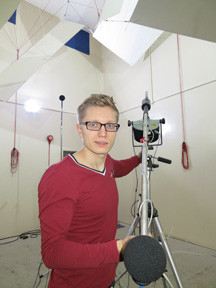 Member Name:
Arthur Marker
Location:
Southampton, United Kingdom
Education:
MSc in Engineering Acoustics from the Institute of Sound and Vibration Research (ISVR), University of Southampton
Occupation:
Arthur is a PhD student at the ISVR, University of Southampton, in the UK.
Member Status:
Audio has been Arthur's main field of interest for many years. However, he said it can be challenging to keep up with current developments. He has found that audioXpress helps him get informed about the latest audio news as well as be aware of future trends.
Audio Organization Affiliations:
He is a member of the Audio Engineering Society (AES), the Acoustical Society of America (ASA), the Institute of Acoustics (IOA), the Young Acousticians Network (YAN) of the European Acoustics Association (EAA), and the Engineering Integrity Society (EIS).
Audio Interests:
Arthur said he is interested in electroacoustics, digital signal processing (DSP), echo cancellation (EC), and compensation strategies.
Most Recent Audio Purchase:
His most recent purchase was an external asynchronous DAC, based on an ESS chip.
Current Audio Projects:
Arthur's recent projects involve Acoustic Echo Cancellation (AEC) and a study of nonlinearities in microspeakers.
Dream System:
Arthur was very specific when describing his dream system. He said it would include Sonus Faber Aida loudspeakers, Dan D'Agostino Momentum pre- and power amplifiers, a Denon DP-100 turntable with a Lyra Connoisseur 4-2P SE phono preamplifier, and a Naim NDS network player.