Audio-Technica introduced the ATH-R70x Professional Open-Back Reference Headphones at the 2015 National Association of Music Merchants (NAMM) Show. The ATH-R70x is Audio-Technica's first professional open-back reference headphone, joining the new ATH-M70x in A-T's flagship professional headphone lineup.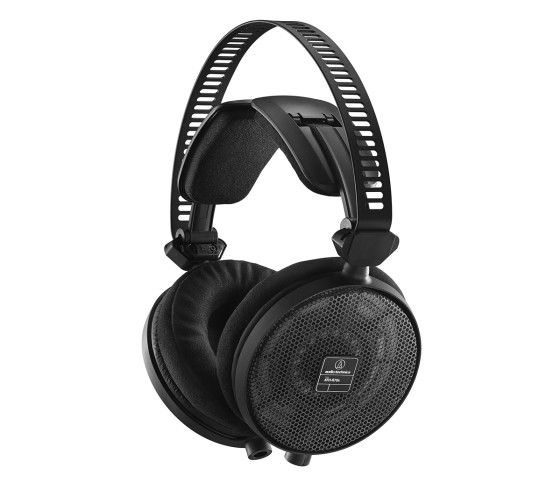 Featuring Audio-Technica's comfortable, self-adjusting 3-D Wing Support Headband Design that adapts to automatically fit any wearer with no need for adjustment, the R70x also has breathable fabric ear-pads, providing prolonged comfort for continuous use in professional environments. The company says the proprietary 45-mm driver unit, specially designed for the R70x, is the culmination of more than 40 years of headphone design and manufacturing experience.
The ATH-R70x employs high-efficiency magnets and a pure alloy magnetic circuit design, reducing distortion and ensuring accurate and extended high frequency response. Use of its carbon composite resin improves structural rigidity to provide detailed transient response. The headphones' acoustically transparent aluminum honeycomb mesh housing provides a natural and spacious open-back sound.
The ATH-R70x's feather-light weight (approx. 210 g w/o cable), 1,000 mW of maximum input power with a sensitivity of 98 dB at 1 kHz and 470-Ω impedance, combined with robust construction, is perfectly suited for professional use. It also features a unique dual-sided detachable locking cable that is L/R signal-independent, always ensuring proper stereo orientation.
The ATH-R70x will ship in March 2015 with a U.S. MSRP of $489.00.
New Flagship ATH-M70x
Previously announced by Audio-technica, the new premium ATH-M70x Professional Monitor Headphones where lanched at the 2015 NAMM Show, expanding A-T's acclaimed M-Series line of headphones.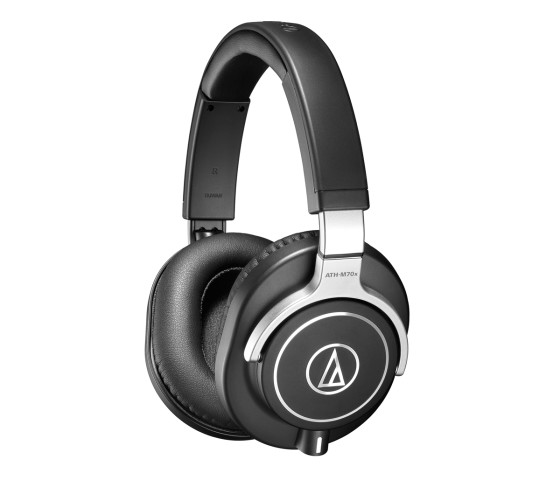 Designed specifically to bring out added detail in the mix, the ATH-M70x professional monitor headphones feature proprietary 45-mm large-aperture drivers with rare earth magnets and copper-clad aluminum wire voice coils and are tuned to accurately reproduce extreme low and high frequencies (5 to 40,000 Hz) while maintaining perfect balance. Featuring rugged, metal design, they are ideal for studio mixing and tracking, FOH, DJ use, personal listening, mastering, post production and audio forensics.
Crafted for lasting durability with a collapsible, space-saving design, the headphones are equipped with 90° swiveling earcups for easy, one-ear monitoring. Maximum power input is 2,000 mW, meaning very low distortion at even high volumes while the sensitivity is 97 dB, with 35-Ω impedance. Professional-grade earpads and headband provide excellent durability and comfort, and detach for easy replacement. The headphones' circumaural design contours around the ears for excellent sound isolation in loud environments. They come standard with three interchangeable cables (1.2-to-3-m coiled cable, 3-m straight cable and 1.2-m straight cable) and a hard carrying case.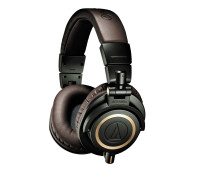 ATH-M50xDG Limited-Edition Dark Green Model
Audio-Technica also unveiled the ATH-M50xDG Professional Monitor Headphones, a limited-edition dark green iteration of A-T's popular ATH-M50x and part of A-T's remastered M-Series line of headphones, now with detachable cables (includes a 1.2-to-3-m coiled cable, 3-m straight cable and 1.2-m straight cable).
Audio-Technica's new limited edition ATH-M50xDG will be available in March 2015 at $259 MSRP.
www.audio-technica.com