VUE Audiotechnik will unveil new Dante network support for its digital DSP-enabled systems at InfoComm 2015 (Booth #573). Planned for both the h-Class family of Ultra-High Definition Speaker Systems and V Series DSP/Amplifier Systems Engines, the update is set to officially ship in September 2015 and will be incorporated within all future products. Upgrades will be available for owners of existing systems.
Dante network support is just the latest in a series of impressive announcements from VUE Audiotechnik, the company founded in 2012 by pro audio veterans Ken Berger, Jim Sides and Michael Adams. Based in San Diego (Escondido), VUE Audiotechnik is positively storming the live sound and sound reinforcement industry with a series of loudspeaker products using the most advanced technologies and manufacturing techniques, supported by a fast-growing organization and worldwide distribution network.
As VUE's CEO Ken Berger explains, "We took a "No Compromises" design philosophy. We literally reexamined everything, from transducers, electronics, and DSP, all the way to mechanical deployment and remote management capabilities. It's a comprehensive approach that can only be done when you start with a clean slate, and leverage the most advanced technologies available."
Recognizing from the start that audio networking is essential to the future of sound systems, the team at VUE Audiotechnik included Ethernet in both product lines to accommodate control, with the expectation that future expansion would include Dante audio networking. With the recent unveiling of the Dante Ultimo chip, a cost-effective but feature-rich Dante solution for low channel-count applications, all VUE DSP systems can now include the functionality at a competitive price point. Like every Dante product, the Ultimo allows the VUE h-class and V Series systems to operate in any Dante environment, with routing of audio streams for each individual Dante-enabled product.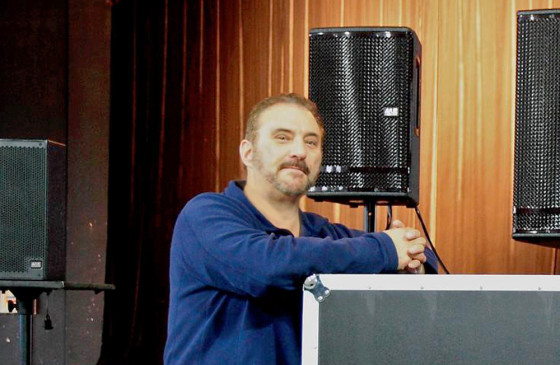 "We'd been waiting for a cost-effective solution for audio-over-Ethernet, and Dante has clearly become the industry standard for audio networking." says Ken Berger, CEO of VUE Audiotechnik. "The Dante Ultimo chipset allows us to include full network functionality at a reasonable cost for our customers. Now that it's here, we're updating our DSP products to include the technology."   
"We are pleased to be working with VUE Audiotechnik who, with their new line of Dante enabled products, is driving innovation to facilitate AV/IT convergence," adds Lee Ellison, CEO of Audinate. "Distributing audio-over-IP not only improves audio quality, but enhances the flexibility of the sound system."
Released earlier this year, the Dante Ultimo chip is the perfect solution for speaker products, which require only a single or pair of input streams. Providing the full Dante input capabilities, the Ultimo allows VUE to be a complete Dante network client, enabling the company's products to go into environments where there is already Dante infrastructure in place, such as theme parks and stadiums.  
"We look forward to designing systems with our partners that can take advantage of the full capabilities of a networked environment" Berger adds. "We designed these products as a direct response to requests from customers on large-scale projects who were looking for an audio-over-Ethernet solution. So, it was something we always intended to do. Now that it's possible, we're rolling it out. As far as we know, the h-Class is the first of any speaker in its class to have Dante on-board as standard."  
The Dante upgraded h-Class, which includes the h-Class full range and subwoofer systems, will begin shipping in September at no additional cost. Upgrade solutions for existing h-Class systems will also be available at that time. The V Series V4 and V6 with on-board Dante capabilities will follow suit by the end of 2015.
New VUE Audiotechnik products
This year, VUE Audiotechnik did a series of new product announcements which clearly show the company's ambitions. The flagship h-Class family of high-definition, full-range loudspeakers was expanded with the ultra-compact h-5, delivering the same sound quality and versatility of the larger h-8, h-12 and h-15 systems in a compact and versatile design, ideal for under-balcony applications and hard-to-reach areas. With an exceptional output to size ratio, the h-5 is also ideal for installation applications where space is at a premium.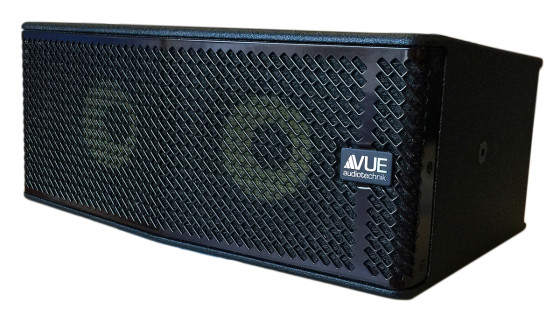 The h-5 combines two precision-engineered, 5-inch low-frequency transducers with a 1-inch exit compression driver that features a Truextent beryllium diaphragm at its core. Beryllium technology allows the compression driver to deliver dramatic improvements in high-frequency extension and response linearity that simply cannot be matched by traditional aluminum or titanium designs. The beryllium compression driver is mounted to a new, Mike Adams-designed, precision horn with very wide 120° x 40° (H x V) coverage.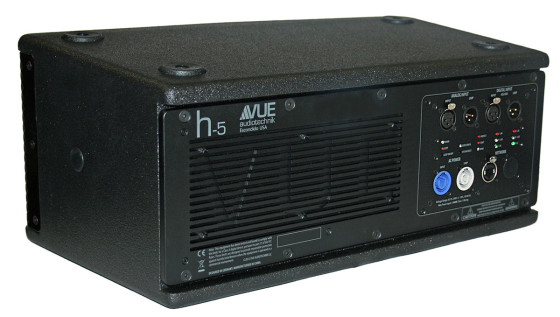 From there, powerful onboard electronics, including the same 64-bit digital processor found in the h-12 and h-15 systems, provide highly sophisticated networking capabilities and next-generation DSP that's programmed to address every individual element within the h-5's ecosystem. The powerful processor handles EQ, time alignment, crossover management, and speaker protection, as well as SystemVUE network control and monitoring functions.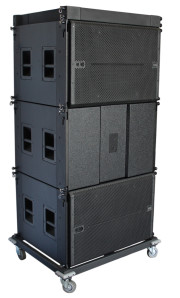 Dual channel, high efficiency amplifiers deliver ample power for both transducers while eliminating the need for noisy cooling fans. A lightweight, fully protected, switch-mode power supply with auto voltage detection provides hassle-free worldwide operation with universal mains operation from 85V to 260V. 
Another recent expansion to its high-definition line array systems includes the al-8-SB Flyable Subwoofer. Designed for seamless integration with the al-8 Line Array System to expand low-frequency reproduction down below 35 Hz, the compact and easily flyable package features rigging options for suspension above or behind al-8 arrays in a variety of configurations in addition to forming the base for ground stack arrays. 
The al-8SB consists of a W-18 neodymium version of the C18 woofer found in the VUE hs-28 Dual 18-inch ACM Subwoofer, housed in an enclosure that is exactly the height of two al-8 dual 8 inch three-way line array elements. This provides visual symmetry between flown arrays of al-8s and al-8sb subwoofers, as well optimal enclosure volume for the woofer. Its 18-inch, long-throw transducer employs a 4-inch voice coil and dual spider for minimal power compression.
www.vueaudio.com