Keeping up with its tradition of combining market research intelligence with insightful industry events, Futuresource Consulting announced the return of its highly successful event dedicated to audio trends, to be hosted at the Ham Yard Hotel in London, November 9, 2017. Audio Collaborative 2017 brings together key industry influencers to discuss the services, hardware and content plays that will shape the future audio landscape.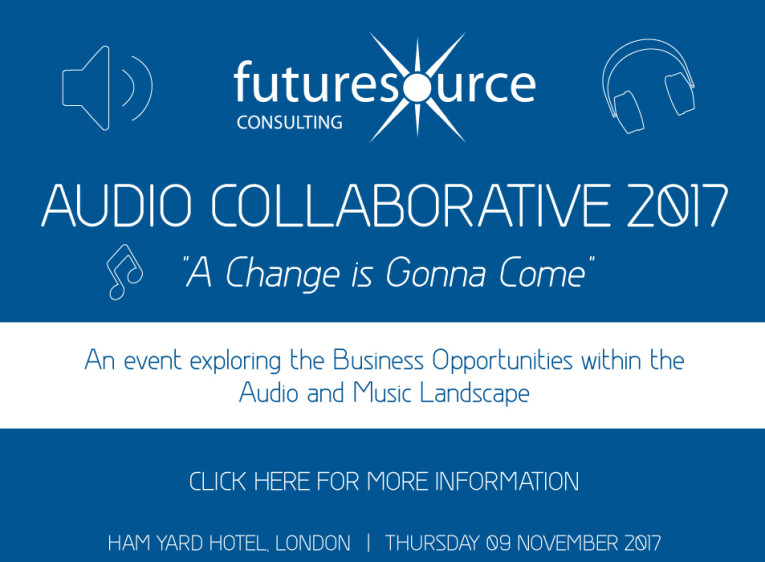 Industry leaders and Futuresource analysts will be addressing a number of key topics such as:
- Voice's Impact on Entertainment Discovery, Experience and Consumer Choices
- VPA Ecosystem Battle Hots Up - What's the Key to Success?
- Voice Integration and Product Convergence, from Set-Top Boxes to Mirrors - Audio's Role in the Smart Home
- What's Next for Music Streaming?
- The World of Luxury Audio - High-end Trends, Players and Consumers
- Immersive Audio Experiences - In the Home, On the Move, In-Car - 360, VR & AR
- Fast and Furious - The Rate of Change of In-Car Entertainment
- Digital First - The Expanding Influence of Social Media Platforms
- Futuresource Insight Presentation - Key Market and Tech Trends in Headphones - What to Watch out for in 2018 and Beyond
- Futuresource Insight Presentation - The Changing Channels for Audio Distribution
Packed full of energizing keynotes, best-in-class presentations and panels, Audio Collaborative also includes Futuresource market insight presentations, providing strategic analysis of the current landscape and the key challenges and opportunities for the years ahead. The London event is also a great opportunity to meet, connect with and learn from industry leaders, entrepreneurs and those driving innovation.
Where - The Ham Yard Hotel, London, UK
When - Afternoon of Thursday 9th November 2017
How Much? - Early Bird Rate: £89 per ticket (excl. VAT) (Early Bird Ends on the 22nd Sept 2017) - Price includes complimentary drinks and canapés at the post event networking session.
Book your place now! Use the code:
AudiocollaborativeAExpress10
to get 10% off the ticket price.
https://futuresource-consulting.com/Futuresource-Event-Audio-Collaborative-2017.html