With new consoles recently introduced - and apparently more orders being placed than production is able to deliver - British mixing console specialist DiGiCo decided to use Prolight+Sound 2017 to reinforce its existing portfolio with new important options. The most important was the launch of a newly designed 32-bit 'John Stadius' Mic Pre-Amp, which the company says will beat any existing alternatives in the market in sound-quality. There's also a new DiGiCo and Waves method of integration and a new iPad remote control app…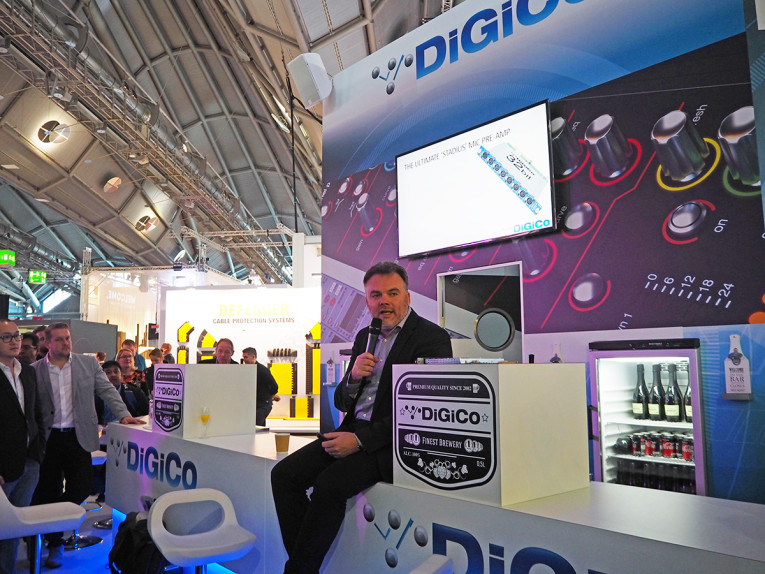 DiGiCo has been
in fast-growth mode
for the last two years with the expansion of its complete SD and S Series range with new firmware and new hardware upgrades, the launch of the spectacular SD7 Quantum 7 Stealth Core 2 upgrade, followed by the introduction of the S21 and S31 consoles and the recent worldwide launch of the new SD12, affordable, multi-application digital console at NAMM 2017. But there's more…
As DiGiCo reminded the industry at the opening of another edition of Prolight+Sound, twenty years ago, converters changed from 16 or 18-bit to a new, improved resolution of 24-bit. This additional 8 bits of converter resolution was instantly audible and created a demand for 24-bit quality, first in the studio and progressively also in live sound applications, as digital technology started to become the standard.
At the 2017 Frankfurt show, DiGiCo showed - and, more importantly, allow attendees the opportunity to hear - a newly designed 32-bit 'John Stadius' Mic Pre-Amp for the first time. John and his team have been designing pre-amplifiers for over 40 years. Now, this new improvement in converter technology has allowed them to develop a preamp with audio qualities that they have long aspired to achieve.

The specifications of the 32-bit SD Mic Pre-Amp Card detail a fully differential audio path from input to converter with twin 32-bit ADC conversion per channel, extremely fast conversion times of just 73uS, a dynamic range of 123dBA and low noise 128dB EIN, with a <0.002% THD+N from 20-22kHz and class leading frequency response, from 20-44.5kHz ±0.1dB. According to DiGiCo this allows for open and clear audio reproduction with a 12dB harmonic weighting improvement. Very important for such specs is the d
edicated analogue, ultra-low noise linear power supplies, including +48V phantom power, using o
nly one phantom power blocking, capacitor in the audio path, Gold Nichicon "MUSE" acoustic series and fully shielded analogue stages.
DiGiCo provided a listening comparison between the new mic preamp and two of the leading competitors currently available, showing significant audible improvements and transparency.
New DiGiCo and Waves integration
Also new for Prolight+Sound 2017, DiGiCo and Waves announced a new method of integration that will allow users to maximize the potential for additional new features on both the Waves and DiGiCo SD mixing platforms. DiGiCo SD consoles will be able to integrate with a Waves Multirack system, which is running on an external PC, while maintaining the high level of integration both companies' clients have come to rely on.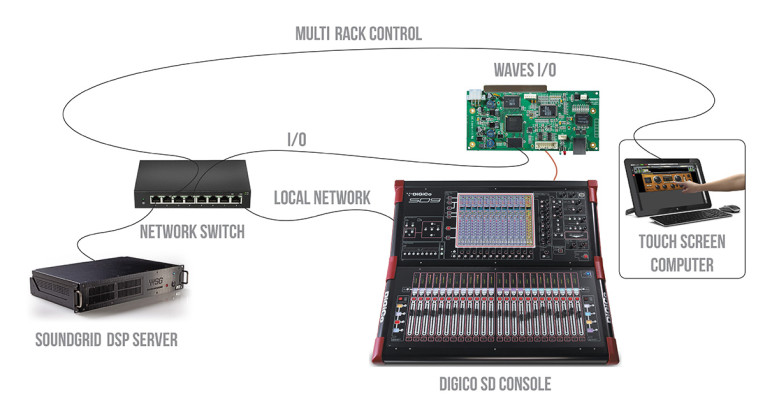 This integration will continue to use the low latency Waves I/O interface built into SD consoles for audio routing and will also include the existing standard session, snapshot and plug-in control for advance, faster and smooth show control and automation. The integration will allow the use of Waves latest and most advanced plug-ins to expand the engineer's sonic options.
Further enhanced control implementation is being planned, allowing users to take full advantage of both platforms and their combined functionality. This will allow both Waves and DiGiCo to provide an even better user experience as both Waves and SD console upgrades continue.
"Waves and DiGiCo have been working together since 2010 to accommodate and enhance our customers' and users' workflow," says Waves VP Mick Olesh. "The enablement of this new integration further demonstrates our effective cooperation, providing the user with new tools, more control, advanced networking and state-of-the-art sonic excellence."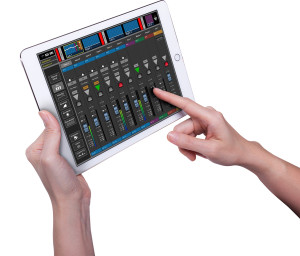 DiGiCo S-Series App
Finally, as a direct result of users' requests, DiGiCo revealed its new DiGiCo S App, allowing control of DiGiCo S-Series consoles straight from any Apple iPad. Designed to be compatible with DiGiCo's latest S21 and S31 models, the app allows remote, wireless control of any DiGiCo S-Series mixing console wherever the user might be, as also allows saving the existing session remotely.
The DiGiCo S App permanently displays an overview of the console layout, so users can select any available console bank and have the same user-friendly operation they are already familiar with, without being tied to the console. The app allows direct control of:
Channel Setup - +48V, polarity, analogue gain, digital trim, channel delay, insert points on/off, meters;
Mix – channel label, pan, mute, solo, fader level, meters;
EQ – 4 band EQ plus HPF/LPF;
Dynamics – all dynamics parameters for all console dynamics modes;
Auxes – auxiliary send levels, on/off, auxiliary pans;
Buss Routing – assignment of channels to busses;
Snapshots – insert new, recall, update, delete;
Matrix – sends, on/off, matrix input labels;
Graphic EQ – 32 faders and on/off for each unit, flatten all bands;
There is also an overview mode for selecting the Bank that the user wishes to control and connection details can be saved for different devices. Aux Select buttons can (optionally) activate the Solo function for the relevant Aux Channels.
The DiGiCo S App requires V1.4+ of the S-Series console software and the iPad connection must be configured on the console.
www.digico.org