A serious USB microphone? USB microphones have been so far restricted in use for VoIP and conferencing applications, or basic use on podcasting and home-recording. M-Audio thinks it is time to take USB microphone designs a step further. Its new Uber Mic combines a serious large diaphragm condenser capsule with 4 selectable polar patterns, USB/direct mixing control, internal headphone amp and LCD display, creating the perfect setup for recording music, podcasts and broadcasting.
M-Audio is a brand synonymous with innovative music production technology. The brand began as Midiman, a driving force in the desktop recording revolution that followed the introduction of MIDI in the 1980s. Later, it evolved into one of the most revered names in computer interface and studio integration solutions, keyboard and controller products, and all manner of essential musical hardware from microphones to studio monitors. Following its separation from Avid, M-Audio became a member of the inMusic family of brands (inmusicbrands.com).
The company now announced the introduction of its brand-new Uber Mic Professional USB microphone with headphone output. Whether it's recording instruments and vocals, doing podcasts or broadcasting, or bringing the gaming experience to the next level, the M-Audio Uber Mic does it all. Recognizing a critical need in the market for a professional-quality microphone with the performance, functional versatility and mounting options to meet any recording scenario, M-Audio designed a complete microphone and recording solution that satisfies a wide variety of demands.
M-Audio claims its Uber Mic will always provide premium studio-grade capture, every time, whatever the conditions. Well, we know that a large part of that will be provided by the right acoustic environment for recording voice - but that's true for any professional grande microphone. The Uber Mic should be no different. But it goes a step further in order to make a recording setup simpler and flexible, combining good quality A/D converters that provide 16-bit resolution digital audio, directly from its high dynamic range capsule, able to capture every nuance and subtlety of the performance.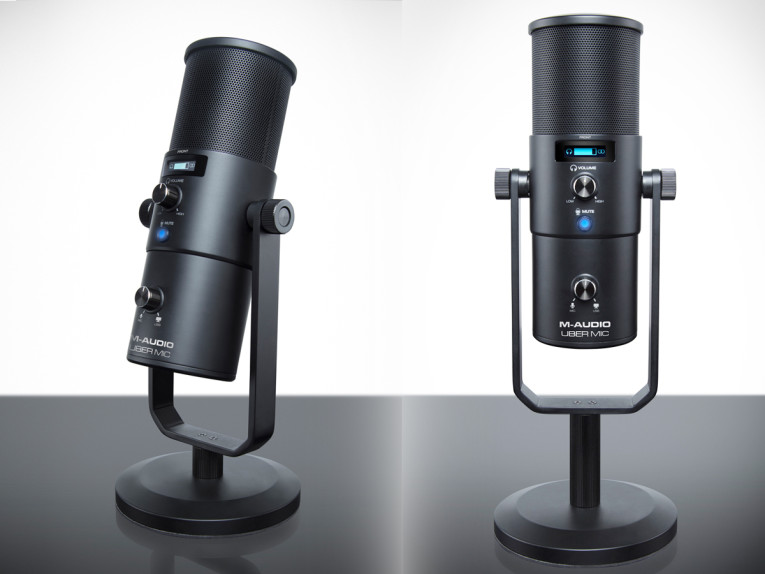 M-Audio's Uber Mic combines a wide-range 30-20,000Hz frequency response and sample rates up to 48kHz, from a a large diaphragm 3-capsule condenser microphone, with a choice of four polar patterns including cardioid, omnidirectional, figure-8 and single point stereo. More importantly for computer recording, the USB/direct mixing control with mic volume enables zero- latency recording and monitoring, so users will hear exactly what they're recording in real time.
Connections include a mini headphone jack with internal headphone amplifier, and there's a handy microphone mute control to ensure privacy. The built-in LCD display shows polar pattern and currently selected control level, and the microphone ships with a convenient desktop mounting with threaded insert for optional stand-mounting, while the integrated stand fits easily into any setup.
"The M-Audio Uber Mic is exactly what people have been waiting for — a high-performance, easy-to-use microphone system with selectable polar patterns, headphone output and multiple setup options," says Sandira Blas, Product Marketing Manager for M-Audio. "Whether recording live music, doing podcasts or broadcasts or maximizing the gaming experience, Uber Mic does it all."
The M-Audio Uber Mic will be available 4th Q 2017. U.S. retail price is $99.00.
www.m-audio.com