The brand new and innovative Mackie AXIS Digital Mixing System was one of the highlights at NAMM 2016, where Mackie seemed revitalized with several new bold product introductions and an energetic engineering team revealing a new direction for the famous company (part of Loud Technologies). Now Mackie confirms that the modular system, combining the DL32R mixer and I/O rack with the all-new DC16 control surface is now available and shipping worldwide.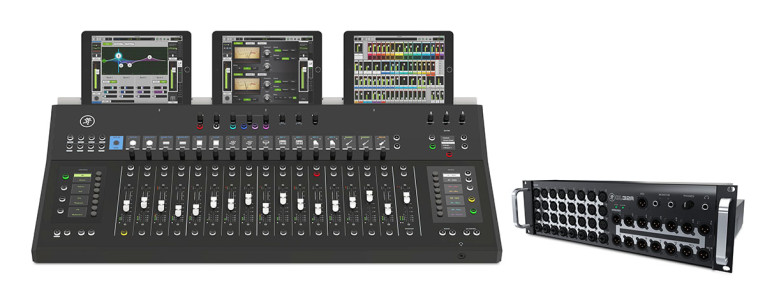 As we wrote after seeing it in action
, the combination of the Mackie AXIS Digital Mixing System and respective iOS control app is greater than the sum of all the parts. It delivers flexible solutions and intuitive workflow for professional production and system integration applications. With full Dante audio networking integration, the modular AXIS system combines the power of the 32-channel DL32R digital mixer with the innovative DC16 control surface to deliver a live sound solution that creates a new standard in live sound mixing workflow.
"The Mackie AXIS system is an incredibly forward-thinking, professional digital mixing solution," comments Ben Olswang, Mackie Senior Product Manager. "The workflow is amazingly fast, with tremendous visual feedback and customization."
The combination of the DL32R digital mixer and DC16 control surface delivers all the benefits of digital and industry-leading wireless mixing designed from the ground up as an integrated system. With 32 remote-controllable Onyx+ mic preamps and 16 outputs paired with massive built-in DSP, the system is ideal for medium and large channel count live sound production and system integration applications. The system relies on Dante for communication between the DL32R mixer and DC16 control surface, enabling additional networking capability for professional applications.
Complemented by up to three iPads of any size, AXIS delivers an innovative tactile mixing experience with the DC16 control surface, with features that set it apart from mixers costing twice as much or more. "AXIS is designed with fast-paced, professional applications in mind," commented Olswang. "And visual feedback is critical when you need to work fast. The sheer amount of screen space built into AXIS is amazing."
Unmatched visual feedback is provided by large, full-color channel displays that are nearly double the size of competitive designs. Each screen delivers critical channel information with clear functional color differentiation, crisp icons and ultra large, highly-legible fonts that are easy to read at all times. This is all in addition to the high-resolution screens of the iPad, which is at the heart of the AXIS system.
The AXIS design provides a unique surface-to-wireless workflow, allowing users to seamlessly switch between DC16's hardware controls and comprehensive wireless mixing. This is possible via the integrated SmartBridge, which can house up to three iPad devices, delivering simultaneous control over multiple channels and innovative smart sensing that knows when an iPad is in place. SmartBridge provides customization over each iPad view with both a fixed and history mode that creates tremendous workflow flexibility.
"With a completely modular design, flexible multi-track recording and a focus on smart workflow, this system is clearly ahead of the curve," adds Olswang. "Better workflow through innovation. This is the goal of AXIS."
The Mackie AXIS system includes the DL32R Rackmount Digital Mixer, the DL Dante Expansion Card and the DC16 Digital Control Surface. Touring and install packages are available, including accessories like an 80m Cat5e reel, DC16 road case and more, depending on the package. Mackie releases a six-part, in-depth video series covering all aspects of the system,
available here
.
www.mackie.com/AXIS