Monster Products and Speak Music, the voice and AI driven personal music platform, announced the launch of the "MonsterTalk" Family of voice-powered premium headphones. While other headphone manufacturers have implemented voice-assistants that "talk" to users, Monster implemented a fully-featured voice recognition interface, allowing users to literally tell their headphones what music to play, ask for a particular song, artist, genre or playlist.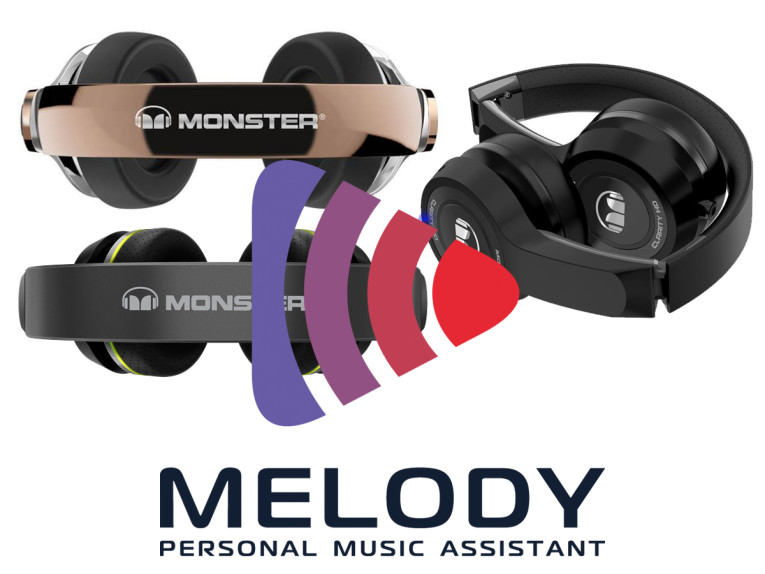 The strange concept, powered by Speak Music, allows a truly hands-free listening and control experience with Monster headphones, enabling voice-commands for interaction with the Melody Personal Music Assistant app. Users can also tell the headphones to access services iHeartRadio, Spotify Premium and soon to be available TIDAL (including support for TIDAL HiFi, TIDAL's lossless CD quality service), NPR news briefs, as well as iTunes local music.
The MonsterTalk family of voice-controlled music products includes Monster's top of the line Elements headphones, the popular Clarity HD line and the iSport Freedom V2 fitness model. Each of these MonsterTalk voice-controlled models features Speak Music's voice-powered AI music assistant, Melody.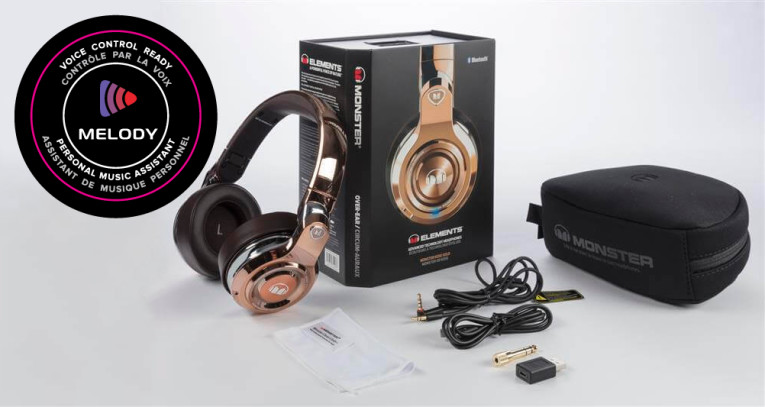 As Noel Lee details, "Monster's decades of experience in consumer audio make it clear to us that the market is moving toward voice as the new user interface. In collaboration with Speak Music, we're now able to deliver an unparalleled listening experience to our customers, who not only demand the highest quality in sound and product design, but also the ability to continue their activities uninterrupted, while enjoying whatever song, playlist, station or genre fits their mood in that moment."
Using the Monster headphones with Melody, consumers will enjoy a seamless listening experience that follows them from home to car to gym and works across multiple music platforms. Unlike other voice control solutions, Melody uses cellular data network on smartphones for voice control. Users simply download the FREE Melody app in the Apple or Android app stores, follow the Melody on-screen tutorial to link their music services, and then pair their Monster headphones to the Melody app via Bluetooth.
With a single tap on Monster's headphones with built-in microphones, users can speak directly into Monster's Melody-compatible headphones to request songs, albums, artists, and playlists, request music by genre, mood, activity, as well as access thousands of podcasts and radio stations – all while keeping their phones safely tucked away. Voice commands also allow users to speak into their Melody-compatible Monster headphones to change volume, play, pause and skip tracks.
Monster believes that this will be an attractive alternative for users, allowing them to keep their phones stashed safely away and eliminate the typing, screen scrolling and swiping, typically associated with finding favorite music. Instead, users will shout away their requests allowing other people to know their tastes in music, while generating complaints from neighbors that will probably tell them to "take out the headphones: you're shouting!"
Speak Music is a voice and AI driven voice powered music assistant. The company created Melody as a music streaming app that provides a variety of aggregated streaming services that connect to premium Bluetooth headphones, speakers and tech-enabled automobiles. As they explain, Melody's secure platform ensures that customer voice requests and data is used only to deliver personalized recommendations to the user.
"We are pleased to be able to couple Melody's voice-activated music assistant with Monster's array of high-end audio products, bringing an innovative listening experience to market with a forward looking pioneer," says Mark Anderson, CEO and Co-Founder of Speak Music. "We believe that consumers want personalized experiences that don't disrupt their activities and through this partnership we are able to offer multi-tasking music lovers the best of both worlds – an expansive selection of audio entertainment and extreme ease-of-use in high-quality products."
www.monsterproducts.com