Honeycomb Sound is a New Jersey based high-tech consumer electronics company striving to create innovative products centered on quality, design, and value. The company announced the launch of their new wireless Bluetooth portable speaker, the model HC-1, available in silver with white trim, and black with red trim for $149. Derived from nature's own honeycomb cell design, the speaker gains structural advantages, efficiency and quality; resulting in high power, low distortion fidelity, the company says.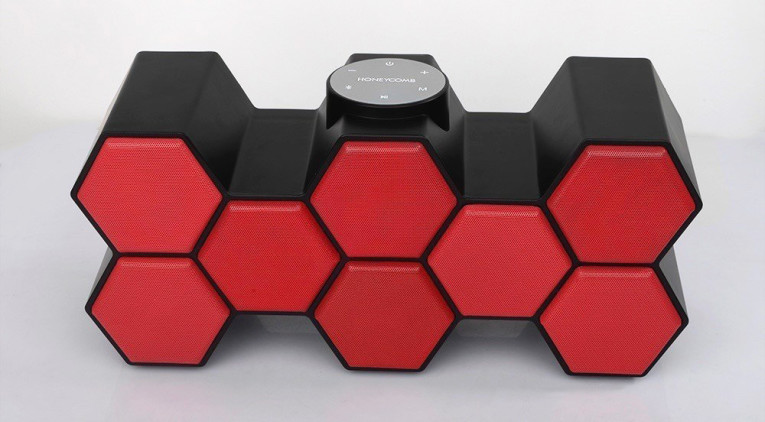 The hexagonal comb of the honeybee has been a subject of research for companies ranging from aerospace to architecture. Honeycomb structures form a perfect geometry allowing for a minimum amount of material in relation to weight and cost. There is a high strength-to-weight ratio. This cell shaped structure provides a material with low density and high compression. In terms of audio speaker design, this produces sound that is tight and clean.
Highlighting a design philosophy of simplicity, compactness, and quality system integration, the Honeycomb speaker enclosure is constructed of a durable ABS plastic enclosure with high-end iron speaker grilles. Inside, it features a 40 watt Class D high efficiency stereo amplifier with DSP; Bluetooth 4.0 wireless technology; four 2" full-range speakers; dual dynamic ports; 2200 mAh lithium-ion battery; and tactile control panel.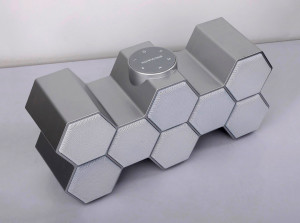 Targeting the new generation of users that prefers to listen to music anywhere in the house, instead of sitting in front of a stereo pair, the new design creates a stylish, easy to use, home audio solution. At the core of the Honeycomb stereo speaker system, is the idea of big sound and deep bass from a small package. Measuring 14"(l) x 6.5"(h) x 4.5"(d), the speaker easily fills a large room or outdoor space. The long-lasting battery allows for portability within the home, office, or outside.
Additional features within the Honeycomb Sound HC-1 speaker include inputs for playback from 3.5mm, USB flash drive, and micro SD/TF card. The speaker also has a power bank function allowing for charging of mobile phones. The Honeycomb Sound HC-1 speaker system is now available for $149 with free shipping from the company's website.
www.honeycombaudio.com