The pioneers of invisible speaker technology, Stealth Acoustics, unveiled their brand new LineaResponse LRx83 speaker at ISE 2017. Targeted at installers in the residential and commercial integration sector, this much improved 8" 3-way flat panel speaker was one of the highlights of the show. Previous products in the company's LineaResponse range were already impressive, but this the highest quality invisible speaker ever created by Stealth.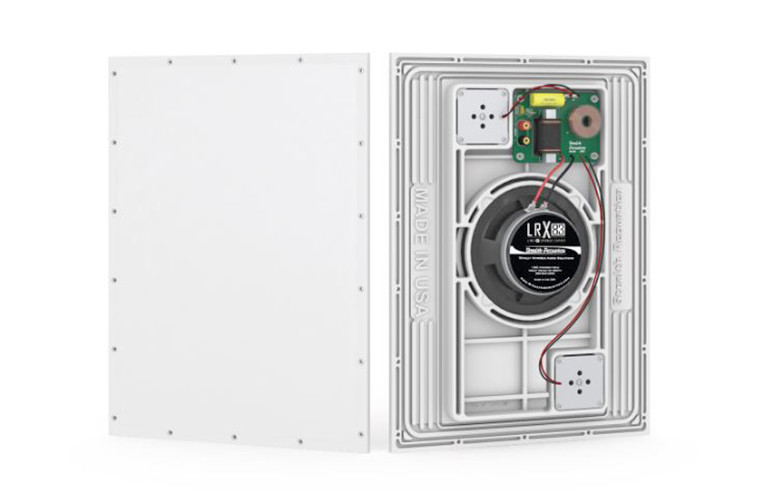 The Stealth LRx83 incorporates a 30mm midrange device, a 25mm tweeter and an 8" high-power cone woofer, producing a deep, warm and natural bass response down to 40Hz, with a smooth midrange and solid upper frequency. Balanced and powerful, in addition to its premium audio performance the LRx83 is also straightforward to install, featuring the same dimensions as Stealth's LR8g and so fits neatly into any LR8 back box accessory.
As Steve Olszewski, Vice President at Stealth Acoustics, explained in its presentation at ISE 2017, Stealth Acoustics is a division of Dimensional Communications, a premier systems integration company based in Mount Vernon, WA USA. For over 37 years the direct experiences derived from countless systems integration projects allowed Stealth Acoustics to understand what works and what doesn't towards a great sounding and reliable system.
"There's a good reason we are naming this new speaker the LRx83," said Steve Olszewski. "The 'X' stands for 'Expert Grade' and the LRx83 delivers the performance that integrators want in their residential, corporate or public space projects. This 8" 3-way speaker sets a new level of price and performance in the invisible speaker arena and is arguably our best sounding speaker to date."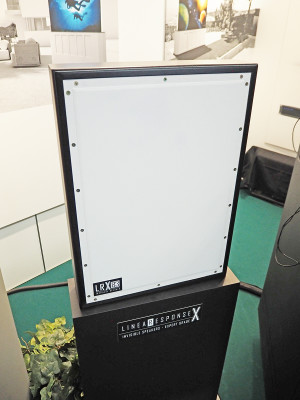 The LRx83's sound quality in the mid and high regions is smooth and 'silky' with the solid bass extension providing a rich deepness to rival more expensive, visible architectural speakers. The impressive peak power handling of over 300 watt allows the device to become more than simply a background music speaker. During the company's presentation at ISE 2017, Steve Olszewski used a microphone in front of two LRx83 panels to address the press. The sound was clear and natural, there was no feedback and the intelligibility was perfect - something unusual in presentations of the kind. So much so, that visitors passing by would stop surprised at the wide coverage and clear spoken word.
The sound quality, extended frequency response and dispersion achieved with the LRx83 speaker is simply perfect for architectural installations, where a good coverage with uniform transitions between multiple speakers is required. And for more demanding applications, including AV presentations, Stealth complemented this new addition to the range with other new and upgraded products. The updated LRB30g dual 8" invisible subwoofer now boasts improved materials, stability and performance, increasing sub-bass extension down to 30Hz when coupled with the LRx83 (or other Stealth speakers).
To complement the new LRx invisible speakers and subwoofers, Stealth has also updated its SA2400 two-channel amplifier. "The introduction of the new amplifier provides maximum performance benefits to all Stealth speakers and subwoofers. When coupled with Stealth's new SA2400 MkII high-current class A/B DSP amplifier, maximum performance can be achieved that justifies Stealth's new speaker LRx category as 'Expert Grade'," the company states.
The 450W per channel SA2400 MkII amplifier offers rock solid high-current class A/B architecture, friendly integration flexibility and powerful DSP programming while updating the device with new features and installer friendly options. The LRx83 invisible speaker and the new SA2400 MkII amplifier will both be available to the European market in Q2, 2017.
Stealth has been researching full-range invisible speakers for several years now, debuting the family at CEDIA 2003. Since then, the company has constantly improved the sound quality, form factor and ease of installation. The same research also allowed Stealth to develop the impressive StingRay speaker all-weather speaker which impressed visitors at the entrance to the ISE 2017 show, playing background music while sustaining rain and snow. The StingRay outdoor speaker family is completely sealed with no exposed grills or drivers to corrode or break down and can be ordered in custom finishes.
www.stealthacoustics.com