German headphone manufacturer Ultrasone announced a new miniature high-res DAC especially designed to work with smartphones, tablets and notebooks. The new NAOS 24bit/192kHz High-Res DAC is the first device specially designed for headphones from Ultrasone. The ultra-compact design is supplied with micro USB, USB-C, Lightning and USB-A connectivity, and 3.5mm mini jack output.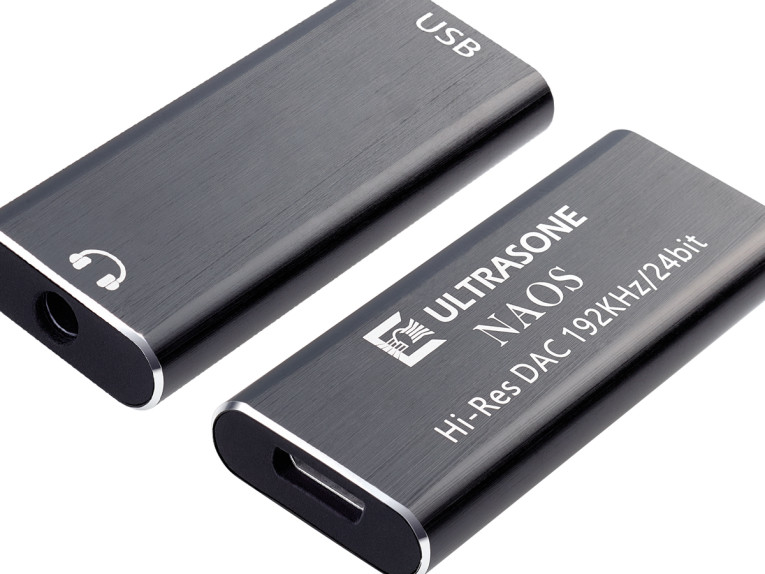 The Bavarian headphone specialist Ultrasone introduced its first DAC, designed to be the perfect playback partner for mobile hi-fi listeners at home and on the go. According to Ultrasone, the NAOS's high-resolution conversion and powerful amplification makes it ideal for mobile listening, delivering high-resolution sound to headphones and extended compatibility with any mobile and stationary audio device, such as smartphones, tablets, notebooks and desktop PCs.
The Ultrasone NAOS can be integrated seamlessly into the playback chain and is a plug & play solution with smartphones. Weighing only 6 grams, and receiving power supply from the connected smartphone or tablet, the Ultrasone NAOS is perfectly suited to use with mobile devices. The headphone cable is simply plugged into the NAOS's 3.5 mm mini jack output, while the audio signal is transmitted digitally to the NOAS at up to 24 bits and 192kHz, converted into an analogue signal by the high-quality DA stage, and amplified with quality electronics, optimized for headphones or compact active speakers. Volume is controlled in the audio source only.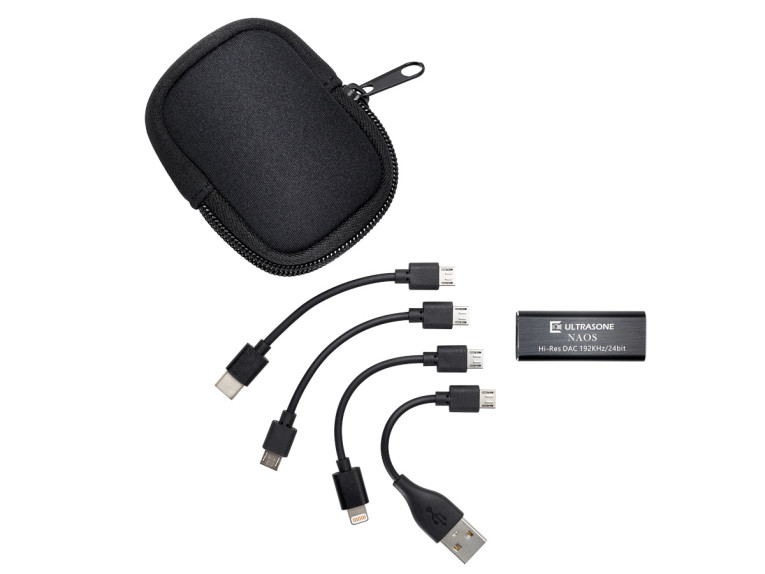 Android devices - which must support USB OTG functionality (USB Host) - can be connected via micro USB or USB-C, and there is also a Lightning connection for Apple iOS products. When used with notebooks and desktop PCs, a USB type A connector and a connector for the new USB-C standard allow the NAOS to be connected to both Windows and Mac-OS computers. It can be installed on a Mac without the need for software; while a driver is required for Windows systems.
To ensure that the NAOS and its accessories don't get lost, an elegant travel case is included. The case has enough space for the DAC itself and all the micro USB, USB-A, Lightning and USB-C connecting cables. The Ultrasone NAOS will be available from August 2017. Price and further specifications are still to be confirmed.
www.ultrasone.com