During InfoComm 2016, VUE Audiotechnik debuted the al-12, the newest and largest addition to the company's successful al-Class of Scalable Line Array Systems. The new al-12 unleashes the full arsenal of class-leading VUE technologies for larger-scale applications, including Truextent Beryllium compression drivers and Acoustic Linearity principles. Designed for large-scale applications, the al-12 is designed for higher efficiency, increased power handling and reduced power compression.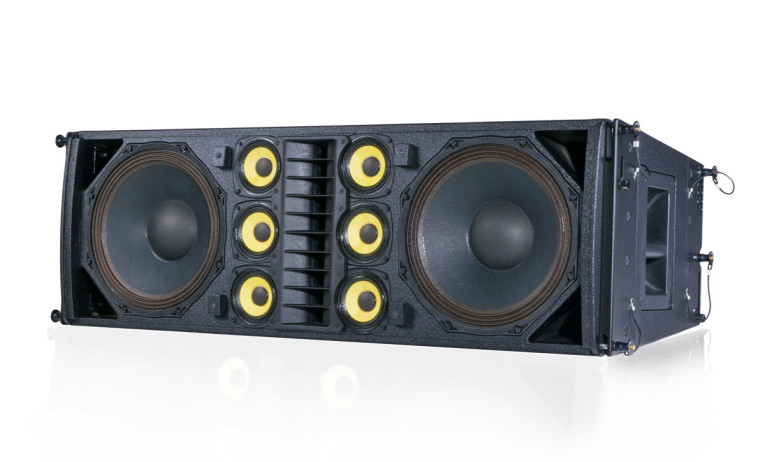 VUE Audiotechnik continues to fulfill its vision of innovation in sound reinforcement technologies initiated in 2012. Combining the experiences of an engineering team responsible for some of professional audio's most noted success stories in loudspeaker design, led by CEO Ken Berger and chief designer Mike Adams, the company is experiencing immediate acceptance and unparalleled growth, while continuing to expand its product catalogue based on unique, proprietary transducer designs.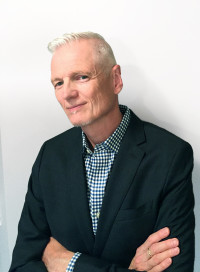 Since VUE's inception, the company has also become the fastest growing professional loudspeaker manufacturer in the industry's history. During InfoComm 2016, VUE Audiotechnik announced another strategic appointment, with the addition of Frank Loyko to the position of Vice President Global Sales, overseeing all of the company's global sales and distribution activities and initiatives. Based in Seattle, Loyko brings 36 years of executive experience building sales networks at professional audio companies including EAW, RCF, Avid Technology and the TC Group.
New product offerings introduced at InfoComm 2016 expand VUE's reach into a broader range of markets, including large scale touring with the al-12 large format line array system and the architectural installation market with the e-Class nano loudspeaker products. In each al-Class acoustic line array element, every individual component development project has been carefully considered, to optimize parameters for maximum output capability and heat dissipation, frequency response linearity, duty-cycle reliability, and minimum size and weight.
One of the distinguishing features of the al-12 is its ability to integrate with other al-Class elements thanks to VUE's Acoustic Linearity principles. Redefining the concept of scalability, CST enables VUE al-Class line-array elements to function seamlessly in the same coherent, symmetrical line source array from the largest system at the top of the array to the smallest elements hung at the bottom of the array. Acoustic Linearity in the al-12 is supported by VUE's CST (Continuous Source Topology) as established in proprietary high-frequency waveguides in previous al-Class models.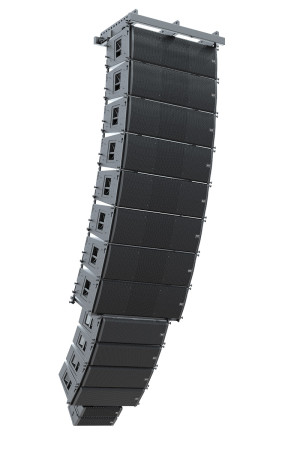 "The al-12 expands VUE's pristine sonic quality to larger applications in the global touring and permanent installation markets," says Ken Berger. "This latest addition to the line will enable current VUE end-users to expand their al-Class inventory while maintaining 100% use of their existing al-Class inventory. It will also attract companies looking to expand their business or upgrade their aging and lower-performing 12- or 15-inch Line Array systems."
For VUE, the ongoing search for improved performance drives continuous innovations in the areas of advanced materials for magnets and cones, improved heat-transfer mechanisms to reduce power compression, and refined geometry for phase plugs and exit apertures in compression drivers used to deliver high frequency program content, this is apparent in all al-Class Line Array models.
Each of the al-12 drivers was designed from the ground up for higher efficiency increased power handling and reduced power compression. High-frequency reproduction in the al-12 is handled by two three-inch, 1.4-exit compression drivers utilizing VUE's proprietary Truextent beryllium diaphragms. Beryllium has an extremely high stiffness-to-mass ratio, significantly reducing mechanical deformation under stress. This enables the HF driver to achieve an additional octave of useful, non-resonant high-frequency energy — a performance level not obtainable using aluminum or titanium diaphragms — as found in other systems.
"The newly designed phase plug and three-inch beryllium diaphragm combine to provide excellent high frequency clarity while reducing overall harmonic content by some 50%," explains Michael Adams. "The results can be heard in the detail and subtle articulation of the voice, instruments and effects, which are often lost due to frequency masking caused by non-linear diaphragm motions in competitors systems."
Two 12-inch low-frequency drivers with Neodymium magnet assemblies flank six midrange Neodymium drivers constructed with Kevlar cones. The HF and MF drivers complement the al-12's expanded LF output while remaining true to the Acoustic Linearity design principles in the al-4 and al-8 systems. This enables the systems to work together to form a true symmetrical line source with unmatched definition and smooth coverage throughout the full frequency range when arrayed together.
The popular portable systems specified for touring utilize a safe and accurate suspension hardware design, and the al-12 excels in this department. It features a suspension system that is intuitive to assemble and easy to use and maintain. The hardware features 16x half-degree increments, permitting more accurate coverage control whether in a flown or ground-stacked configuration. The al-12's cabinet is constructed from multi-ply birch which has been finished with VUE's Dura-Coat finish, ensuring that the line array retains its road-worthy high-quality exterior for years to come.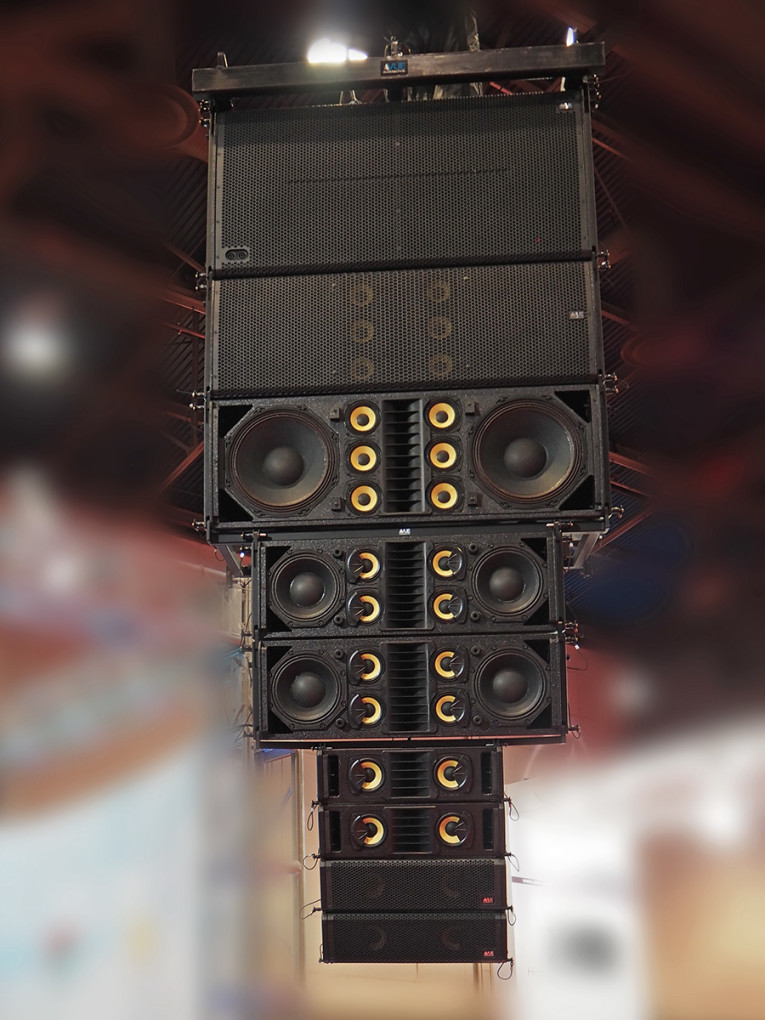 The al-12 is powered using the new VUEDrive V3 Systems Engine, which delivers 9,000 watts total burst power all channels, with 1600 watts sine wave per channel to the low- and mid-frequency drivers, and 500 watts sine wave per channel to the high-frequency drivers. The VUEDriver V3 provides integrated Digital Signal Processing for comprehensive loudspeaker management, factory-programmed array element configuration functions, network remote capabilities, analogue, AS digital and Dante network audio along user-definable input EQ and delay to fulfill the needs of every application.
Every al-Class element is compatible with VUEPoint beam steering technology, allowing for subtle improvements beyond the capabilities of an out-of-the-box system. This can provide an additional tool to achieve smooth coherent coverage. VUEPoint Beam Steering expands control of array coverage pattern, enabling consistent SPL throughout the spectator area.  This keeps the sound focused solely on the audience.
www.vueaudio.com