RTW announced that the company is expanding into new applications with three product segments, thus enabling a larger pool of professionals to access the company's award-winning metering tools – from the well-known RTW Premium hardware based monitors to Smart compact solutions and software plug-ins.
During the NAB 2014 show, RTW announced the new product segment that serves Software-based products. The Masterclass PlugIns Loudness Tools, a standard-format plug-in for Windows and Mac OS platforms already available, is the first item of this product line to serve the needs for users in the DAW sector.  
The RTW Masterclass PlugIns Loudness Tools visually depicts audio with all relevant level and loudness values as specified by international standards. Conforming to the EBU R128 loudness standard, as well as ITU-R BS.1770-3/1771-1, ATSC A/85, ARIB, OP-59, AGCOM, CalmAct and custom as well as SPL mode, it is a handy tool for quality control, offering the precision and ease of use required to ensure compliance with custom specifications. Operation of the plug-in is highly intuitive, so that even users without a great deal of experience in monitoring loudness can use it effectively. The plug-in includes RTW's Peak Program Meter, TruePeak, and Spot Correlator instruments and also offers all common loudness displays  plus MagicLRA mode or SPL view.  
The user interface of each plug-in is based on the award-winning RTW TouchMonitor TM7 and TM9 units, and offers the same degree of functionality and clarity as the hardware models. The instruments provide graphical/numerical, as well as bargraph views, and can be freely rearranged and scaled. Various function parameters, such as integration time, operational range and tolerance, along with a number of viewing options for metering data and scales, offer extra flexibility. The plug-in window dimensions can be set to the native resolution of RTW TouchMonitor display screens, including 480x272, 800x480, 1024x800 (landscape view) or 272x480, 480x800, 800x1024 (portrait view). Users can store all setups and layouts as presets in their DAWs.  
The RTW Masterclass PlugIns Loudness Tools require Windows 7/8 (32-bit or 64-bit) or Mac OS 10.6 or higher and support VST 2.4 format for Windows systems and the RTAS format for Mac OS. Native AAX64 support on the two platforms will follow.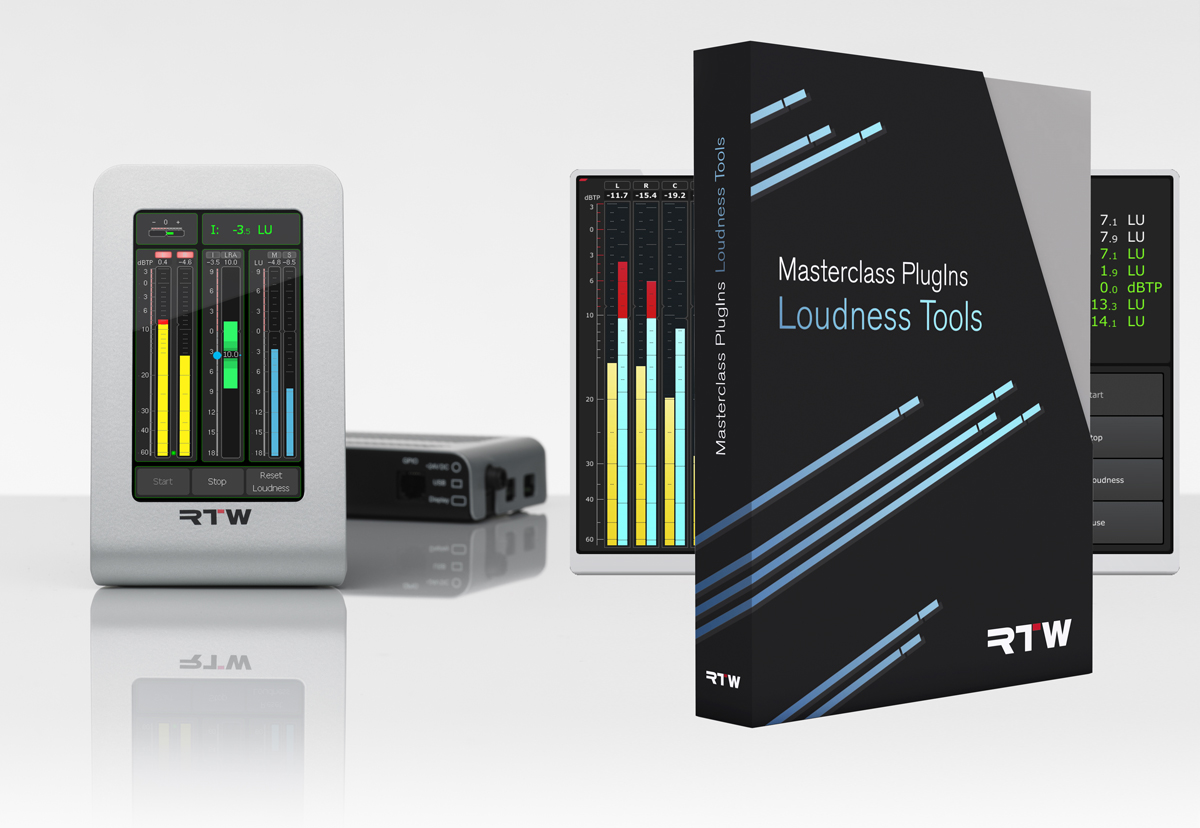 In addition, the new Smart products segment includes the TM3S, TM3-3GS, TMR7S and the company's latest innovation TM3-Primus – all compact, fully loaded, specialized meters at an attractive price point. This product segment is ideal for individuals working in smaller production environments such as mixing and recording studios and OB vans.  
The RTW Premium product segment includes the flagship products of RTW's flexible and scalable TouchMonitor range. This consists of all versions of the TM7, TMR7 and TM9 audio meters, as well as the SurroundControl products, all of which are good choices for larger television and radio broadcast environments.
www.rtw.com
 | 
www.rtw.de