As the Custom Electronic Design & Installation Association (CEDIA) opened its annual 2015 CEDIA EXPO at the Kay Bailey Hutchison Convention Center in Dallas October 14-17 with a new brand image and a new CEO, a new industry survey report confirms  three straight years of revenue growth for the home-integration sector, with consumers adopting new higher-end technologies and smart home components.
As more American homeowners purchase high-end home entertainment, lighting control, whole home control and security systems, the professionals they turn to for help in selecting and installing the components are reaping the rewards. The residential electronic systems industry will realize a third straight year of growth, according to a new report issued by CEDIA at its annual trade show, the global showcase of the future home experience.
Every year CEDIA conducts its Size and Scope of the Residential Electronic Systems Industry Survey to analyze the size of the industry's workforce and pinpoint general market trends. The 2015 report predicts that by the end of this year, systems integrators and installers will complete more residential installation projects than in each of the last four years, and their average gross revenues will top $2.5 million, up from $2.2 million in 2014.
"2015 is not an aberration, it is the continuation of a three-year trend that shows our industry has not only weathered the Great Recession, but is also thriving and creating more opportunities for our members to take on more projects, hire new employees, and grow their businesses," said Dave Pedigo, CEDIA's Senior Director of Learning & Emerging Technologies. "Despite a glut of inexpensive components hitting retail shelves, consumers are selecting new higher-end technologies such as Ultra HD/4K televisions and smart home components that tie their entertainment, lighting, control and security systems together. Our members design and install the systems that meet every consumer's particular budget and lifestyle."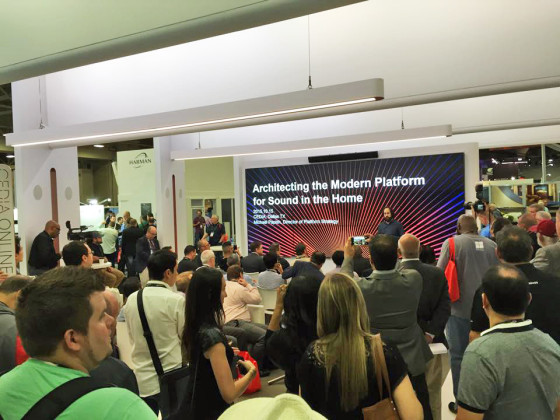 Life is lived best at home
After seeing the System Integrator's average gross revenues drop between 2011 and 2012 to just over $1.2 million, companies have enjoyed three straight years of revenue growth that is projected to top $2.5 million by the end of this year.
Home theaters and media rooms are the most popular projects, followed by multi-room audio and home automation and control. The total number of projects installers take on, and the average cost, will also both rise for the third straight year. In 2010, the average cost of a home theater installation project was $16,400. In 2015, that average project cost rose to $39,000 – a two-fold increase.
However, that does not mean only the very wealthy can afford to these projects. The median home theater price systems integrators sold was $16,666 (50% cost less than), and the median audio installation was $11,000. In both instances, the average company also saw an increase in the number of home theater and audio installation projects in 2014 and that growth is expected to continue throughout 2015.
"Homeowners with a wide variety of budgets can turn to our members for help creating indoor and outdoor entertainment centers and to make their homes 'enjoyable, intelligent' and more secure," said Pedigo. "They view these investments as not just ways to improve quality of life, but also to increase the value of their homes."
CEDIA surveyed 676 respondents between July and September 2015 who qualified to participate because their firms install at least one of several relevant residential electronic product categories, including home theater/media rooms, distributed audio/video, systems integration/control, climate control and video surveillance. The full report will be available in Q4 of 2015. For more information and to download a copy of the full report when it becomes available, please visit the
CEDIA web site here
.
New CEO and Brand Strategy Unveiled
CEDIA announced a new brand strategy and visual identity that members will experience for the first time onsite in Dallas at the CEDIA 2015 show. CEDIA also announced that longtime industry veteran, Vincent Bruno, will join CEDIA as CEO in November 2015. CEDIA announced the search for a CEO earlier this year following Executive Director Don Gilpin's decision to step down.
For the last seven years, Bruno has been the Marketing Director for Crestron Electronics, guiding the company's global marketing strategy and leading a large team of professionals worldwide. Bruno also currently sits on CEA's TechHome Division Board. Prior to his tenure at Crestron, Bruno served as Vice President for VCOM International Multimedia Corporation, a distributor of professional AV and digital equipment. During his five years at VCOM, he drove double digit sales growth through both organic sales and acquisition.
Bruno also spent 11 years with Tower Product Inc. as Vice President and Board Director, where he pioneered product concepts and launched award-winning digital video technology for the broadcast, media and entertainment industries.
"In addition to his passion for the industry, Vin has excellent global business development and leadership experience," said Tabatha O'Connor, CEDIA COO. "The Board of Directors believes that he will be successful in creating and guiding a strategic vision for the organization and in positioning CEDIA members as trusted professionals with important stakeholders."
"As the association that represents the industry, CEDIA holds important responsibilities; to be the connector, to provide vision, leadership, and education that elevates the entire residential custom installation market. I could not be happier to have the opportunity to lead the organization, building on its solid foundation and positioning it for the future," said Bruno.  
Bruno serves on the Advisory Council for the Harvard Business Review and authored a chapter titled "Achieving Success Globally" in the 2010 book: "Inside the Minds Improving Market Performance". He has a BS in Business Administration from Montclair State University and a Masters in Technology Management from Stevens Institute of Technology.
"CEDIA 2015 provides a unique opportunity to showcase the brand identity and bring it to life for so many of our members," said Vin Bruno. "From our new exhibit space and the breadth of our in-booth programming to the inspiring Keynote address, the show gives us an excellent platform to envelop members with the CEDIA brand and reinforce what it stands for - vision, collaboration, innovation and passion."
Beyond the show, the strategy dives deep to understand what matters most to members and how CEDIA can continue to provide a vision and direction for success in the industry. Some outputs of the plan include:
- Aligning education programs to meet integrators where they are, whether new or seasoned, and provide development pathways to help them move to the next level.
- Developing and facilitating new community-building initiatives for year-round networking, mentorship and idea sharing.
- Connecting integrators and manufacturers to leverage new technology and expand prosperity.
- Leveraging emerging technology and trend-spotting to identify new revenue streams.
- Introducing a new sophisticated visual identity that better represents the industry and membership
The brand strategy work also generated a new Vision statement for CEDIA: Life Lived Best at Home. "Our community of integrators is revolutionizing the way people experience their best moments in life at home. We give them comfort, safety, control, connection and entertainment. The new Vision reflects the emotional impact to clients. It's not about the technology, but how the technology improves the moments you and your family spend together at home," says the newly appointed CEDIA CEO.
CEDIA is the international trade association and central touch point for 3,500 member companies that represents every facet of the ever-evolving home technology market.
www.cedia.org