Earthworks expanded its FlexMic Series of podium microphones to include 40-kHz high-definition models, which feature an extended frequency response from 50 Hz to 40 kHz, available in cardioid and hypercardioid models.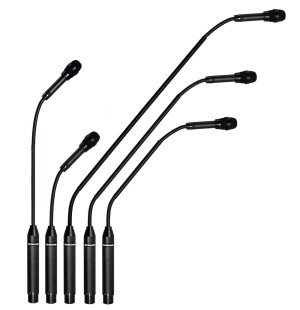 The original FlexMic models feature a 50-Hz-to-20-kHz frequency response. The new high-definition models have 50-Hz-to-40-kHz response that provides even greater clarity and intelligibility than the 20-kHz models.
All FlexMic and HD FlexMic models feature a new slimmer 7-mm diameter gooseneck, and a shorter tip, providing an overall lower profile.
The FM & FMHD models feature a fully flexible gooseneck, while the FMR & FMRHD models have a rigid center with flex at both ends. All FlexMic models are available with either cardioid or hypercardioid polar patterns in 13", 19", 23", and 27" overall lengths.
Every standard and HD FlexMic utilize Earthworks' patented polar technology, which enables orators to move as much as 90° off-axis to either side, above or below the microphone and still maintain the same pristine sound quality with high intelligibility. This provides a high level of speech intelligibility and uniform off-axis response to ensure the orator is heard clearly, with no loss in sound quality, when speaking at the front or at the sides of the microphone. This smooth off-axis response also provides more gain before feedback. With 145 dB SPL maximum acoustic input, it is virtually impossible to overload the microphone.
There is also high rejection of sounds from the rear of the microphone, with no handling noise in addition to strong RFI rejection. Designed specifically for use as a podium microphone, the FlexMic Series offers numerous versatile features and options that make these microphones ideal for public speaking venues including lecture halls, presentation spaces, churches, civic centers, theaters, and government facilities.
All FlexMic and HD FlexMic models are currently shipping.
www.earthworksaudio.com