British network and distribution equipment specialist ARG announced its support of the open media networking standard RAVENNA. Together, ARG and ALC NetworX - the company in charge of RAVENNA's promotion and implementation - have tested ARG's network equipment to provide optimal support for RAVENNA real-time media traffic.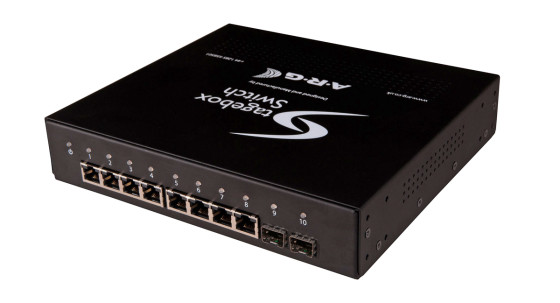 A.R.G ElectroDesign is a specialist manufacturer of managed carrier grade Ethernet switches and media network adaptors for the broadcast market, specializing in high availability video, voice and data networking solutions for more than 30 years,  and with a wealth of expertise in telecommunication and broadcast networks.
ARG's Stagebox switch, a version of its generic Easy Ethernet Adapter Switch 2800, specifically designed for broadcast applications, features eight GbE RJ45 and two 2.5 Gbit SFP ports. It comes with all the right ingredients for optimal configuration with respect to RAVENNA's network requirements: Not only does it offer native PTP support for best synchronization accuracy, it also offers a wide range of configuration options for QoS and multicast support as well as comprehensive monitoring and diagnosis options. An external GPS input option provides for operation as a PTP Grandmaster, referenced to traceable time. A clear and easy-to-operate configuration with integrated help complements the feature list.
Paul Higuera, Sales Director, ARG states, "we are pleased to be part of the REVENNA technology platform. RAVENNA is an excellent example of a real-time media IP network environment for which our Stagebox switch has been specifically designed. We are excited about the opportunity to support our customers as they transition to RAVENNA and to be part of the wider growing interest in IP Media networks."
Andreas Hildebrand, Senior Product Manager of ALC NetworX, adds: "We are gratified to note a growing interest in RAVENNA, particularly from companies providing network infrastructure equipment. While suitable switches from any manufacturer can of course be used with RAVENNA, we immediately recognized the benefit of having dedicated equipment in place, perfectly aligning with RAVENNA's network requirements. ARG's Switchbox is an outstanding example of providing all the right ingredients for improved RAVENNA performance, with easy configuration accessibility."  

RAVENNA is a technology for real-time distribution of audio and other media content in IP-based network environments. Utilizing standardized network protocols and technologies, RAVENNA can operate on existing network infrastructures. RAVENNA is designed to meet the strict requirements of the pro audio market featuring low latency, full signal transparency and high reliability.
While primarily targeting the professional broadcast market, RAVENNA is also suitable for deployment in other pro audio market segments like live sound, install market and recording. Possible fields of application include (but are not limited to) in-house signal distribution in broadcasting houses, theaters, concert halls and other fixed installations, flexible setups at venues and live events, OB van support, inter-facility links across WAN connections and in production & recording applications.
RAVENNA is an open technology standard without a proprietary licensing policy and is fully compatible with the recently published AES67-2013 standard on High-performance streaming audio-over-IP interoperability.
ravenna.alcnetworx.com
arg.co.uk