Frontier Silicon announced its new Minuet speaker toolkit - a design platform enabling audio manufacturers to develop wireless speakers incorporating Google Cast for Audio, quickly and cost-effectively. The new development solution was introduced at CES 2016 and already features 802.11ac Wi-Fi and Bluetooth 4.2, enabling faster product development and mass market pricing.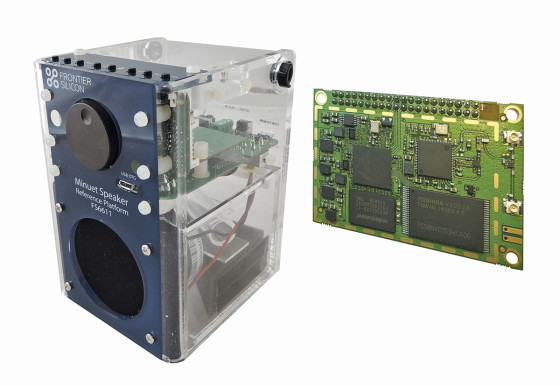 Google Cast for Audio is the same technology as used in Google's Chromecast dongles. It allows end-users to set-up and play cloud-based content services, such as Pandora, Deezer and iHeartRadio1, on their connected audio systems, simply and intuitively.
The toolkit is powered by Frontier's Minuet module and includes the entire design set needed to build an audio product (datasheets, schematics, gerbers, mechanical drawings, bill of materials, application guidelines, simulation tools, iOS / Android reference apps and libraries). It comes pre-certified for CE, FCC, Wi-Fi alliance and Bluetooth.
The Minuet connected module measures only 56x37mm - incorporating all the elements required for a state-of-the-art audio device, including 802.11ac Wi-Fi, Bluetooth 4.2, diversity antennas, a dual-core ARM A7 processor, multiple audio inputs and outputs. Minuet also offers Apple AirPlay, Spotify Connect, Bluetooth and Internet radio.
The complete engineering bill-of-material for the Minuet speaker toolkit is as little as US$30, allowing partners to build cost-effective mass market "Google Cast for Audio" devices.
Products based on Minuet will be part of Frontier Silicon's UNDOK platform, a set of technologies which provide a multi-room experience for connected audio products. All devices using UNDOK are interoperable. UNDOK has been adopted by numerous audio manufacturers including Roberts, Ruark, Revo, TechniSat, Hama, Dual, Argon, Goodmans, View Quest and Bush. Jointly, they represent the largest open multi-room ecosystem.
According to Prem Rajalingham, VP Sales and Marketing at Frontier Silicon, "Connected speakers are one of the largest global opportunities for consumer electronics manufacturers and retailers. Whilst the user benefits are clear, the complexity of the technology behind these products can appear overwhelming. For its partners, Frontier removes this complexity, allowing them to concentrate on designing, manufacturing and selling beautiful audio products."
www.frontier-silicon.com