Pascal has announced the launch of two new extension modules for its highly popular S-PRO2 power amplifier module, with immediate availability: the 2 x 500 watt S-A2 and 1x 500 watt S-A1. The new boards enable a range of new highly cost effective power configurations for self-powered and multi-channel amplifier applications.
Pascal is an industry-leading OEM manufacturer of high-power amplifier modules for the professional audio industry. Headquartered in Copenhagen, Denmark, Pascal specializes in helping professional loudspeaker manufacturers achieve competitive advantages and faster time to market, through power solutions based on proprietary technologies and design standards.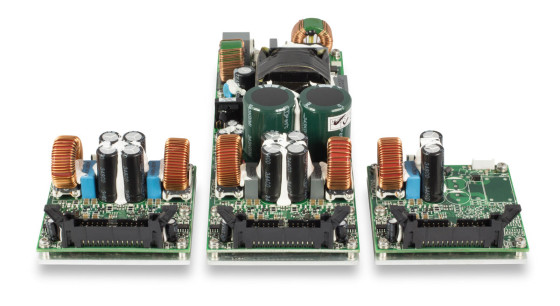 The S-A2 and S-A1 extension modules function as additional identical amplifier output channels for the S-PRO2, powered by the S-PRO2 power supply. Pascal UMAC class-D technology ensures that any S-PRO2 + S-A1/2 configuration delivers true audiophile performance, with high signal-to-noise, ultra-low distortion and exemplary frequency response specifications, while Pascal UREC power supply technology and PFC functionality provides universal mains and regulation, for worldwide AC mains compatibility and consistent power performance.
With the new extension modules, the S-PRO series now offers a wide range of scalable power rating and output channel configurations for OEM self-powered and other integrated amplification applications; specifically sound reinforcement and portable PA speaker cabinets, high-end studio monitor speakers, installation distributed 19" rack amplifiers, and home theatre 19" rack amplification.
Typical applications for the new extension boards are for PA speaker cabinets with 2 or 3-way power configurations, deploying the S-PRO2 in bridged configuration with the addition of an S-A1 or S-A2 module providing either 500 or 1000 watts to the LF section. 
In high-end self-powered studio monitors, addition of an S-A1 or S-A2 module to a bridged S-PRO2 configuration, will provide either 3x or 4x 500 watts per channel power systems. In distributed 19" rack and home entertainment rack systems, a single S-PRO2 + S-A2 configuration will provide 4 channel (250 - 500 watt) outputs (at 8Ω - 4Ω load), or 8-channel outputs with a dual S-PRO2 + S-A2 configuration. For home and private cinema surround sound applications, dual S-PRO2 + S-A2 + S-A1 module configurations will provide 7-channel (250 - 500 watt) outputs. 
Commenting on the expansion of the company's leading power amplifier series, Sales Director Peter Frentz stated, "we were the first to introduce the world smallest 1000 W amplifier module with the S-PRO2, which is today an acknowledged blockbuster in the pro audio market. With the new S-A2 and S-A1 extension boards, we bring a new level of competitive advantage to our customers, in performance, price and time to market."
This combination enables very cost effective power configurations for self-powered and multi-channel amplifier applications. The S-A2 and S-A1 extension modules are powered directly of the S-PRO2 module and allows for the following power configurations:
S-PRO2 + S-A2: 4 x 500 W or 1000 W + 2 x 500 W
S-PRO2 + S-A1: 3 x 500 W or 1000 W + 500 W
S-PRO2 only: 2 x 500 W or 1000 W
www.pascal-audio.com