THAT, a manufacturer of high-quality integrated circuits (ICs) to the pro audio industry, celebrates its 25th anniversary this year. Since its founding in 1989 by senior managers and engineers from dbx, Inc., THAT has grown from one location in Massachusetts to several, with offices in California, Georgia, and Tokyo, and it supports a worldwide customer base. THAT's product line has also expanded from its initial offering of Blackmer VCAs, RMS detectors, and analog engine dynamics processors to include InGenius balanced line inputs, OutSmarts balanced line outputs, microphone preamplifiers, and more.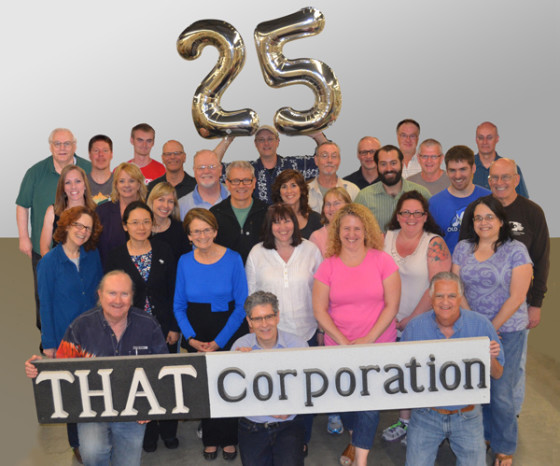 "When we started THAT Corporation, our main purpose was to avoid having to re-write our resumes and look for 'real jobs'," says company president Les Tyler. "The past 25 years have gone by in what seems like a flash.
"We have our customers and employees to thank for our success," Tyler says. "The customers have kept us on our toes, but have been loyal and consistent in buying our products. Our employees keep innovating and delivering high quality, high-performance products. We appreciate the contributions and commitment that both groups have made to our collective success."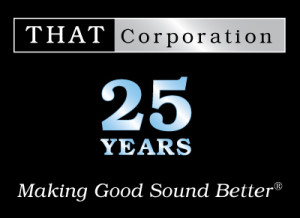 To commemorate the company's 25th anniversary, THAT released a celebratory logo that will be used in conjunction with the standard company logo throughout the year.
THAT's ICs include analog input and output stages, low-noise preamplifiers, and its original line of voltage-controlled amplifiers (VCAs) and RMS-level detectors – all used throughout the pro audio industry. The company also licenses patents, trademarks, and other intellectual property to the TV broadcast and reception industries. Under the dbx-tv brand name, THAT offers Total Sonics, Total Surround, and Total Volume, TV audio enhancement technology and digital (Verilog) implementations of legacy TV audio receiver standards covering all parts of the world, including BTSC, A2, NICAM, and EIA-J.
www.thatcorp.com