STMicroelectronics new STWBC-EP device supports the Qi Extended Power (15 W) profile, enabling smartphones and tablets to be charged up to three times more quickly. The device combines best-in-class energy efficiency, consuming just 16 mW in standby and is able to wirelessly transfer more than 80% of the total input power, with unique features created by ST to enhance the user experience. These include a patented solution enhancing active presence detection to wake the system quickly when a compatible object is presented for charging. The patented technology also enhances the performance of Foreign Object Detection (FOD), to cut power and prevent overheating if objects containing metals are brought too close to the charger.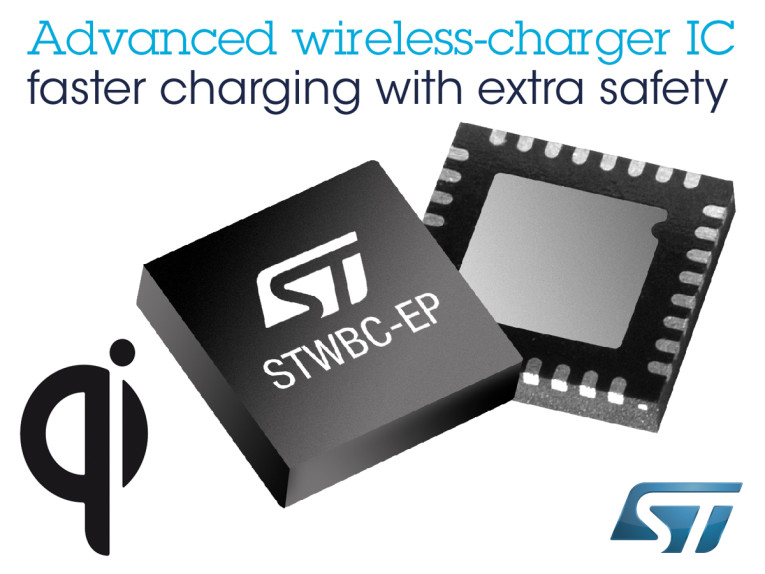 With wireless charging, users don't need to carry the charger or a bulky power bank, and can charge their electronic devices as fast as with a cable. Users on the move, who put their mobiles down to charge for a few minutes – say, during a break or in a meeting - need the device to be ready to go again when they are. To enable this, the Wireless Power Consortium (WPC) that manages the Qi specification has introduced the Extended Power profile for faster charging. By raising the maximum charging power from 5W to 15W, this new profile enables devices to be charged up to three times more quickly.
Now that new iPhone models that feature Qi wireless charging are in the hands of consumers, it seems wireless charging will become even more pervasive in public locations than it is today. Soon, everywhere people go, they won't have to struggle with having to carry wired chargers and hunting for power outlets as they worry about running out of battery power. This promise just got closer to reality with Apple's commitment to Qi wireless charging.
There are already thousands of Qi wireless charging spots in public spaces such as hotels, restaurants, coffee shops, bars, retail stores, airports, on buses, on trains, train and bus stations, offices, health clubs, and events and exhibitions. And Wireless Power Consortium (WPC) members such as Aircharge, Chargifi, Kube Systems, Wyless and Zens have been busy installing wireless charging points every day in more than 25 countries. The pace of these deployments will grow quickly now that even more smartphone manufacturers have all united behind Qi wireless charging.
There are already over 90 Qi certified smartphones, including the newly announced iPhone 8, iPhone 8 Plus and iPhone X, and the Samsung Galaxy range. These smartphones can be charged wirelessly by simply placing them on a surface charger, while phones that don't have built-in wireless charging capabilities can still benefit from wireless charging thanks to the use of wireless charging accessories that can be added to a device.
With a clear commitment by smartphone manufacturers to the Qi standard and the fact that WPC member companies, of which STMicroelectronics is one of the board members, have already succeeded in bringing wireless charging into 80 car models, countless public locations, offices and homes, soon consumers will see Qi wireless charging spots implemented in even more retail, restaurants, bars, coffee shops and transportation depots.
One of the market's first wireless-charging controllers to support Qi Extended Power, ST's STWBC-EP combines best-in-class energy efficiency, consuming just 16mW in standby and able to wirelessly transfer more than 80% of the total input power, with unique features created by ST to enhance the user experience.
"ST's Advanced Wireless-Charging chip enables manufacturers to create new, high-power products that offer superior features and efficiency," says Domenico Arrigo, General Manager, Industrial and Power Conversion Division, STMicroelectronics. "The Qi Extended Power support dramatically shortens charging time and our patented detection and safety innovations greatly improve safety and ease of use."
The STWBC-EP provides the level of integration allowing to simplify charger design while providing the flexibility to work with supply voltages ranging from 5V USB power up to 12V. To help accelerate time to market for product developers, ST has created an associated reference design with a Qi 15W ready-built transmitter board and documentation to get started. ST also has a 15W receiver chip (STWLC33) for use in high-speed chargeable devices, which developers can use to complete their applications.
The STWBC-EP contains a step-up (boost) DC/DC converter and a controller, with the Qi charging algorithms already implemented in firmware to save any need to integrate software and an additional microcontroller in their designs. Together, the converter and controller generate the input power and the control signals for an external half-bridge power stage that drives the charging transmitter antenna. This architecture gives designers flexibility to optimize the external half bridge and its associated gate drivers for use with any supply voltage from 5V to 12V, and to ensure compatibility with USB quick chargers.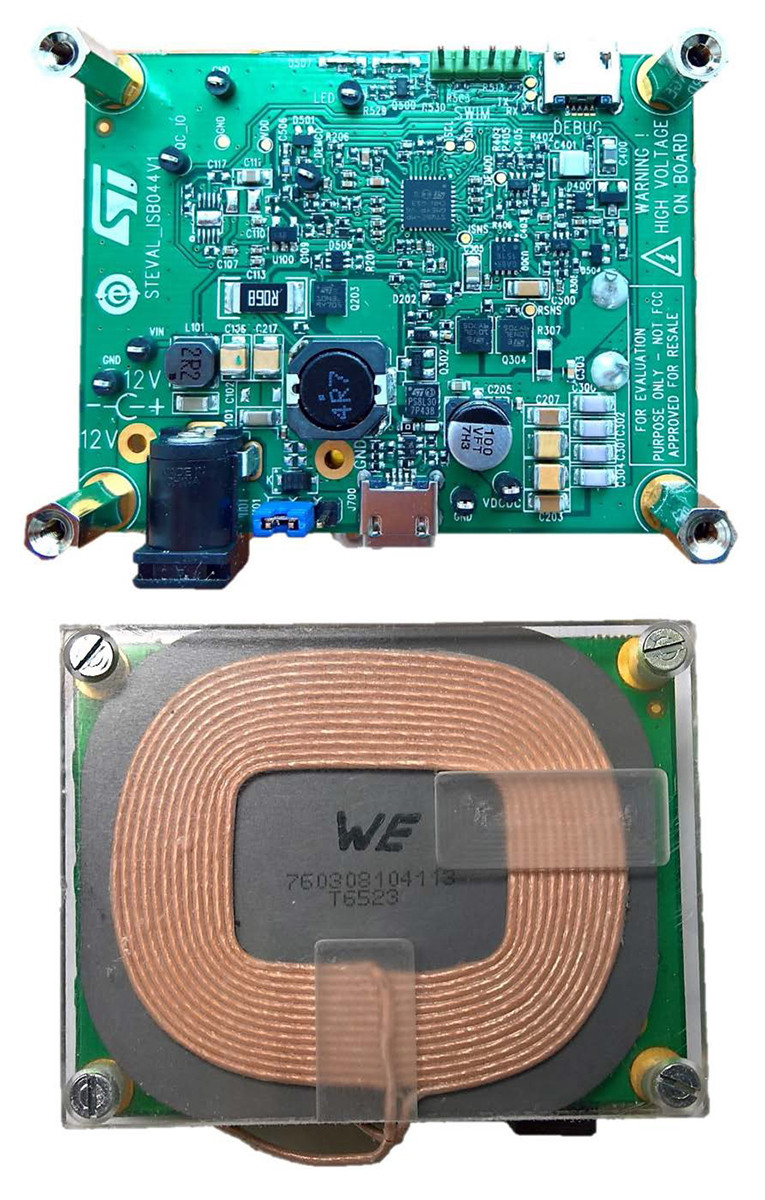 The evaluation kit, STEVAL-ISB044V1, includes a 15W Qi MP-A10 reference design, 12V 2A AC/DC adapter, a USB/UART dongle for connection to the PC and USB cable, as well as pre-loaded firmware. In addition to the supporting documentation, a graphical PC-based configuration tool is also provided to help customize settings.
The STWBC-EP is available now, as a 32-lead QFN (5mm x 5mm) device, priced from $3.175 for 1000 pieces.
www.st.com/wbc