As promised - and long overdue - Apple released its new iMac Pro, an entirely new product line designed for pro users, combining the all-in-one familiar design of the iMac with workstation-class performance and upgradability. With the latest Xeon processors with up to 18 cores,
which Intel announced only in May 2017
, the new computers provide up to 22 Teraflops of graphics performance, and support up to 128GB of DDR4 RAM.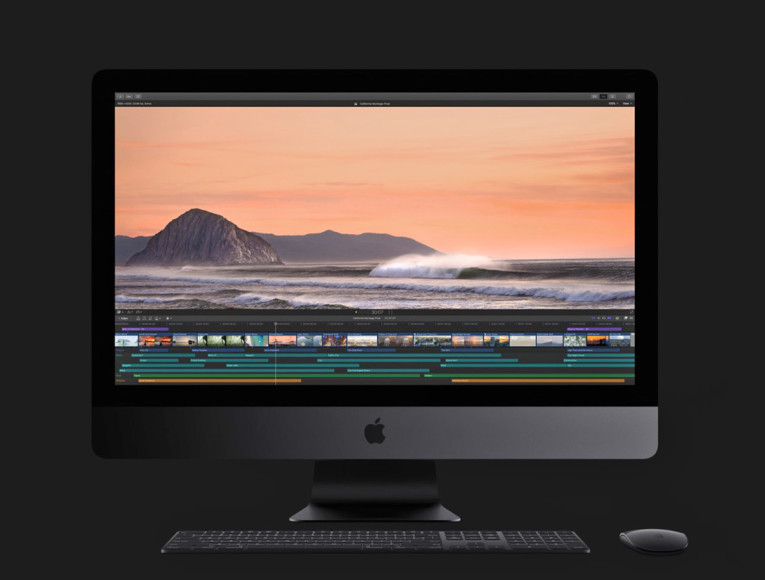 With its integrated 27-inch Retina 5K display, the iMac Pro is the fastest, most powerful Mac ever made - and it is very obviously the perfect computer for video editing and post production, as well as computer graphics work. For audio professionals, the processing power of the new iMac Pro might be tempting, given that it allows moving massive multitrack projects up to 4.6 times faster and use up to 12.4 times as many real-time plug-ins.
The iMac Pro is the first all-in-one Mac computer built from the ground up to deliver true workstation-class performance. Featuring an all-new thermal architecture, the iMac Pro delivers up to 80 percent more cooling capacity in the same quiet, thin and seamless aluminum and glass enclosure of the latest iMacs, albeit in a "space gray finish", with no other finish options - the good news is there isn't a "rose gold" version. In the same dark metallic finish, Apple ships a a matching Magic Keyboard, Magic Mouse and optional Magic Trackpad.
As John Ternus, Apple's vice president of Hardware Engineering, explains, "iMac Pro combines the incredible design of the iMac with the most powerful workstation architecture we've ever built. iMac is the most popular desktop for our pro users due to its amazing display and elegant design, so we completely re-engineered it to deliver performance far beyond what anyone thought possible in an all-in-one."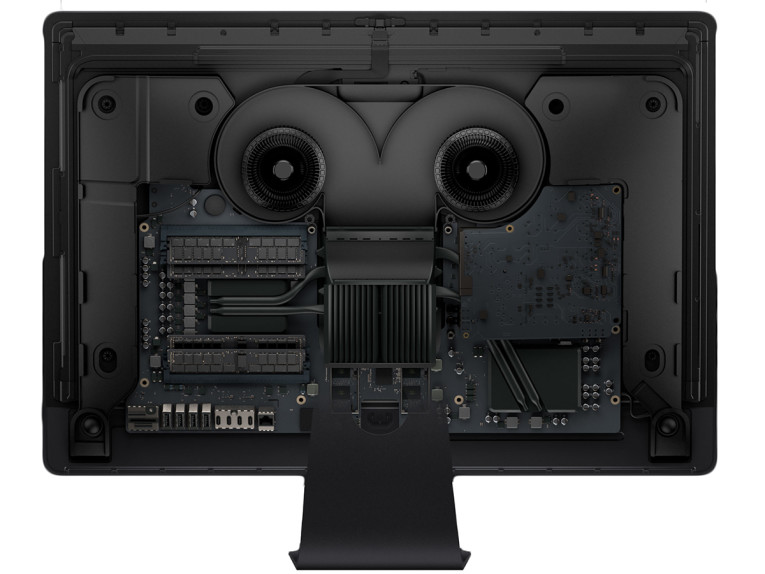 Even though reports indicate that it is a relatively silent machine (Apple calls it "amazingly quiet"), it will obviously make noise when forced to reach full-power. Since the storage is all solid-state Flash — no Fusion drives — starting with 1TB and going up to 4TB - it is amazingly fast at doing anything that involves reading and writing files, but anyone working with massive files and databases will need to know that it will be investing also in external Thunderbolt 3 drives (which are also incredibly fast...). With four Thunderbolt 3 ports (current iMacs only have two), the iMac Pro allows connecting up to two high-performance RAID arrays and two 5K displays at the same time. Also, for the first time ever on a Mac, the new iMac Pro features 10Gb Ethernet.
For anything that involves incredible compute power for real-time 3D rendering, immersive VR, intensive developer workflows, high megapixel photography, complex simulations, massive audio projects and real-time 4K and 8K video editing, the new iMac Pro is a necessary and worthy investment.
The display is also said to be the best ever in a Mac, with 500 nits of brightness, a P3 wide color gamut and support for over 1 billion colors. Built into the display of the iMac Pro are four microphones with beamforming technology, a new 1080p FaceTime HD camera with enhanced low-light performance, and new speakers that are up to 50 percent louder.
More important for visual work, the new iMac Pro features next-generation Vega GPUs and up to 16GB of on-package high-bandwidth memory (HBM2), delivering up to an amazing 11 Teraflops of single-precision compute power for real-time 3D rendering.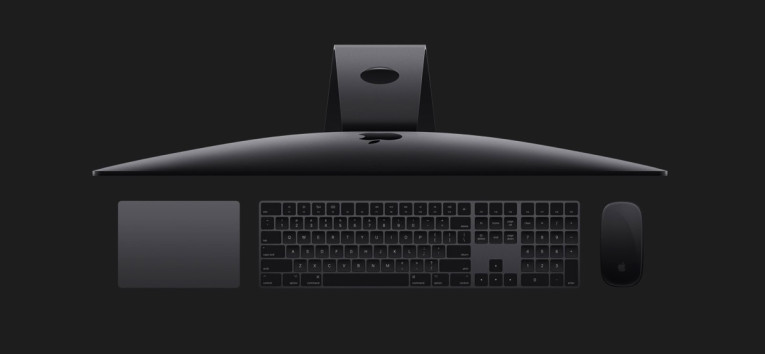 Another major achievement in the iMac Pro design is the integrated T2 chip, Apple's second-generation custom Mac silicon, combining several new controllers for System Management, image signal, audio and SSD, also offering enhanced imaging processing for the FaceTime HD camera. The T2 chip also enables a new level of security by including a secure enclave coprocessor that provides the foundation for new encrypted storage and secure boot capabilities. Dedicated AES hardware encrypts data on the SSD without affecting performance, while secure boot ensures that only trusted software loads at startup.
The iMac Pro retail price starts at $4,999 USD, but goes up quickly as soon as we start configuring reasonable options, such as a faster processor, and certainly a larger SSD, reaching $8,999 USD for a nicely configured machine. Clearly, for those users that are working on audio software and don't need to upgrade immediately (difficult, given that decent upgrades are long overdue due to the lack of new Intel processors), it might be worth considering waiting for the next generation of "regular" 2018 iMacs, which no doubt will inherit many of the features implemented in the iMac Pro.
But for those professional users that actually need to work with digital cinema projects and large rendering configurations, there's also the reaffirmed message from Apple - included in the official press release - that "in addition to the new iMac Pro, Apple is working on a completely redesigned, next-generation Mac Pro architected for pro customers who need the highest performance, high-throughput system in a modular, upgradeable design, as well as a new high-end pro display." To make it clear, the new iMac Pro allows upgrading RAM and the SSD, but that's it. The future Mac Pro will be "modular" and "upgradable" .
With the iMac Pro announcement, Apple also launched a major update to its professional video editing app, Final Cut Pro X, with support for full-resolution 8K video, advanced color grading and HDR support. With the FCP 10.4 update comes also an update to Pro Video Formats, including support for many new professional video codecs and MXF wrapper format, allowing to play MXF in QuickTime and other supported macOS applications.
apple.com/imac-pro