Audio Precision announced support for multichannel audio performance testing of A2B systems and components in collaboration with Mentor, a Siemens business. The new software release for APx500 audio analyzers, supports connectivity with Mentor's A2B Analyzer to deliver closed-loop, multichannel A2B audio testing. Following
a technology demonstration
at the AES 2017 International Conference on Automotive Audio in San Francisco, the solution is now available.
A2B (Automotive Audio Bus) is the digital audio bus technology developed by Analog Devices, Inc. to deliver high-quality audio over an unshielded, twisted-pair wire. By distributing audio and control data together with clock and power over a single wire, A2B significantly reduces the weight of existing cable harnesses (by upwards of 75% in key applications), resulting in improved vehicle fuel efficiency.
From simulation and bench testing in early-stage development, to validation and production testing, having a closed-loop system to measure audio and dynamic signal performance over an A2B network is an integral part of incorporating the bus technology into next-generation automotive systems. By combining the capabilities of Audio Precision's APx500 audio analyzers and software, and Mentor's A2B Analyzer System and software, developers can easily create a complete, closed-loop multichannel A2B audio test system.
Within this test system, the Mentor analyzer platform provides straightforward A2B network configuration and simulation, as well as flexible routing, and high-fidelity audio. The APx audio analyzer delivers comprehensive, multichannel audio measurement analysis and offers a wide range of interface options, including analog, Bluetooth, digital serial (TDM) and PDM. Working as a complete system, these tools eliminate the effort required to develop, and support, in-house, custom test solutions.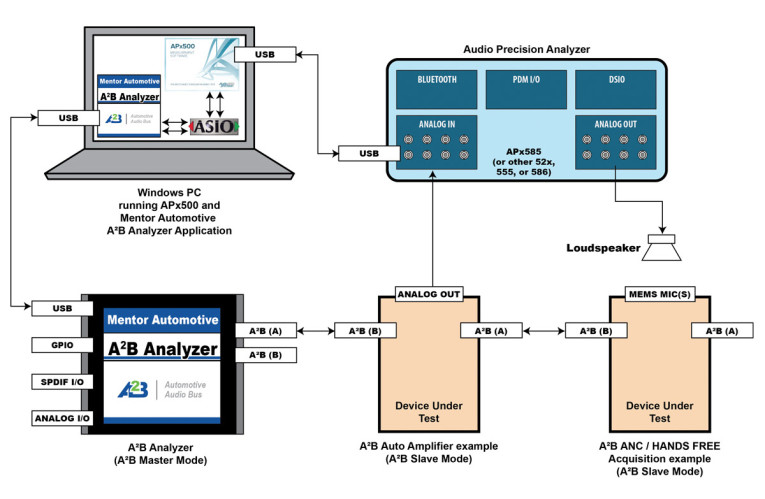 "Audio technology — whether for hands-free calling, active noise cancelling or passenger entertainment — is an integral part of the automobile's continued evolution as a technology platform," states Dave Schmoldt, Audio Precision CEO. "We're thrilled to support automotive developers as they seek to evaluate, and incorporate, A2B into the design of their vehicles, sub-systems, and components."
Mentor is a long-established automotive systems supplier, engaged with nearly every leading OEM and Tier 1 supplier, and providing design tools and embedded software in the areas of connectivity, electrification, autonomous drive and vehicle architecture. For additional information regarding the Mentor Automotive A2B Analyzer System, visit
https://www.mentor.com/embedded-software/xse-automotive/a2b/
.
www.ap.com