Blue Microphones announced three new headphones at CES 2017. New models include Ella, a premium planar magnetic headphone (MSRP $699.99), and Sadie, a next-generation high-fidelity headphone (MSRP $399.99), both featuring custom, built-in audiophile amps, and a more refined design. On the wireless camp, Blue now introduced the Satellite, the brand's first wireless headphone with a built-in audiophile amp and dedicated noise-cancelling drivers.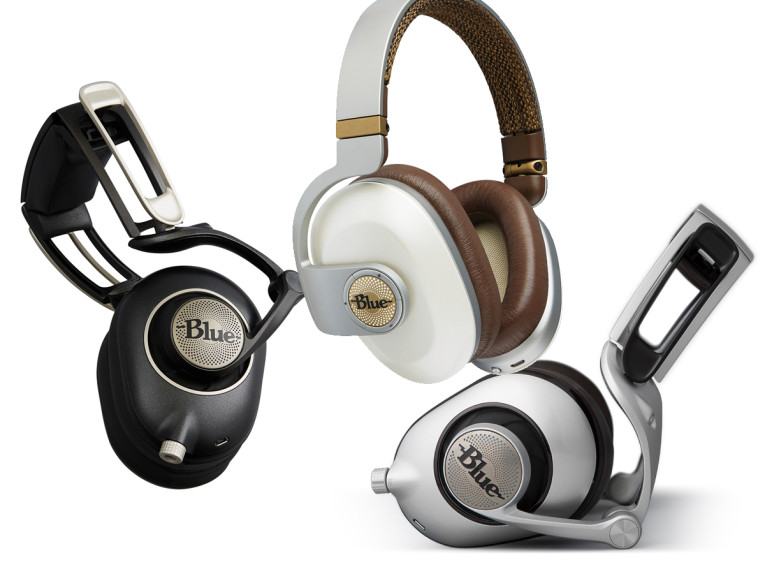 Blue Microphones (now only Blue), expanded their line of premium high-fidelity headphones with the announcement of Ella and Sadie. Ella combines the supremely detailed sound of planar magnetic drivers with the emotional impact of traditional headphones, while Sadie extends the innovations achieved by Blue's Mo-Fi powered headphone with a refined fit and sonic soundstage that results in even greater performance. Both Ella and Sadie feature custom, built-in amplifiers for better fidelity regardless of the sound source. Both Ella and Sadie feature Blue's radical racecar-inspired multi-jointed headband for fit and comfort, improved isolation, and enhanced sound quality. And, contrary to the original design of the Blue Mo-Fi powered headphone, the new headphones are much lighter and comfortable.
"Ella is a planar magnetic headphone with a twist — it delivers both superior detail and musical impact," says John Maier, CEO of Blue Microphones. "Typical planar magnetic headphones sacrifice impact to achieve higher levels of detail, leaving a sound that's more clinical than emotional. And traditional dynamic headphones are great at delivering the power and punch that most of us are used to but can't transmit the detail planar does. Ella is the first headphone that combines the best of both worlds to offer both punch and precision."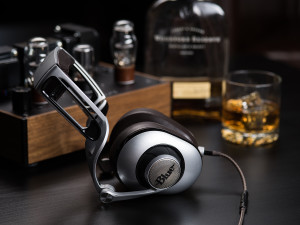 Ella combines Blue's planar magnetic technology with an onboard audiophile amp and large, high-capacity cabinets to deliver the perfect blend of accuracy and impact. Ella's 50mm x 50mm drivers are self-tensioned for fast response and extreme accuracy, while still delivering warmth and punch. The massive driver enclosures are fashioned after high-end speaker cabinets to deliver a rich, extended soundstage. Ella is also the first planar magnetic headphone to offer a built-in 250mW audiophile amp, which is perfectly matched to Blue's custom planar magnetic drivers to deliver better audio on all listening devices. And to ensure the highest quality standards, Ella is handmade in small quantities.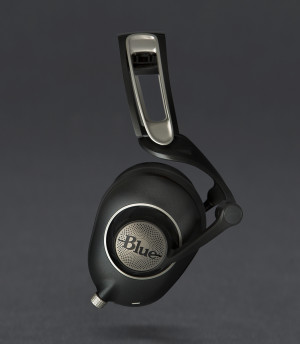 Sadie further refines the high-fidelity experience of Blue's acclaimed Mo-Fi headphones to transform any laptop or portable device into a mobile hi-fi system. Featuring a built-in audiophile amp that takes the burden of power off the source device, Sadie provides vastly improved performance and superior sound. Refinements to Sadie's drivers and sonic soundstage deliver higher levels of performance to reveal more detail. Custom-matched 50mm ultra-premium dynamic drivers are specifically tuned for full-range sound with improved clarity, more defined low end, highly articulate mids and accurate high frequency response. Spacious cabinets behind the drivers optimize performance by maximizing the volume of air around the drivers.
"Sadie is the exciting evolution of Blue's commitment to creating premium headphones," adds Maier. "We broke the mold with Mo-Fi, and Sadie advances that concept even further with refined custom-tuned drivers and a further streamlined unique design. It's like wearing a premium hi-fi system on your head."
Both Ella and Sadie take Blue's reinvented headband even further with a lighter weight, streamlined design. The headband features a four-point multi-jointed linkage system with pivoting arms to keep the headphones parallel at all times and provide comfort and adjustability for any head shape or size. The earcups are shaped like ears to achieve a superior seal for accurate bass response, improved isolation and reduced sound bleed. Both headphones feature three all-analog amp modes — including OFF, ON, and ON+ — allowing listeners to activate the onboard amplifier and restore the missing low end to vinyl-era music. The completely reimagined design results in a supremely precise, highly customizable headphone with superior comfort and unprecedented performance.
Sadie (MSRP $399.99) will be available at Best Buy online, Fry's online and other authorized retailers January 2017. Ella (MSRP $699.99) will be available for pre-order at Amazon, Best Buy online and Fry's online January 2017.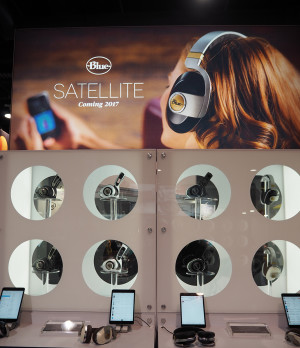 Blue Goes Wireless for 2017
At CES 2017, Blue Microphones also debuted the Satellite, the brand's first headphone, featuring a built-in audiophile amp and two separate pairs of drivers in order to optimize active noise cancelling. The sophisticated design was engineered for superior performance, featuring Bluetooth 4.1 wireless technology and aptX, combining comfort and sound isolation, while achieving ultimate portability with a foldable construction.
The originality of the design includes the ability to eliminate unwanted noise without compromising music listening. Instead of using one pair of drivers for both audio and ANC, Satellite incorporates two separate drivers in each earcup — one dedicated to high-fidelity audio, and one dedicated to noise cancelling. This proprietary design eliminates noise without degrading sound quality so users can enjoy a high-fidelity listening experience free from the distractions of the surrounding environment.
"Satellite bridges the gap between high-fidelity sound and portable listening, making it possible to enjoy a true audiophile experience anywhere," says John Maier. "Traditional noise-cancelling headphones use one pair of drivers for both audio and ANC, which compromises your sound quality. Satellite uses separate, dedicated ANC drivers so that our dedicated audio drivers and audiophile amp can deliver high-fidelity sound for no-compromise wireless listening."
Satellite's wireless listening experience is also enhanced by its powered design, which utilizes a built-in, all-analog high-quality amplifier to deliver a hi-fi experience via any phone, mobile device or laptop. Satellite's proprietary amp is perfectly paired with Blue's premium, custom-tuned 44mm ultra-responsive dynamic drivers to deliver better detail, clarity and punch. Satellite makes Blue's acclaimed headphone experience even more portable with a smaller form factor and wireless connectivity.
Blue's sophisticated design also offers superior performance, sound isolation and comfort. The precision acoustic ear cups present a rich and detailed sound stage, contributing to the finely tuned sonic experience, while the compact form factor folds down and slips into the provided protective carrying case for easy portability and storage. The Satellite comes with a three meter audio cable for conveniently connecting to mobile devices or vintage audio gear, also featuring three all-analog amp modes. No pricing information or availability as been released yet.
www.bluemic.com/sadie
|
www.bluemic.com/ella
|
www.bluemic.com/satellite