French speaker and headphone manufacturer Focal unveiled the company's new generation of its Sib Evo home cinema loudspeakers featuring Dolby Atmos technology. Easy to install and use, the Sib Evo Dolby Atmos system was designed for users looking to improve its home theater experience and are also available as a 2.0 pack, or can be used to upgrade a 5.1 system to a 5.1.2 system without having to change all loudspeakers.
"The Sib Evo Dolby Atmos loudspeaker is the second generation of Focal's iconic Sib range that launched in 2002, and keeps in line with the design codes of the range with a style that is futurist, but timeless," says Ben Jensen, president of Focal North America. "Our Sib range of compact loudspeakers has been a reference in the home cinema universe since its launch in 2002. It became the go-to system in the 5.1 Home Cinema sector with its timeless design which has set the trend for nearly two decades."
The audio quality of Focal's Sib loudspeakers is impressive considering their size. The range comprises a complete Home Cinema system of satellite loudspeakers and an active subwoofer - the Cub subwoofer, which is still available on the market, now became Cub3.
Dolby Atmos made its entrance in 2012, straight from the world of cinema. Although it hasn't quite made its way into the living room, it is becoming more popular, allowing sound effects on a vertical plane, reflected off the ceiling. Normally, for home cinema applications, Dolby Atmos is integrated in systems starting at 5.1.2.
Keen to offer a complete cinematographic experience, Focal first entered this market with a solution combining Dôme Flax, a compact loudspeaker, with its ICW built-in loudspeakers. This 5.1.2 system recreated Dolby Atmos sound by reproducing both vertical and horizontal effects. This product, built in France, is now specifically destined for the custom install market.
For those not wishing to acquire a permanent installation requiring built-in speaker drivers, the solutions available until now have been very limited. Therefore, Focal chose to expand its range of Home Cinema products by designing a two-in-one Dolby Atmos enabled loudspeaker, which forms part of the Sib Evo line.
This new-generation 'enabled loudspeaker' was designed to reproduce both horizontal and vertical waves (towards the ceiling). The major innovation of this technology lies in the reflection of sound waves off the ceiling towards the listener using an extra speaker driver. This Atmos-enabled loudspeaker is equipped with a front-firing speaker driver as well as an additional full-range speaker driver integrated into the top.
According to Focal, very few hi-fi brands seem to be investing in this sector and the French company decided to be one of the first brands to make a move in this sector with Sib Evo, a solution certified by Dolby. "This system is an interesting alternative to adding accessories to your loudspeakers to reproduce the vertical effects, which can spoil the design or the overall harmony of the system. Atmos-enabled loudspeakers feature front-firing and vertical-firing speaker drivers fully-integrated into one housing, in which all components work in perfect harmony. Sib Evo is an excellent compact and structured system that features a distinctive Focal design," the company says.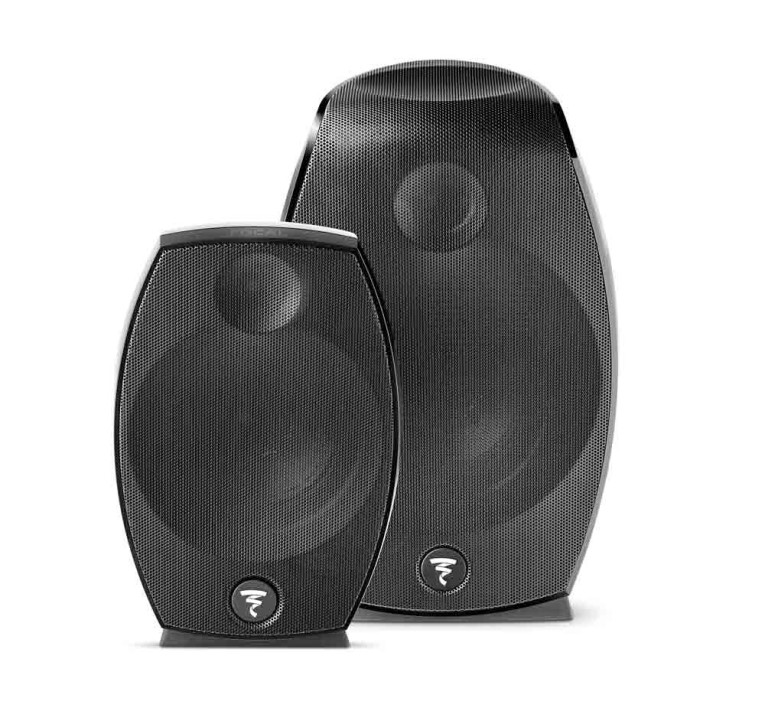 The Sib Evo system is comprised of a traditional loudspeaker (Sib Evo), a second loudspeaker featuring an Atmos-enabled speaker driver (Sib Evo Dolby Atmos) and an active subwoofer (Cub Evo).
The Sib Evo is a two-way bass-reflex satellite loudspeaker equipped with a 5" Polyflex woofer and a 1" silk dome tweeter. The revamped design stays in-line with the original Sib line style, featuring ABS housings with a matte and lacquered finish that enhances the textured effect of the surface, integrated into a reasonably sized enclosure to give it extended frequency response. This also gives Sib Evo systems an extra advantage in music reproduction, with or without a subwoofer.
In addition to the standard speaker driver, the second satellite loudspeaker Sib Evo Dolby Atmos features a 3" full-range one-way Polyflex speaker driver dedicated to reproducing the Atmos effects. Sib Evo Dolby Atmos was designed as a sealed enclosure with more rear volume than the Sib Evo to extend the frequency response. The sound rendering is suitable for Home Cinema systems as well as for stereo systems with impressive dynamics and precision.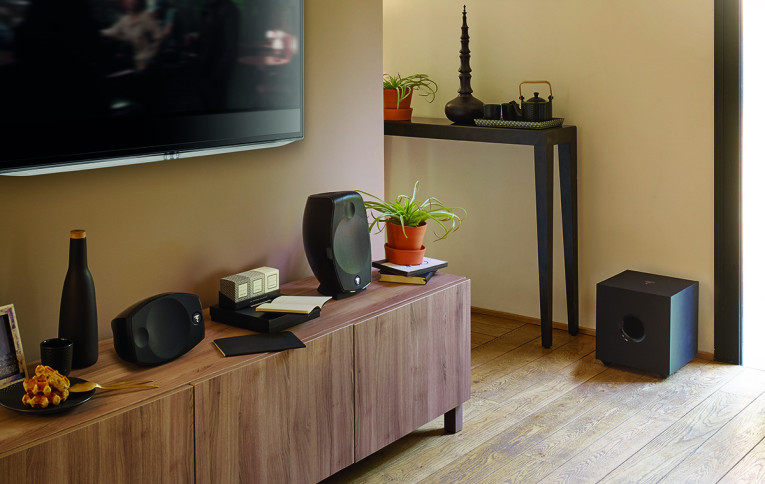 Focal also wanted to offer a perfectly adapted upgrade solution for customers already equipped with Sib loudspeakers: two Dolby Atmos loudspeakers can be added to an existing Sib system to experience the effect provided by a state-of-the-art Home Cinema setup.
Extensive research went into even the smallest details to make Sib Evo easy to install. The loudspeakers are equipped with a connector system with push buttons to make the satellite easier to hook up to an amplifier. There are also double connectors instead of single connectors for the power supply.
Each satellite speaker is pre-mounted to its base. Users can adjust the inclination by +/-5 degrees, bearing in mind that the loudspeakers are delivered with the projection angle recommended by Dolby. In 5.1 and 5.1.2 Home Cinema systems, the loudspeaker can also be used horizontally, turning the satellite into a center loudspeaker.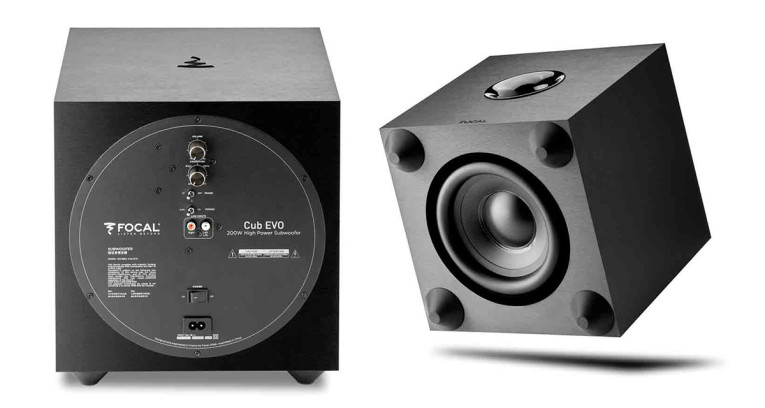 The Cub Evo subwoofer is equipped with an 8" speaker driver and a 200W Class D amplifier, with an MDF structure and matte black finish. To meet the requirements imposed by listening rooms, Cub Evo has all the typical traits of Focal subwoofers, with adjustable crossover, phase inverter, ON/OFF auto power function, and an LFE input. Frequency response extends as low as 35Hz.
All Focal's Sib Evo products will be available August 2017, in five different packages:
Sib Evo Dolby Atmos 5.1.2 system Black - $1,299 USD
Sib Evo 5.1 Black - $999 USD
Sib Evo Dolby Atmos 2.0 system Black - $599 USD
Sib Evo 2.0 Black (2 Bookshelf Speakers) - $299 USD
Cub Evo Subwoofer Black (Powered Subwoofer) - $379 USD
Pack of 2 Hip Evo stands - $199 USD
The 2.0 packs are supplied with a soft base. The 5.1 and 5.1.2 packs are supplied with a soft base and two wall-mounts.
www.focal.com/sib-evo