Exponential Audio from Salt Lake City, UT, the company behind software plug-ins such as NIMBUS, R4 and PhoenixVerb, announced two brand new surround reverb plug-ins called Stratus and Symphony. The new reverbs address both an opportunity and a challenge - the ability to be more creative than ever before with post sound now offering new surround formats and yet the ongoing debate about intelligibility.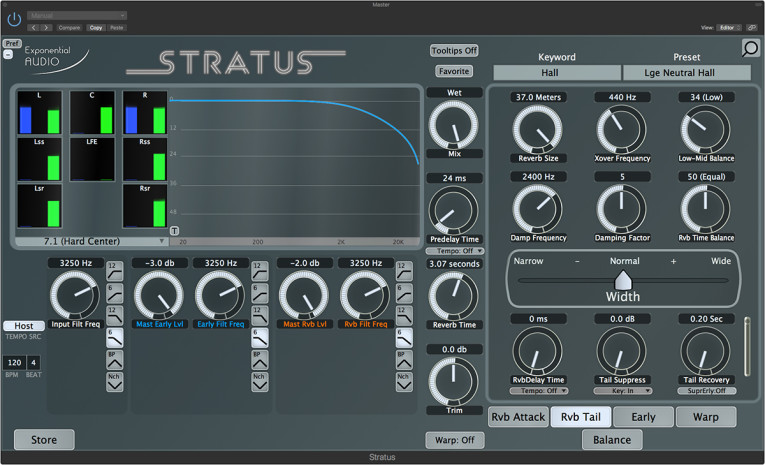 Stratus and Symphony support up to 7.1 channels in the basic version, and up to Atmos, 22.2 and other formats with the 3D option. Both feature expanded EQ, building on the popular NIMBUS and R4 architectures. Symphony even allows the user to modulate EQ in real time, using a pair of built-in oscillators. The new tools also offer twice as dense early reflection control as PhoenixVerbSurround and R2Surround, and there's a unique reflection pattern from every input to every output. Users need not worry about compatible fold-down.
Every single reverb channel is decorrelated, meaning no color changes when a mix comes down to stereo or mono channel widths. The new reverb tools also offer dynamic control with tail-suppression (expanded from NIMBUS/R4), warp, to add even more timbral and dynamic control, and optional tempo control of pre-delay and reverb delay. There are also more stem options. Not only can a user have mono-in/surround out, but they can easily generate a surround reverb from LCR input. This is one of many examples of how this can be used.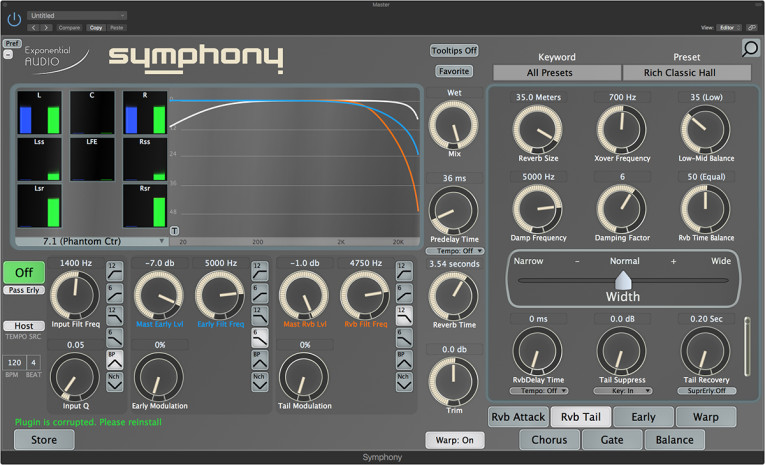 According to Exponential Audio, there are no reverbs on the market that give so much power yet with so little demand on the CPU. Stratus and Symphony carry that efficiency forward, even shutting off unused channels if no audio is present. The new programs are also easy to use, include over 1500 presets, and have a new quick zoom feature that allows users to double the size of the GUI.
3D Option
For those working in immersive audio, whether Atmos, Auro, DTS-X, Imax, NHK 22.2 (or something else), then both Stratus and Symphony offer a 3D option. This option gives the user licenses for the base versions and also the 3D version of the plug-ins.
Extra features - available all in a single instantiation of the plugin - include Atmos Bed (7.0.2 or 7.1.2 ) in Pro Tools 12 and Nuendo 7.1/8; special extensions to extend the Atmos Bed to add 4 additional height channels (Pro Tools 12 only), and special extensions to extend other surround formats (5.1, 7.1, etc) to add 4 or 6 additional height channels (Pro Tools 11 or 12). Users should note that immersive audio is currently supported only in Pro Tools (AAX) and Nuendo 7.1/8 (VST3).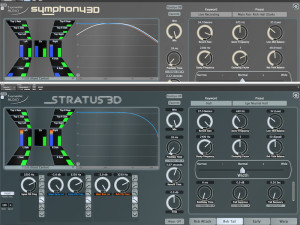 The 3D options also include Auro 3D (9.1, 11.1, 13.1) and NHK 22.2 in Nuendo. Sessions created with the base version can upgrade and the old session will still work, allowing the user to add height channels to existing work
Speaking on the new reverbs, Exponential Audio founder Michael Carnes says, "Over the last few years, Exponential Audio has taken the leading position in multichannel reverberation. In just a few short weeks, that lead is going to get a lot longer. Our new reverbs address two issues - the ability to be more creative than ever before and to increase clarity within ever more complex mixes. We thought long and hard about both and want to give post sound professionals the tools to achieve more challenging goals. We believe Stratus and Symphony tick both boxes."
www.exponentialaudio.com/announcing-advanced-surrounds