As expected, JBL Professional launched its new VTX A12 Line Array at Prolight+Sound 2017. The new system is an extension to JBL's VTX family, using a new dual 12" line array loudspeaker element, engineered from the ground up to provide best-in-class performance, reliability and ease of use. The new line array is intended as a completely redesigned solution for mid- to large-size touring productions and high-end fixed installations.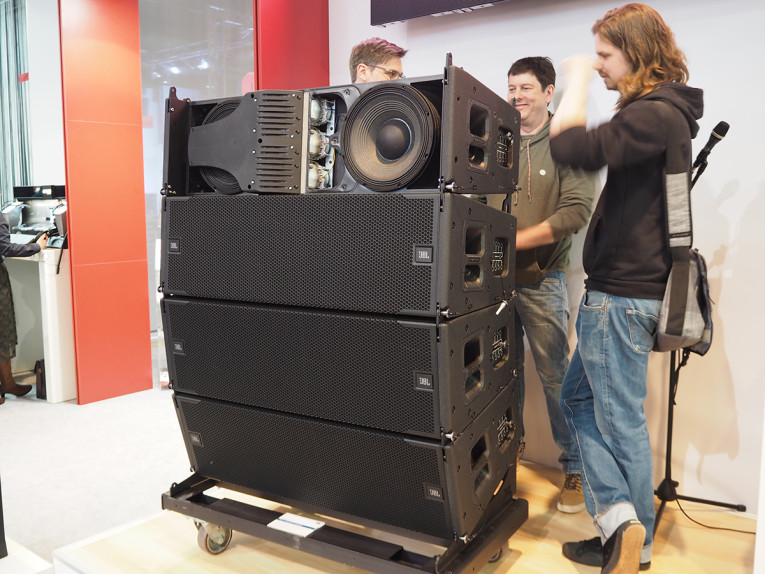 Featuring entirely new and proprietary transducer and high-frequency waveguide designs, innovations in the rigging and suspension hardware, and refinements to the physical aspects of the cabinet, the new JBL VTX A12 addresses the most important needs of tour sound professionals and represents a renewed commitment by JBL to the tour sound community. The new system has been in the works for some time and the presentation at Prolight+Sound 2017 also signals the product availability scheduled for April 2017.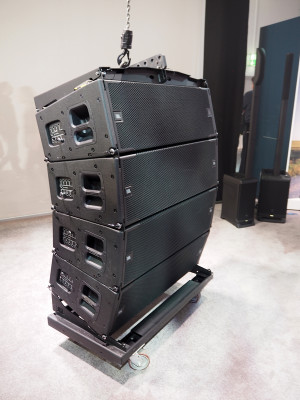 "When we set out to design the VTX A12, JBL's next generation midsize line array, we engaged some of the leading engineers in live sound and asked questions like 'What frustrates you most?' and 'What would make a line array better?'," says Phillip Scobee, Tour Audio Solutions Manager, for Harman Professional Solutions. "After engineering some groundbreaking advances with the A12's drivers we knew having the best sound wasn't enough. We took the feedback we received and applied a systems-based approach that covered all the details, from how quickly the boxes could be rigged, to how efficiently you could load the truck after a performance. What ended up in the VTX A12 is truly astounding. The sound engineers who received early previews are saying they are blown away by its clarity, power, and consistent directivity. Its ease of deployment, and the cost savings they'll realize due to its light weight and reduced space for transport, is the additional reason why they're adding the A12 to their riders."
The VTX A12 loudspeaker was designed from scratch to address the unique challenges of rental companies, FOH engineers and tour sound production crews. Best-in-class rigging enables fast setup and precise configuration featuring a patented locking mechanism to automatically lock the cabinet angles to the desired position. All VTX A12 accessories are designed to be lightweight, durable and sized to fit both USA and International truck dimensions simplifying transport and logistics.
The VTX A12 features improved acoustic technology, with a new high-frequency (HF) section featuring three uniquely designed drivers that combine the HF phasing-plug and waveguide into one part, yielding better tolerances and increased sensitivity above 6 kHz, while reducing distortion and overall weight. A newly designed Radiation Boundary Integrator (RBI) combines four 5" mid-frequency drivers into the high-frequency waveguide and provides a smooth horn surface for the high frequency section. A lightweight 12" neodymium low frequency woofer (LF) features a 4th-generation Differential Drive design, with a new dual-voice coil, dual-magnet arrangement, and a host of proprietary JBL technologies for increased excursion, power handling and sensitivity. These elements combine to deliver a system with the highest output per weight, great low-frequency extension, and 90 degree directivity down to 300 Hz.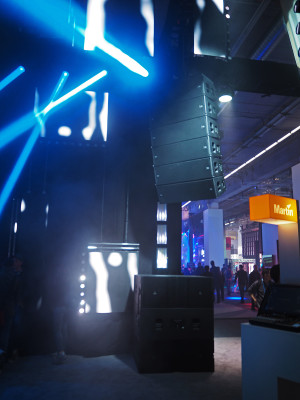 The VTX A12 also features a new full-face grill design that reduces the number of exposed components and protects the loudspeaker from extreme weather and road conditions. The enclosed grill helps the system achieve a higher Ingress Protection rating (IP55), and can be finished in a variety of colors to suit fixed install applications. The grill is under tension, virtually eliminating noise that can emanate from the perforated grill and degrade sound quality.
To facilitate quicker deployment, array elements are stacked four per vertical transporter (VT) cart in a 10-degree collapsed position. A patented internal locking mechanism makes it easy to set arrays from 0.25 to 10 degrees using selector pins. Once the system is suspended, the mechanism automatically locks the cabinet angles at the designated positions.
According to JBL Professional, over the last four months, VTX A12 systems have been beta tested in the field with leading Front-of-House engineers, Systems Engineers and Rental Companies to ensure the factory presets offer great results right out of the box. Additionally, JBL offers a variety of accessories and new software tools for control and prediction.
www.jblpro.com/vtx-a12