Legacy Audio will premiere its new VALOR loudspeaker system at the Rocky Mountain Audio Fest (RMAF) 2017 show. Powered by an incredible 2750 watts per side, the VALOR is the first speaker to employ Stereo Unfold technology, licensed from Bohmer Audio of Sweden and implemented in the Wavelet Preamp/DAC/Processor. By combining a controlled-directivity front array for the initial wave-launch and a side/rear-firing ambient array, VALOR is said to be able to "reconstruct the natural sequence of sound arrival of the live performance space."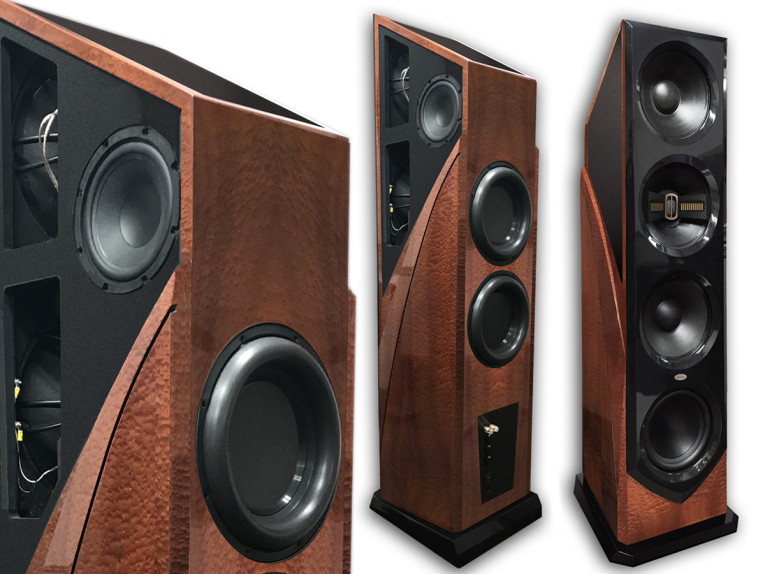 The Springfield, IL, -based company will be the first manufacturer to bring to market the digital signal processing technology developed by Bohmer Audio, allowing to correct the response of loudspeaker systems in the time domain. As Legacy explains, "precise spatial cues key to imaging are typically masked by early listening room reflections, while desirable late reflections that provide the dimensions and presence of the recording venue are either smeared or fade prematurely. The strategically shaped, dual radiation patterns generated by the VALOR system reduce early reflection in the direct field, thus unmasking critical spatial cues, while Wavelet's Stereo Unfold algorithm identifies ambient information and restores it to proper time and level in the diffuse field."
Legacy's sophisticated Wavelet Preamp/DAC/Processor provides time alignment and crossover functions for the four-way system while hosting SPDIF, Toslink and USB digital inputs and 2 pair each of balanced and unbalanced inputs. Böhmer Audio's PerfectWave solution, in its Wavelet configuration marketed by Legacy Audio, is a complete Preamplifer with 56 bit DSP for Crossover, Speaker Correction, Room Correction, and DAC built in. It is remote controlled either through a customizable WiFi remote app that works on any web enabled platform, smartphones, pads, computers etc., or a conventional IR remote. The Wavelet has both balanced and unbalanced analog inputs and also has both balanced and unbalanced analog outputs. It has a built in phantom powered microphone input for performing room correction measurements as well as measuring phase and level of connected speakers.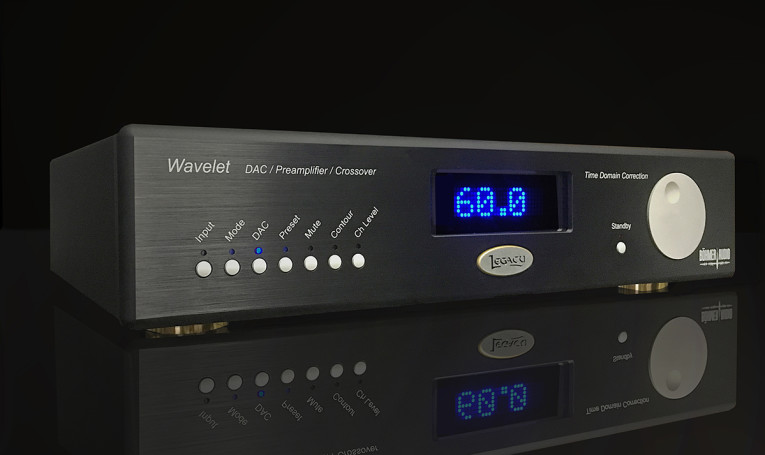 The new Legacy VALOR loudspeaker system combines the Wavelet processor with a four-way design using 8 drivers and built-amplification (1kW+750W-500W+500W), to correctly translate the sequential sound field reconstruction system, and Stereo Unfold algorithm. The tweeter is a dual 4" AMT bridge-mounted in post convergent array, with the midrange provided by a 1.5" coaxial driver with titanium/polyester diaphragm, and precision waveguide, and the mids provided by 14" dipolar drivers, with carbon/pulp curvilinear cones and neodymium motor. The bass section in the rear combines two 14" drivers using also carbon/pulp curvilinear cones, and neodymium motors, configured in a super-cardioid array. The side passive radiators are dual 12" aluminum diaphragms with 3" dual 4 layer voice coils.
The internal amplification includes 1kW for the subwoofer section, 750 watts for midbass, 500 watts for midrange, and another 500 watts for the Ambient Array, with crossover frequencies at 65Hz, 800Hz, and 6kHz. For high-frequencies, the system requires one external channel of 60 watts amplification or greater, per side. Inputs are one pair of binding posts for upper range, two XLR balanced connectors for subwoofer, and one XLR for Stereo Unfold processing. Legacy claims a complete frequency response from 20Hz all the way to 30kHz, with a 100.5 dB sensitivity (2.83V @ 1m). Each VALOR cabinet weights 288 pounds.
Legacy says the constructions and finishes will follow the same rigorous quality standards used in the company's flagship commercial doubleHELIX system and the Studio HD bookshelf system. During RMAF 2017, Legacy's Chief Designer Engineer, Bill Dudleston, will provide demonstrations of this extraordinary new solution at 11am, 1pm and 3pm daily in Evergreen Ballroom A. This will a key moment for Legacy Audio, a name already well-established in the home theater market.
www.legacyaudio.com