ams announced the launch of a technology which enables noise-cancelling headsets with a four-pole 3.5mm jack to operate for the first time without a dedicated battery power supply. The new Accessory Communication Interface (ACI), invented by ams, uses a single wire to carry power and bidirectional data as well as digital audio signals, enabling small form factor noise cancellation headsets while offering the flexibility to include sensors, LEDs and displays.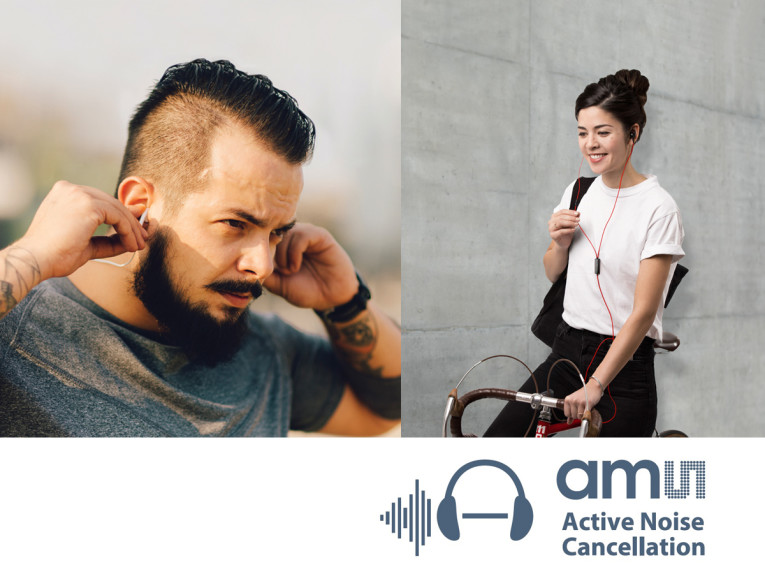 Austrian company ams AG, a leading provider of high performance sensor solutions, says its new Accessory Communications Interface (ACI), uses the microphone (MIC) wire – one of four wires in a standard 3.5mm audio cable – to carry power and bidirectional data with a rate of up to 16 Mbit/sec, as well as digital audio signals. By implementing the ams ACI solution and eliminating the headset's battery, manufacturers can significantly reduce the size, weight and bill-of-materials cost of their connected accessory using the popular and mechanical very robust 3.5mm connector.
The new capabilities provided by ams' ACI make the familiar 3.5mm connector even more useful than before. An ACI equipped ANC headset performs Receive (Rx) noise cancellation and enables Transmit (Tx) noise cancellation on voice calls which increases audio quality significantly. The device can use headset-mounted sensors to add features including gesture recognition, proximity sensing, heart-rate measurement, temperature sensing and others. Moreover, a display or special light effects can be added to the headset providing innovative opportunities for differentiation.

The ams 3.5mm audio solution consumes 60% less power than USB Type-C systems, keeping the drain on the handset's battery to a minimum. The ACI system also requires fewer components than a USB Type-C system and therefore keeps system costs low, enabling manufacturers to afford to bundle an ANC headset with a mobile phone. In addition, the system is compatible with legacy headsets that do not have ACI technology.
"By freeing noise-cancelling 3.5mm headsets of their dedicated battery, ams' new ACI gives OEMs the opportunity to completely rethink their product designs. Not only can OEMs make headsets smaller, lighter and more convenient, but with the addition of sensors, LEDs or displays they can add a variety of features which helps them differentiate their products", says Christian Feierl, Marketing Manager at ams.
The system is available for sampling now.
www.ams.com/ACI