Following the introduction of Dynacord's L Series and C Series amplifiers in 2017, and the more recent introduction of IPX power amplifiers for fixed installation, Dynacord introduced the new TGX range for live sound applications at InfoComm 2018. Engineered and manufactured in Germany, these power amplifiers are built as the ultimate amplification solution for medium to large-scale live performance sound applications, featuring Dante networking and 96 kHz DSP with FIR Drive technology.
Leveraging the same industrial platform and industrial design of the
dual channel L Series and C Series power amplifiers
, the brand, part of the Bosch Communications Systems family, now introduced new 4-channel amplifiers for live production with up to 20,000 watts of total power output. Following market evolution towards high-quality digital networked systems, the new Dynacord TGX amplifiers also include advanced 96 kHz signal processing with FIR-Drive and Dante networking, combining ultra-low latency with up to 118dB signal-to-noise ratio, and are engineered for flawless and uninterrupted operation – even in fluctuating voltage and load conditions.
The Bosch Communications Systems family of brands also offers the advantage of integration with an expanded range of solutions, including the Dante-equipped OMNEO IP technology. At last year's InfoComm show, Bosch reintroduced the Dynacord brand into the Americas market and this year the full range of amplifiers, DSP and software was already displayed. At InfoComm 2018 Bosch was also previewing new control and supervision software for OMNEO-enabled devices in professional audio applications, designed to make managing every aspect of an installed/live sound system's performance more efficient, intuitive and precise than previously possible. This includes networked-connected amplifiers such as the new TGX range.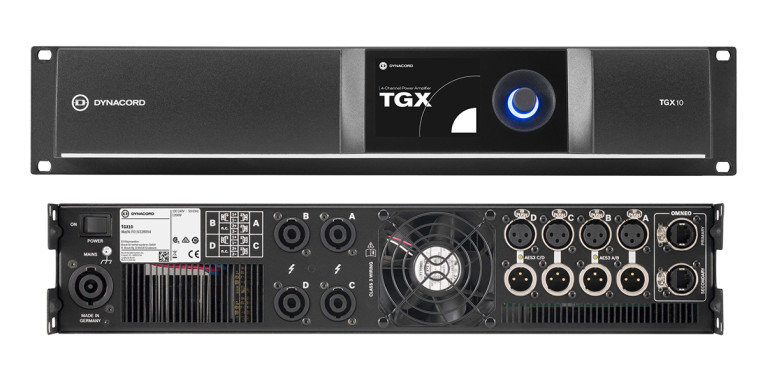 The new software was designed to interface with loudspeaker aiming and prediction software packages such as EASE Focus and live measurements in real time with SysTune with plug-in options. Using a light and dark color scheme, the graphical user interface adapts to increase visibility in high and low lighting conditions. Alternatively, TGX power amplifiers can also be operated via IRIS-Net software, which offers numerous options for the most complex sound system configurations.
During the InfoComm 2018 presentation, Dynacord highlighted the optimized user experience thanks to comprehensive system software and pre-configured system rack solution offered with the new TGX range. Featuring two models with 4 x 2,500 watts and 4 x 5,000 watts, the new Dynacord TGX amplifiers offer an unparalleled 4-ohm power density of 10 kW and even 20 kW from a single amplifier with all channels driven simultaneously. All TGX amplifiers are equipped with Dante networking capabilities as well as AES and analog inputs.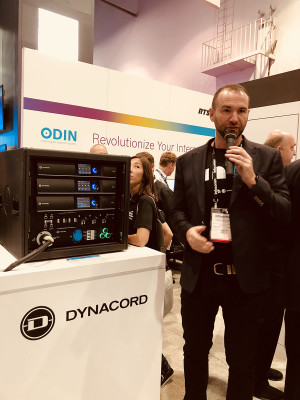 Since they are designed for live sound applications, the new Dynacord TGX amplifiers incorporate a number of unique patent-pending technologies designed to deliver a reliable and stable system performance. "The show will go on – without clipping or shutdown. TGX's advanced protection package monitors more than 200 parameters to assure that even under the most challenging operating conditions the amplifier continues to perform at highest possible level. In addition, Dynacord's digitally regulated Power Factor Correction (PFC) provides peace of mind. Even with fluctuating main power supplies, TGX amplifiers will remain stable and efficient. Junction Temperature Modelling (JTM) technology ensures the highest possible output power and tour-grade performance without any shutdown or loss of audio quality. Dual network ports and automatic fall-back provide an extra level of redundancy and system reliability," the company states.
The Dynacord TGX system rack is a modular solution designed and built for touring professionals, by touring professionals. The single 10 rack unit TGX system rack is pre-configured with three TGX20 amplifiers plus two independent network switches for glitch-free operation. It offers a variety of professional features such as integrated sliding rack doors, customizable I/O options and a reversible mounting for the power distribution. The TGX system racks can be vertically stacked and locked together to give up to 180 kW of output power in the same compact footprint as a conventional amplifier rack.
www.dynacord.com
|
www.boschbuildingtechnologies.com