The northern Italian city of Cremona is the cradle; a place where the masters Amati, Stradivari, and Guarneri del Gesú lovingly created a new pinnacle of quality for stringed instruments. Even though centuries have passed, these instruments are still considered the holy grail of violins today. Now, e-instruments lab GmbH will record and preserve the sounds of these unique instruments, in order to make digital sampling versions of the Stradivarius sound available forever.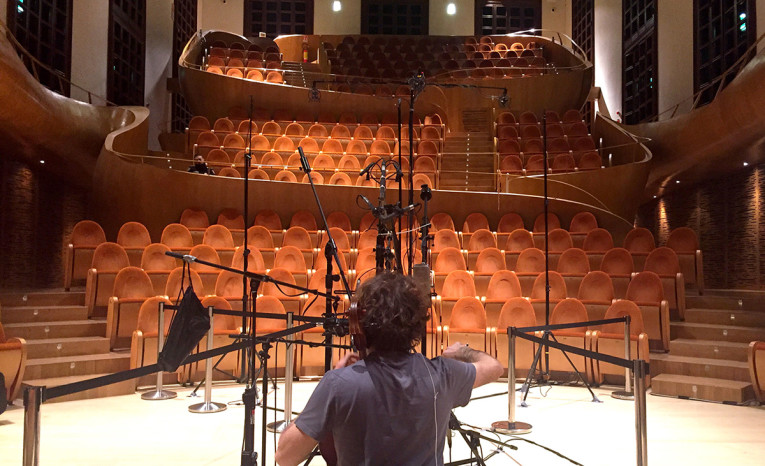 Based in Hamburg, Germany, e-instruments is the software company responsible for creating the highly successful Session Horns (Pro), Session Strings 2 (Pro) and Session Keys virtual instruments. The company combines acoustic accuracy, outstanding sound quality and an intuitive user interface in developing virtual instruments for all musicians and genres.
In 2016, e-instruments lab GmbH were offered the once-in-a-lifetime chance to record a string quartet with the world-famous exhibits by the Museo del Violino in Cremona. Recordings began in January 2019 in the Auditorium Arvedi, the outstanding concert hall of the Museo del Violino.
The incredibly extensive planning of the project included not only the careful selection of top musicians, the compilation of complete articulation lists, the creation of music sheets, and the evaluation of the equipment used but also far-reaching on-site measures to ensure the audio was as perfect as the violins being captured.
As a consequence, it is not only the concert hall that is shut down during the recording period, but even the surrounding streets have been closed off, and all traffic diverted. In a press conference at the beginning of the recordings, the mayor of Cremona asked the people of the city for active support, asking them to be as quiet as possible and to avoid any activity that could possibly interfere with the recording during the following weeks.

The aim of the project is not only the meticulous digital conservation of these unique instrument sounds but also the transfer of the historical Cremonese string instruments into modern, digital musical instruments. Although digital, these instruments will be created with the same care and attention to detail as the originals, allowing musicians around the world to "play" them via a keyboard and modern computers.
The musicians have to play countless scales, phrases, and arpeggios using all of the playing variations and tones their instruments offer - the 1615 Girolamo Amati 'Stauffer' viola; the 1700 Antonio Stradivari 'Stauffer' cello; the 1727 Antonio Stradivari 'Vesuvius' violin; and the 1734 Guarneri del Gesù 'Prince Doria' violin. 32 ultrasensitive microphones – expertly positioned around the musicians and carefully placed throughout the auditorium – capture even the smallest sound detail. Several hundreds of thousands of samples will be recorded resulting in terabytes of data.
www.e-instruments.com