Seen for the first time at CES 2017, Sennheiser is now showcasing its new AMBEO Smart Surround solution – a compact earphone for immersive 3D audio recording - at NAMM 2017. This product lets consumers capture and listen to binaural audio recordings on their smartphones with unprecedented simplicity. Following the unveiling of Sennheiser's AMBEO 3D audio technology program and the introduction of the AMBEO VR Mic, Sennheiser's Smart Surround will be the brand's first AMBEO consumer product.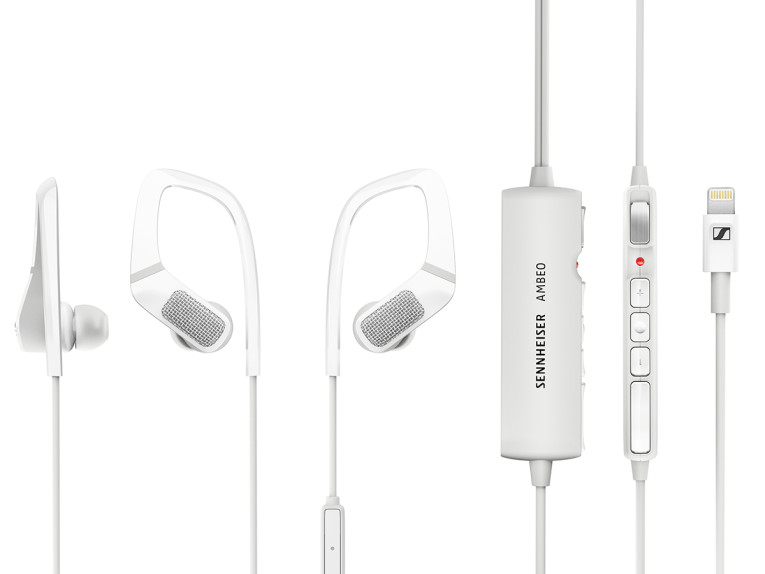 Binaural audio delivers an incredibly immersive 3D experience, placing the listener inside the soundscape and replicating the direction of sounds and spatial characteristics of a given environment. Whether it is a concert hall, a rainforest or a buzzling city – binaural sound makes listeners feel like they are there. With the AMBEO Smart Surround solution, Sennheiser brings this sophisticated recording technology to an intuitive pair of consumer earphones for the first time. This easy-to-use product creates immersive, binaural audio that complements the high-quality video that is available from a wide range of consumer devices such as smartphones.
"Today's consumers are accustomed to capturing incredibly realistic video, producing 4K and 360° videos. Yet as mainstream technology makes immersive visual experiences ever more accessible, the power and emotion of this footage is too often let down by the quality of sound that these devices can capture. AMBEO Smart Surround is an innovative solution that closes this gap," explains Dr. Andreas Sennheiser, co-CEO of Sennheiser. "With AMBEO Smart Surround we are taking the next step into the future of audio. We are inviting consumers to experience immersive sound by adding a recording earphone into our AMBEO technology program," adds Co-CEO Daniel Sennheiser.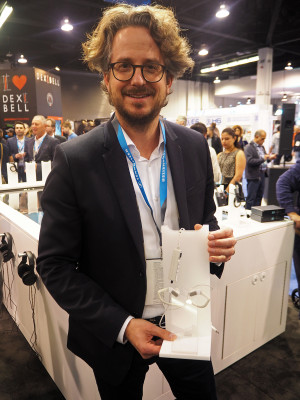 The new AMBEO Smart Surround features a compact in-ear design that makes it ultra-portable and ideal for use with mobile devices. It also shares the convenience and simplicity of the smartphone experience: The intuitive handling makes the spontaneous capture of brilliant binaural sound as easy as shooting a high-definition video, and the 3D sound files recorded with the AMBEO Smart Surround can be enjoyed through any pair of stereo headphones.
For the binaural audio recordings, the earhooks of the AMBEO Smart Surround are fitted with two quality microphones. The incredibly realistic, immersive effect is made possible by reproducing the subtle differences in timing, volume and timbre that occur as sounds from different directions reach each ear. Previously, binaural recordings were made using dedicated professional solutions such as dummy heads. However, the new earphones apply today's leading-edge technology, including A/D conversion from Apogee integrated directly in the cable, and Apple Lightning and USB-C connectors.
Daniel Sennheiser explains that the product draws on the company's 70-year heritage of innovation and its vision to shape the future of audio: "Perhaps more than any other company, Sennheiser can claim to have started the very first wave of binaural audio in the 1960s, with the creation of the first open headphone model – the HD 414. This same passion for innovation in audio will inspire a new wave of binaural sound for the digital age. We are very excited to see how consumers will embrace the creative possibilities that are opened up by this exciting technology."
Shape the Future of Audio
Early in 2016, Sennheiser unveiled a strategic focus on 3D immersive audio. "3D audio is the new frontier of excellence, set to transform the listening experience for users across a broad range of applications, from virtual reality gaming to audio recording and broadcasting," said co-CEOs Daniel Sennheiser and Dr. Andreas Sennheiser, speaking at CES 2016.
"We have been active in this area for some time with 9.1 mixing and recording and the audio design for high-profile exhibitions. We are now increasing our efforts considerably to introduce this amazing sound quality into new products and applications, enabling users to experience and shape the future of audio." Sennheiser's 3D immersive audio products and activities bear the AMBEO trademark. AMBEO products are consistently developed with an early involvement of users, producers, content providers and technology partners across the globe.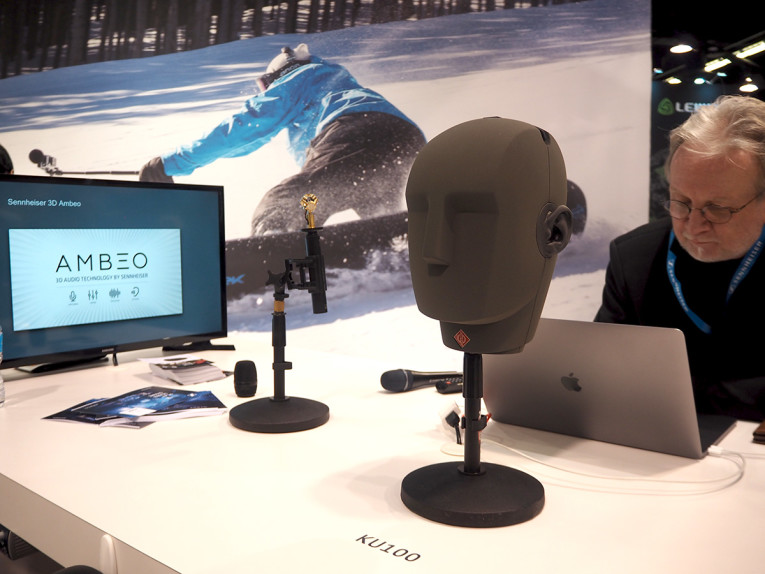 Sennheiser has been making original 9.1 recordings since 2010, and has promoted this immersive format ever since at audio congresses, workshops and tradeshows around the globe. In the course of this work, a tonmeister-quality upmix algorithm was developed to turn legacy stereo material into stunning 9.1 music.
A key highlight in Sennheiser's work with the 3D audio format and the upmix algorithm is the creation of immersive AMBEO 3D audio installations for the Victoria and Albert Museum in London, the world's leading museum of art, design and performance. Both their internationally successful "David Bowie is" exhibition (1.5 million visitors on the global tour as of November 2016) and the new "
You Say You Want a Revolution? Records and Rebels 1966 – 1970
" exhibition use AMBEO sound installations that fully envelop visitors in sound and music, establishing a completely new type of museum experience.
The AMBEO VR Mic, a compact handheld Ambisonics microphone, was the next step from Sennheiser towards the AMBEO vision. The microphone comes with a split cable with four colour-coded and labelled XLR connectors according to the capsule position, Rycote suspension mount, foam windshield, and a free A to B format encoder for downloading as VST, AAX and AU plug-ins or as a stand-alone version for Mac or Windows.
AMBEO Music Blueprints is a dedicated website that explores how to record, mix and deliver live music as an immersive 3D audio experience. At
www.sennheiser.com/ambeo-blueprints
, three Blueprints – AMBEO for Loudspeakers, AMBEO for Binaural and AMBEO for Virtual Reality – provide straightforward information on recording set-ups and microphone positioning, on mixing with additional spot microphones and on delivery and playback for a 3D listening experience. Complete with expert voices, equipment rental options, sound examples, video material and free plug-in downloads, the website gives seasoned engineers, aspiring recordists and streaming specialists guidance on how to record and mix immersive 3D sound.
The AMBEO Smart Surround will be available in the second half of 2017.
www.sennheiser.com