V-MODA announced the availability of its new Forza Metallo Wireless neckband Bluetooth headphones. Designed by and for modern personal audio enthusiasts, Forza Metallo Wireless headphones are intended for all day use in any environment, featuring micro 5.8mm hi-res drivers, metal housing, 3D printing customization, sport fins and a unique 'TrapLock' titanium neckband. A high-performance and ultra-sleek companion for demanding everyday life, the new V-MODA design also adds new noise-canceling microphones.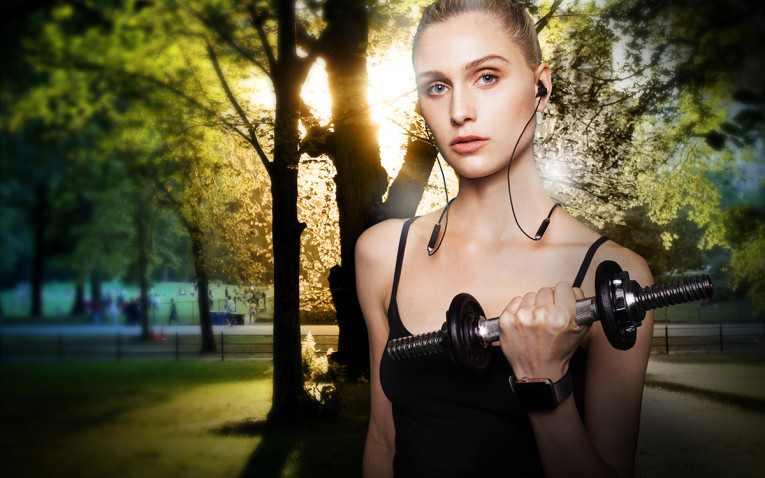 It seems clear that V-MODA is shifting gears and entering a fast growth cycle with the expansion of its lifestyle product portfolio into new categories. Following the introduction of its new
Crossfade 2 Wireless headphone
s and
Remix Bluetooth speakers
, the company now adds an innovative neckband design. The new V-MODA Forza Metallo Wireless neckband headphones feature a newly developed 5.8mm dynamic micro Hi-Res driver, a futuristic sweat-resistant technology, patent-pending sport fins for hybrid sport performance and the brand's typical jewel-grade 3D printing customization options, now allowing users to customize their own in-ears.
"All other in-ear wireless headphones have a variety of form factors with show stopping compromises, imperfect ergonomics or useless gimmicks. They either look like unsightly massive 'plastic space ring around the collars', Frankenstein bolts that will not stay in your ears or separate earbuds that are quickly lost, have reception issues and need a dongle or case," says Val Kolton, V-MODA CEO. "Our first neckband Bluetooth headphone features a minimal design that can hide under a shirt collar, maximum battery life, enhanced antenna and unrivaled all-day ergonomics. With Forza Metallo Wireless we are unleashing audiophiles and professionals with ultimate ergonomics via our unique TrapLock titanium cable refined to every nanometer from countless anatomical tests conducted over years."
Front and center to the Forza Metallo Wireless sound is the newly developed 5.8mm neodymium micro dynamic Hi-Res drivers, that the company says are able to deliver "a balanced vibrant bass, vivid mids and natural stress-free highs, surrounded by a vast 3D soundstage." The Hi-Res drivers join a CNC forged aircraft-grade metal housing and are enhanced by Qualcomm's aptX audio codec for improved wireless audio playback with compatible devices.
The Forza Metallo Wireless design was optimized for active, business professionals, and music aficionados, applying perfected ergonomics to guarantee best stability and fit. The revolutionary TrapLock Titanium neckband, refined from countless anatomical tests conducted over years, according to the company, is described as "a design masterpiece" that "pushes the boundaries of stylish, fitted minimal design to stay on your shoulders in every angle or hide under a shirt collar."
The detachable, patent pending ActiveFlex sport fins come in three sizes for the ultimate stability from commuting to working out, while the four different sizes of BLISS (Bass Level Isolating Soft Silicone) 3.0 fittings ensure improved noise-isolation and enables improved bass for the best fit, stability and sound.
Forza Metallo in Italian means "metal force". The Forza Metallo Wireless are forged in CNC aircraft-grade lightweight aluminum and tested beyond Military-level quality MIL-STD-810G test standards to withstand everyday activity to extreme conditions. A new, special nanocoating technology makes the headphones sweat and weather resistant. "While water is the arch-enemy of all electronics, sweat is the supreme killer liquid for sport headphones with its unique acidity. Ironically, and unlike Forza Metallo Wireless, many of the best water-proof headphones in the market fail sweat-tests," the company adds.
Bluetooth connection will work within 10 meters (33 feet) range and supports simultaneous pairing with 2 devices, while the lithium-ion battery provides up to 10+ hours of music and calls. A 15-minute quick charge delivers 2 hours of playback. The headphones feature an enhanced 3-Button remote, compatible with Apple, Android products and all Bluetooth enabled audio devices, to control music, volume, calls and voice assistants. Special attention was paid to the business and work uses, with dual noise-cancelling microphones ensuring crystal-clear calls even in the noisiest environments. And when a call comes in, the neckband vibrates so users can answer without taking out their phones.

As with all V-MODA products, the new wireless neckband headphones can also be customized with a collection of 3D printed custom caps and the patent-pending RemixRings. The collection of 3D caps features the Milanese designs Steam Punk, V-MODA Logo, Lion Head and more to come. The cap materials and pricing include platinum (starting down from $7,500), 14k gold (starting down from $2,500), gold-plated (starting down from $250) and the newly developed and affordable HD Acrylic for $40 ($20 when bought with the headphones).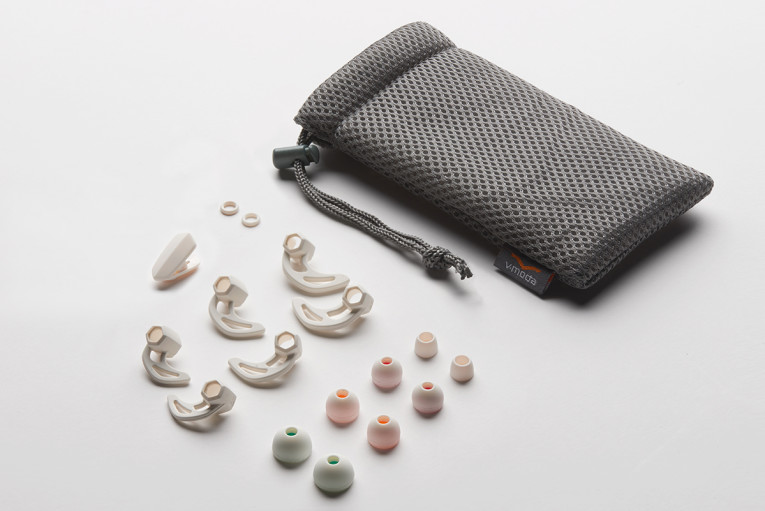 Each Forza Metallo Wireless headphones include 8 pairs of BLISS 3.0 fittings in XS, pre-installed S, M and L sizes; 3 pairs of ActiveFlex sport fins in S, M and L sizes; 2 pairs of RemixRings; and a carrying pouch. Forza Metallo Wireless are now available in Gunmetal Black and White Silver for $170.00 (USD), €170.00 (EUR) from V-MODA.com and authorized resellers. 3D printing customization is also available exclusively at
V-MODA.com/Forza-Metallo-Wireless
.
v-moda.com