VBAN streaming audio protocol is an Open Source project, developed by Vincent Burel, which allows streaming up to 8 channels (7.1) of PCM audio at up to 24-bit/96kHZ on any LAN or WLAN network, including wireless. VB-Audio already offers a family of software solutions with VBAN support and now announced availability of VBAN Receptor, a simple application to receive and listen to VBAN Audio Streams.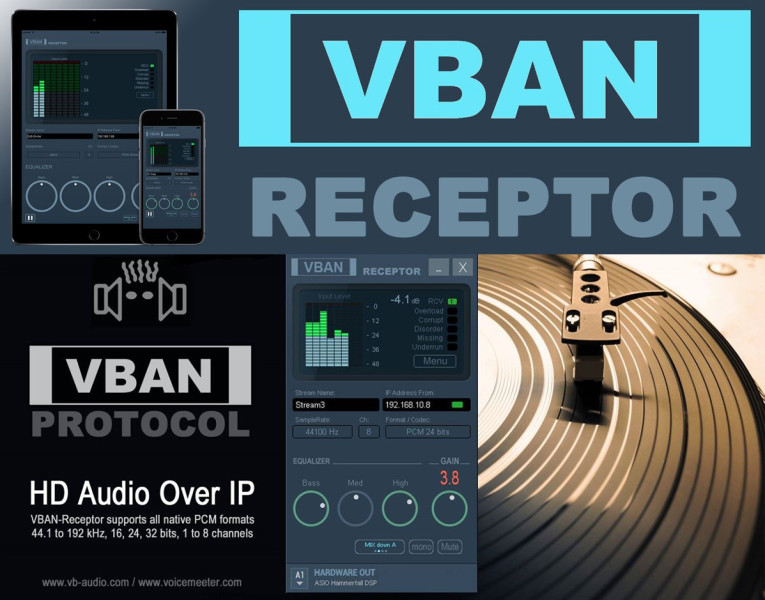 The interesting part of the VBAN Protocol is that it can be integrated easily and quickly by any application developers or hardware manufacturers. As an example of implementation, VBAN-Receptor is available as open source project for Linux Operating System on Benoit Quiniou GitHub. VBAN, The VB-Audio Network Protocol has been designed for real-time transport of digital audio streams in any IP-based network environments. VBAN allows to send or/and receive audio to/from computers connected on local networks. VB-Audio already offers Voicemeeter, a software that allows to manage several incoming/outgoing VBAN streams. Both Voicemeeter and VBAN-Receptor are available as donationware for Windows.
Based on UDP Protocol, VBAN is an audio streaming solution to transport multichannel audio in native PCM format, developed like a "radio" transmitter/receptor system, where the sender is always master and the receiver is always slave. VBAN-Receptor is a simple application to receive and playback VBAN audio streams on any device. It supports all audio formats, in any sample rate, from 1 to 8 channels (7.1) on any local network infrastructure (LAN or WLAN).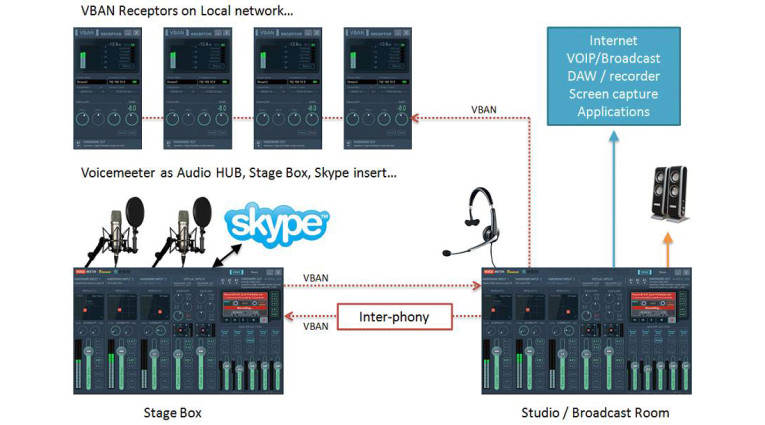 Application examples with the VBAN Receptor software include turning any mobile device into a wireless headphone to listen to music or watch TV over WiFi. The VBAN-Receptor software is available for iOS devices (iPhone, iPad, iPod Touch), Android devices (from version 4.2), Windows (32/64-bit) and Linux through an open source project called vbanreceptor on GitHub. Since VBAN protocol is a real time protocol offering low latency audio streaming (below 30 ms), it is also possible to use to create a silent concert experience, instead of using sound reinforcement. Other possible applications include studio to studio interlinks and contributions on a radio production.
Used in combination with the Voicemeeter VBAN implementation, it becomes easy to manage network audio distribution, sending up to 4 audio streams and receiving up to 2 streams on virtual input(s). Voicemeeter implements VBAN functions to send or/and receive audio to/from other computers of a local network. Users can define a destination IP-address to send audio to another computer on a local network, and use up to 255 UDP broadcast addresses to send audio streams to multiple computers. VBAN Stack in Voicemeeter is able to manage any audio stream, and even convert sample rates independently from the mainstream sample rate, making it possible to send/receive stereo, 5.1 or even 7.1 signals in native PCM format.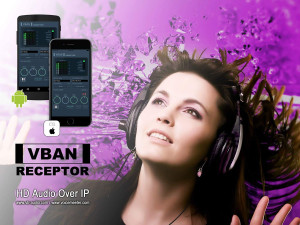 VBAN protocol is public and free. It can be used by any industrial or manufacturer to creat a VBAN receptor or transmitter application or electronic module. VB-Audio is inviting developers to explore the VBAN protocol and implement VBAN sources of any type, including media servers and audio receivers.
More information and specification book on VBAN Audio
VBAN Receptor for Windows
VBAN Receptor for Android
VBAN Receptor for iOS
VBAN Receptor for Linux
More information on VBAN Receptor