The Video Electronics Standards Association (VESA) announced that, thanks to escalating adoption by OEMs and chipmakers, the DisplayPort standard is continuing to gain momentum in the mobile consumer electronics space. Much of this recent growth stems from adoption of the DisplayPort Alternate Mode ("Alt Mode") that is supported by dozens of commercially available products to date using the new USB Type-C connector.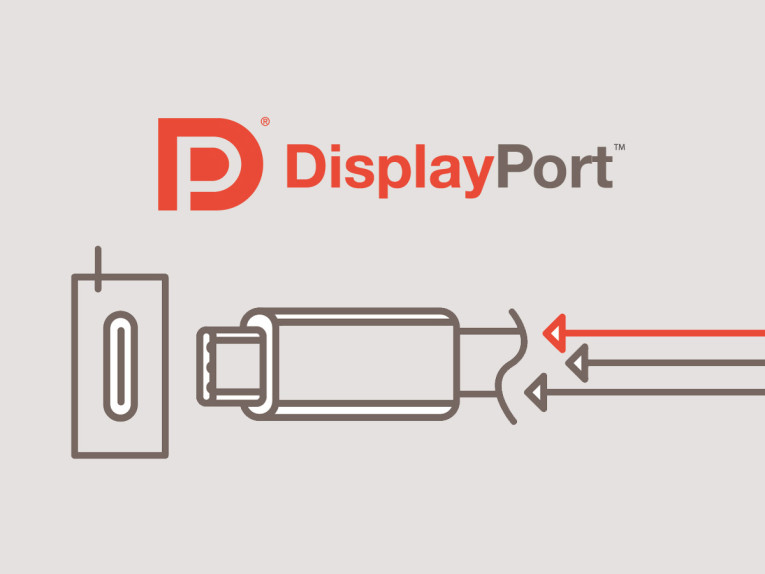 Recent developments such as the completion and release of the DisplayPort Alt Mode Compliance Test Specification (CTS) and the establishment of the DisplayPort High Bit Rate 3 (HBR3) Early Product Certification Program for video source and display products are expected to further ecosystem growth and drive adoption for these advanced technologies.
According to market research firm Strategy Analytics, more than 110 million handsets and tablet devices have been sold as of Q4 2016 that include native DisplayPort, DisplayPort Alt Mode and MyDP. "There is a perfect storm which will boost consumer demand for 4K/HDR video and VR/AR applications through the rest of this decade," stated Eric Smith, senior analyst, Tablet and Touchscreen Strategies at Strategy Analytics. "Displays have higher resolution, wireless connections are faster and have lower latency, physical connectors are smaller and provide higher bandwidth, and high-quality video content is more ubiquitous. Consumers continue to use more video on mobile devices as enabling technologies develop. More than a third of smartphones sold in 2017 already have the ability to capture 4K video – Strategy Analytics forecasts that percentage will increase to over half by the beginning of the next decade. Consumers will not hesitate to take advantage of this ever greater capability and will capture and consume ever growing amounts of high-definition content."
Among the latest developments with DisplayPort, Qualcomm Technologies, a subsidiary of Qualcomm Incorporated, confirms that the Snapdragon 835 platform — its latest mobile chipset unveiled at the Consumer Electronics Show 2017 — includes DisplayPort Alt Mode video transport. The Snapdragon 835 is designed to enable thinner and lower-power premium-tier consumer devices such as smartphones, virtual reality/augmented reality (VR/AR) head-mounted displays, IP cameras, tablets and mobile PCs. Inclusion in Qualcomm Technologies' newest and most advanced mobile system-on-chip (SoC) will further support DisplayPort adoption within the phone and wireless device industry.
VESA is showcasing the latest commercially available mobile devices utilizing the USB Type-C connector with DisplayPort Alt Mode, as well as some of the first products utilizing DisplayPort v1.4 capability, at Mobile World Congress in Barcelona, (Feb. 27 to March 2). At MWC 2017 VESA is showing how DisplayPort's support of HDR can be utilized by a DisplayPort-to-HDMI adapter to fully support the capability of HDMI 2.0b, including 4K 60 Hz with HBR3. Another demonstration shows a single DisplayPort output driving dual 4K 60Hz displays via the DisplayPort Multi-Stream Transport (MST) feature, which is enabled by the increased data rate (up to 8.1 Gbits/sec on 4 lanes or 32.4 Gbits/sec total) available from DisplayPort's HBR3 capability. HBR3 also enables the support of 4K at a 60Hz frame rate using only two lanes. When used for DisplayPort Alt Mode across the USB Type-C connector, this frees up the other two lanes for a simultaneous USB 3.1 interface for 10 Gbits/sec data transfer.
A major highlight at VESA's booth a MWC 2017 is a new Dell UltraSharp 32 Ultra HD 8K 60Hz monitor (UP3218K), which offers 33.2 million pixels at 7680×4320 resolution and is interconnected to the host PC using DisplayPort 1.3. The latest version of DisplayPort (version 1.4) can enable 8K 60 Hz HDR deep color with a single cable using VESA's Display Stream Compression (DSC) standard.
VESA is also showing an Avegant Glyph personal theater headset connected to the USB Type-C connector of a smart phone using a DisplayPort Alt Mode-to-HDMI protocol adaptor. "When developing the Glyph, one of our chief design objectives was that our personal theater work seamlessly with all major content sources and standards," says Joerg Tewes, CEO at Avegant. "Using DisplayPort Alt Mode, our HDMI interface accepts inputs from a wide spectrum of sources from existing home entertainment systems to portable devices."
"With each new DisplayPort incarnation, we are seeing growing interest from an industry eager to implement a standard that enables the highest video performance, versatility and integration on computers, smart devices and displays," stated Bill Lempesis, executive director of VESA.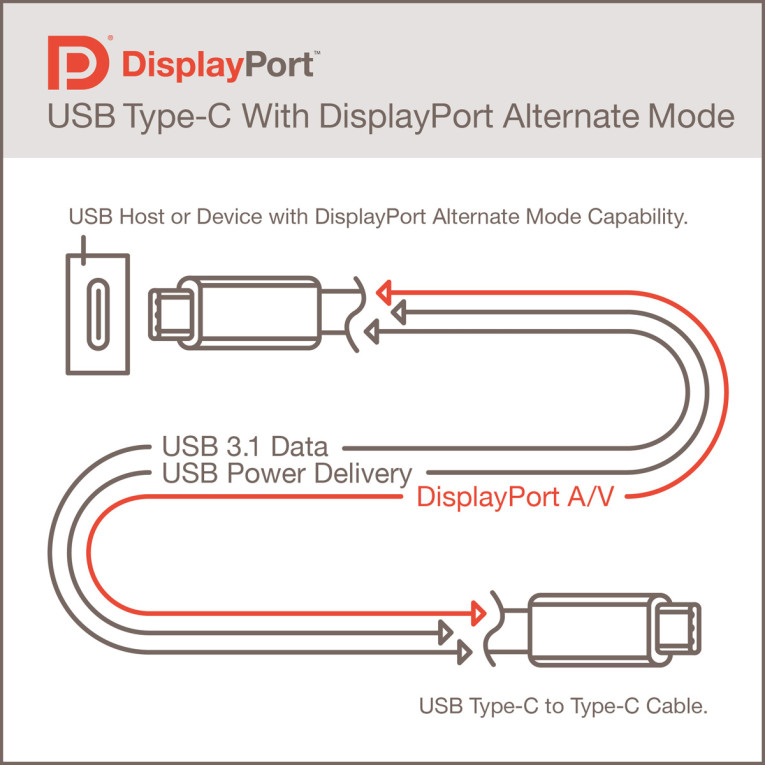 USB-C Compliance Test Specification
VESA also announced the completion of its compliance test specification (CTS) for products incorporating the USB Type-C connector and the DisplayPort Alternate Mode ("Alt Mode") standard. The new CTS documents allow VESA members to have their products compliance tested through VESA's Authorized Test Centers (ATCs) worldwide, or by completing self-testing and posting their certified product information to VESA's database. The CTS is currently undergoing final review and will be released next month.
The DisplayPort Alt Mode standard enables a USB-C connector and single cable to deliver full DisplayPort audio/video performance, with SuperSpeed USB data, and up to 100 watts of power. DisplayPort Alt Mode is natively supported by both standard USB-C connectors and cables. With the new CTS, DisplayPort is also well ahead of other standards organizations' efforts to develop competitive USB-C Alt Mode specifications.
"The full spec was developed with the assistance of VESA member companies and electronics OEMs via numerous man-hours spent participating in well-attended VESA member compliance test events, called VESA PlugTest events, as well as in VESA hosted platform interoperability and test events," says Jim Choate, VESA compliance program manager. "The engineering time spent to hone the spec will yield productivity savings going forward, as the ecosystem of CTS-certified products continues to grow."
VESA published the DisplayPort Alt Mode in September 2014. Developed jointly between VESA and the USB 3.0 Promoter group, the DisplayPort Alt Mode enables the highest display performance available, combined with the USB Type-C connector's high-speed data transfer and power delivery functions. Earlier this year, VESA published the latest version of the DisplayPort standard, v1.4, with new capabilities such as video transport compression, which facilitates High Dynamic Range (HDR) and 8K video across the USB Type-C connector.
Products fully certified as DisplayPort USB-C Alt Mode-compatible to date include leading chipsets, notebooks, monitors and laptops. As the ecosystem continues to grow, many more product certifications are expected to be complete during the first half of 2017.
www.displayport.org
|
www.vesa.org