Zoom Corporation introduced a new evolution in its line of handy cameras, the Zoom Q2n-4K. It promises the same audio quality with high-quality microphones, recording up to 24-bit/96kHz and new, advanced video quality. The new camera adds 4K UHD capability, high dynamic range (HDR) technology, 12 specialized scene settings, and a new design optimized for musicians to capture performances, practices and live streams, leveraging a new 150-degree wide angle lens. And the Q2n-4K allows users to play back or monitor audio through either headphones or speakers.
Focusing on complete integrated solutions for field recording, not only audio but also video, Zoom designed a new surprising model in its line of handy cameras. The new Zoom Q2n-4K is a completely integrated and ready-to-go solution (no smartphone required), promising the best audio results combined with new, advanced video quality. Far from being a simple 4K update on the camera, the new Q2n-4K allows musicians and many other users to easily capture stunning videos with high quality audio.
Musicians will be able to easily record everything from acoustic guitar to heavy metal thanks to the built-in X/Y stereo microphones capable of handling sound levels up to 120 dB SPL, combined with stunning images captured with the high-quality 150-degree wide angle lens (f2.8/15.2 mm) and five field-of-view (FOV) settings. And with the camera's color LCD display and one-touch recording, self-videos can be framed up and rolling in seconds.
Audio quality will be the big differentiator when comparing the Q2n-4K with any smartphone, and Zoom made certain that users have everything they need, including analog-style level control with onscreen digital metering, Auto Gain function for automatic control over audio input level, a stereo input for use with external devices plus support for plug-in power, headphone/line-level output for fast audio monitoring, and even a low-cut filter to avoid low-frequency noise and rumble.
According to Zoom, the Q2n-4K will so allow users to get a perfect shot anywhere without being a lighting expert - from a dimly lit club to outside in the glaring sun. Featuring high dynamic range (HDR) technology and 12 preset scenes, every clip will be well-lit and well-balanced, and there is an 'Auto' setting that intelligently adapts to the working environment. And with an HDMI micro Type D video output, users can even review the video in high definition on any TV.
The Q2n-4K can obviously connect to a computer via USB for data transfer and for live streaming to Facebook, YouTube, Twitch and more. And users can also output the Q2n-4K's audio to an iOS device for mobile podcasting and music streaming. Zoom confirms that the camera is compatible with OBS Open Broadcaster Software, Skype and other popular streaming applications. All media is recorded directly to microSD, microSDHC and microSDXC cards, up to 256 GB for extended recording times.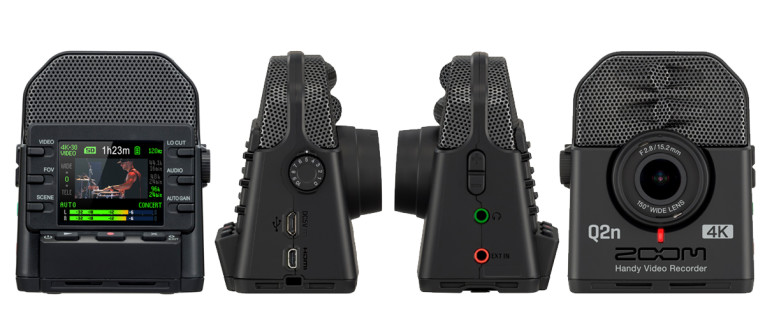 The camera can also be used as a standalone audio recorder with data saved in WAV format up to 24-bit/96 kHz. The Q2n-4K can even be used in USB mic function (with low-latency direct monitoring) when used with computers and iOS devices. Video quality (MOV format) can be selected from 720p, 1080p and 4K, with multiple frame rates and bitrates up to 76 Mbps for improved image quality, from 720p/25fps to 4K/30fps.
As with other Zoom products, there are multiple accessories to assist all types of production. The standard Q2n-4K box includes a lens hood, lens cap, Quick Guide and two AA batteries, which is what the camera uses for portable mode, even though it can be powered with any standard USB power supply.
The new Zoom Q2n-4K will be available in November 2018.
www.zoom.co.jp/Q2n-4K