Native Advertising, Sponsorships, and Content Integration

It's time to get the most out of your marketing budget and amplify your sales.
audioXpress
will help you create and deliver engaging, shareable content that will strengthen your brand and drive traffic to your sites. Sponsor a blog post on audioXpress.com or an in-feed item in The Audio Voice newsletter.
Work with
audioXpress
to start compelling conversations and reach new customers with your message.
---
SPONSORED CONTENT UNITS (website or The Audio Voice newsletter)
Price: $695
Details:
In-feed Sponsored Unit: Remains on homepage until pushed off by other posts or pinned to the top for a week. Listed as "Sponsored."
Homepage Fixed Content Unit: 31 days maximum


Engineers, enthusiasts, and DIYers share content (e.g., articles, and PDFs). Via our sponsored content units, you can tie your brand and message to the high-quality content our readers share and promote. That's right, your customers promote your brand.
This is an opportunity to create
immediate brand awareness
by sponsoring recurring high-quality, audioXpress-created content. The "in-feed" editorial unit clearly promotes your brand as the sponsor, and your promotion continues naturally when readers click through to the full content page.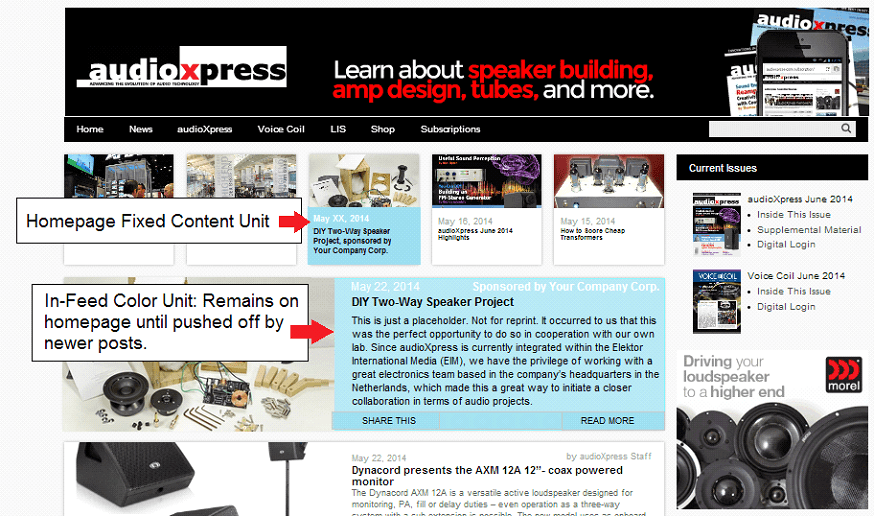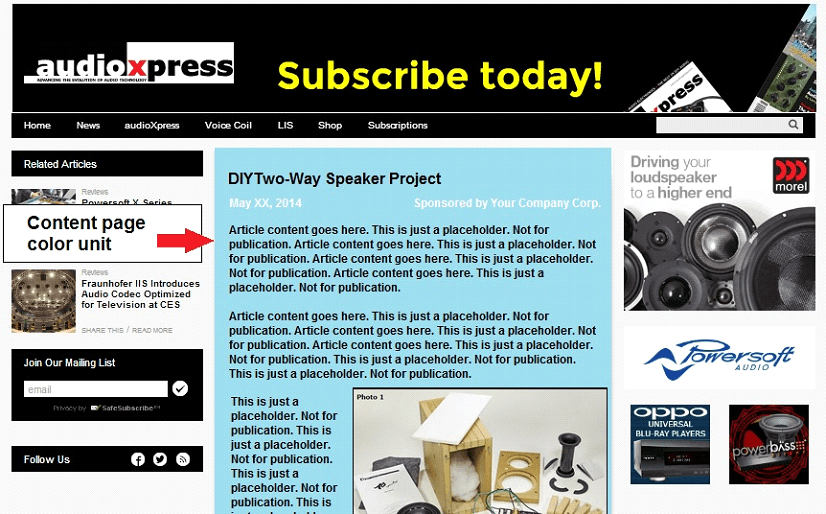 ---
CUSTOM CONTENT CAMPAIGN
Price: Contact us for rates
Details:
Discuss with an audioXpress client manager
Small companies: make some noise in the crowded audio industry and reach a wider audience. Big companies: get to know our community, engage our readers in thoughtful ways, and gather data to use in future sales campaigns.
It's time to amplify your brand and drive traffic to your site(s) and/or social channels with a custom content campaign. Get creative by working with the talented
audioXpress
team to develop, schedule, and execute a multichannel, multimedia campaign that will yield quantifiable results.
Give your brand a voice and launch a product in a single campaign. Or, sponsor a weekly video and run a readers survey. Talk with us about all the possibilities: articles featuring relevant keywords, customized advertorials, customized copy writing, social media promotions, posters, and brand pages.
CONTACT US
Strategic Media Marketing
audioXpress@smmarketing.us
P: 978.281.7708