The CES Show is not exactly the best place to promote new microphone offerings, unless of course they are really affordable models, crossing the boundary between personal recording, podcasting and the VoIP market. That was why Samson Technologies chose to introduce its new Samson Meteorite USB Microphone at the Las Vegas show, while promoting also the new Go Mic Direct miniature USB microphone with noise cancellation technology and the robust Meteor M2 Multimedia Speaker System.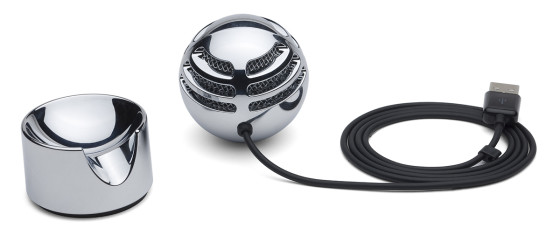 Samson's Meteorite is a universal solution for capturing high-quality recordings on a computer, ideal for podcasting, creating audio for YouTube videos and recording music. For only $39.99, this sleek microphone also vastly improves our ability to communicate with friends, family and business associates on programs like Skype, FaceTime and other VoIP software.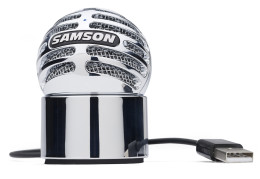 Meteorite presents an immediate improvement over the computer's internal microphone, bypassing the computers standard mic capsule and noisy soundcard, in favor of the Meteorite's studio-quality 14mm capsule and dedicated audio conversion path. Meteorite's larger, professional capsule provides a smooth, flat frequency response to capture the natural characteristics and dynamics of human voice.
Meteorite mounts to a magnetic tilt and swivel base to customize its positioning to exact preferences. Its even possible to take the microphone off its base and speak directly into it for recording or communicating in crowded noisy environments.
There's no need to install drivers, as the mic can be directly connected to any computer via its integrated USB cable. Also, when combined with the iPad using Apple's Lightning USB Camera Adapter or Camera Connection Kit (30-pin), the Meteorite is a great tool for recording on the go.
Go Mic Direct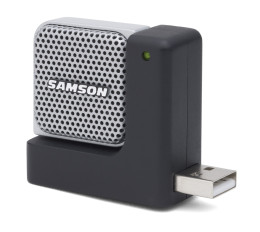 Also available for only $39.99, Samson's Go Mic Direct is an ideal portable audio solution for Skype, FaceTime, voice recognition software, as well as recording audio for YouTube videos, lectures, podcasts and webinars. Replacing the computer's internal microphone, the Go Mic Direct also features the Samson Sound Deck Noise Cancellation Software (Mac OS X/Windows), allowing to capture accurate vocal communications and recordings in any environment.
The Go Mic Direct's custom, ultra-compact design features a built-in USB connector that allows the mic to be plugged directly into a Mac or PC without blocking surrounding ports. In addition, the connector is retractable for maximum portability and safe transport when not in use. Compatible with both Mac and PC, Go Mic Direct offers convenient plug-and-play operation with no driver installation required.
Meteor M2 Multimedia Speaker System
Available for $149.99, Samson's Meteor M2 Multimedia Speaker System was designed to complement desktop and laptop computers or tablets. Through the use of premium components, innovative sound design and custom digital signal processing and aided by a solid, zinc die cast construction, the Meteor M2 are full-range speakers that go way beyond its compact size.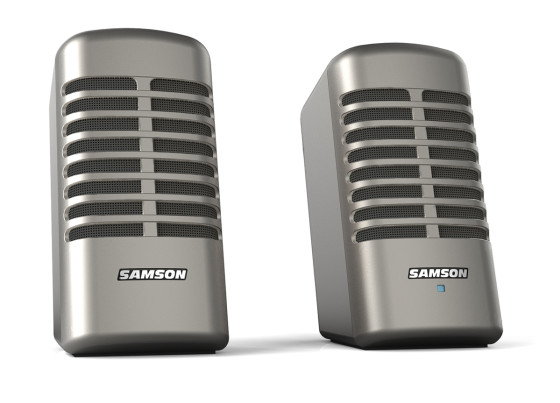 The stereo pair speaker system combines two 2.5" drivers and rear-ported passive radiators to produce low-end depth and punch normally confined to larger speakers and 3-piece systems with dedicated subwoofers. Samson's Meteor M2 also produces a detailed, true stereo sound field with serious output power. 
Ready to use right out of the box, the Meteor M2 comes with a speaker cable to connect the stereo pair, as well as an 1/8" Aux cable to instantly connect the speakers to any computer, tablet, smartphone or MP3 player.
www.samsontech.com