There's nothing worse than listening to music with smartphone speakers, but lifestyle brands know this is happening more and more. B&O PLAY designed a simple but smart speaker for those communion moments, with the tiny Beoplay P2. Users can simply double tap on the anodized aluminum grill to play or pause music, or shake to skip tracks. Beoplay P2 easily slips into a bag or pocket to take anywhere and is way better than smartphone speakers.
The personal audio brand of Bang & Olufsen, B&O PLAY, continues to empower the transformation of everyday moments with the introduction of Beoplay P2, the smallest and most intelligent member of the B&O PLAY range of wireless Bluetooth speakers, designed by award-winning designer Cecilie Manz for a spontaneous and spirited approach to life. It comes in premium materials such as pearl-blasted aluminium and real leather, with customizable and intuitive control features via Beoplay App and, despite its minimal footprint, Bang & Olufsen sound engineers have managed to provide Beoplay P2 with surprising power and sound.
Danish industrial designer Cecilie Manz (
www.ceciliemanz.com
) is considered one of the leading Danish industrial designers of her generation. In September 2014, she won the Danish Crown Prince Couple's Culture Award for her contribution to design. Her work includes furniture, jewelry, lamps and sculptures and her Mikado table has been included in MOMA's design collection. Cecilie Manz has designed the Beoplay A2 (2014), Beolit 15 and Beolit 17 (2015 and 2017) and Beoplay A1 (2016) for B&O PLAY. Her work with the Beoplay P2 is a stunning achievement, making the tiny speaker a truly desirable object.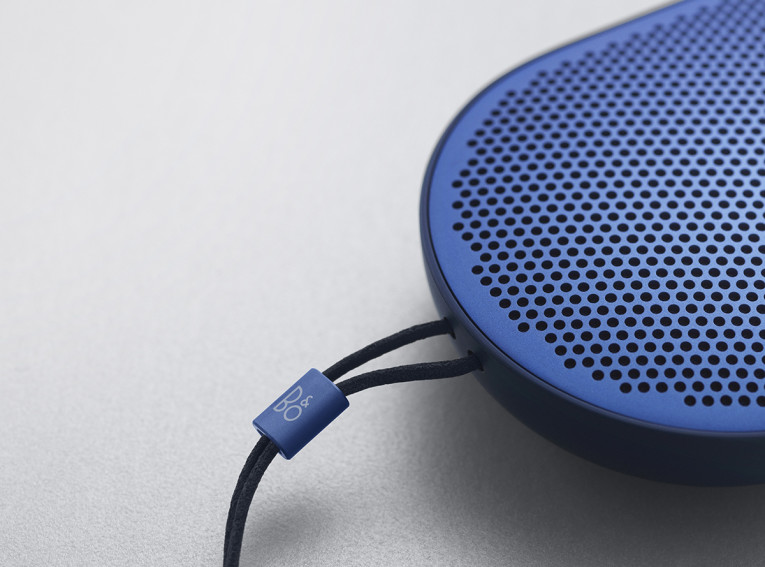 "Music plays a big part in amplifying everyday moments, so we made a personal speaker that you don't want to leave your home without. Beoplay P2 is a stunning piece of Danish design, a study in stupendous craftsmanship and the accumulation of 90 years in sound and acoustics with a sound quality that is second to none in this category", says Director of Concept and Design in B&O PLAY Matthias F. Ørum-Hansen.
"We decided to remove all switches and buttons for a beautiful exterior and a simple and magical user experience that can be customized in Beoplay App. With just a double tap or shake, you can play, pause and skip track, launch your favourite personal assistant, change sound profile in ToneTouch and you can set up Beoplay App to wake you up with the same music that concluded a beautiful evening - reliving your latest goosebump moment as you wake up and get ready to chase the next".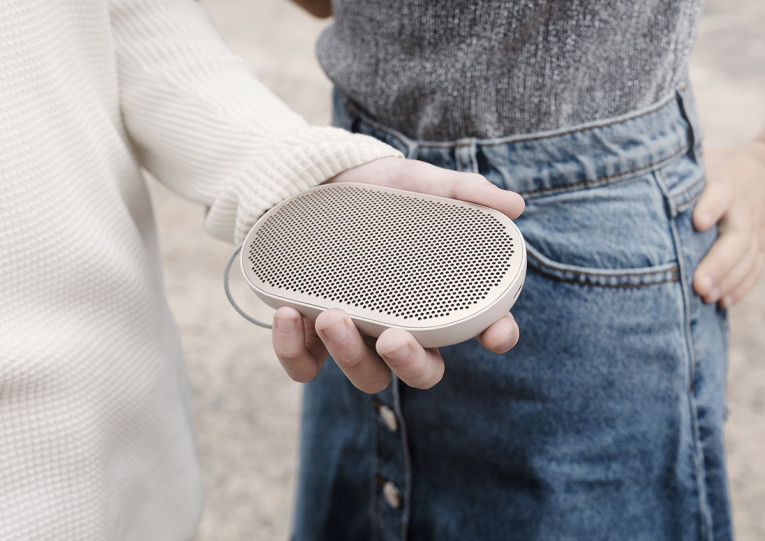 Like a pebble you find on the beach, the appearance of Beoplay P2 is rounded, smooth and desirable and fits perfectly in the palm of your hand. A basic geometrical shape with a defined rim separates the pearl-blasted anodized aluminum top from the soft and warm polymer that make up the underside. The curvature of Beoplay P2 has undergone endless fine tuning to give it a highly tactile and refined appearance. The perfect shape to slip easily into a pocket or bag with a genuine leather strap to add an extra layer of portability.
"The closer a product gets to the body, the more refined and detailed it should be. Beoplay P2 is smooth and desirable, a compact with great sound and a companion wherever you go", says designer Cecilie Manz.
The rich and spacious sound character in Beoplay P2 is based on a 360-degree dispersion design that provides listeners with the same sound experience wherever they are located. For the Beoplay P2, Bang & Olufsen engineers have leveraged the learnings from its award-winning bigger brother Beoplay A1 that set new standards for portable Bluetooth speakers in 2016. They elaborated on Beoplay A1's mid-woofer and designed a new one for Beoplay P2 using an anodized aluminum cone structure. The tweeter in Beoplay P2 is the same 3/4" fabric soft dome used in Beoplay A1, assuring excellent detail and smooth reproduction of the highest frequencies, all the way to 21kHz.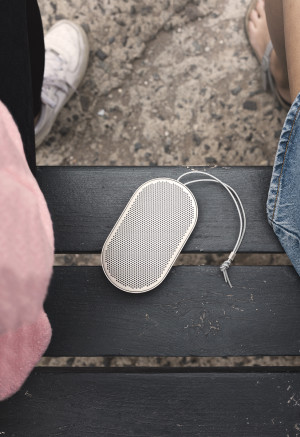 And of course to optimize the drivers, the compact speaker makes the best use of advanced DSP, enabling the use of high slope filters and advanced character control to facilitate the work of the battery-powered amplification inside the Beoplay P2. Two 15W RMD Class D Amps are used with a peak power of more than 2X50 watts do drive it all. Not a small feat, considering everything depends upon a single built-in Lithium-Polymer rechargeable, 7,2V, 2200mAh, battery. The Beoplay P2's smart charging USB-C cable allows the use of any wall charger and provides up to 10 hours playtime at moderate listening level, after just 2 hours charging time.
Leveraging an updated Bluetooth 4.2 implementation, Beoplay P2 also has a built-in electret omni-directional microphone for taking calls out loud, and the rimmed design on the speaker's bottom edge enables the microphone to provide uniform 360 speech sensitivity. This enables the person listening to recognize voices perfectly, no matter where people are speaking in proximity to the microphone.
As an extra accessory to protect Beoplay P2, users can purchase a black lambskin leather sleeve. The Beoplay P2 sleeve provides a layer of protection to keep the Beoplay P2 safe when users are on the go, while still maintaining the beautiful and authentic B&O PLAY design.
The Beoplay P2 is now available in Black, Sand Stone and Royal Blue for a suggested retail price of EUR 169 (approx. $180 USD).
www.beoplay.com