Right now, R&D departments in the whole global audio and mobile industries are focused on developing the next-generation of voice-activated speakers exploring the success of the Amazon Echo and trying to anticipate Apple's entry in the space. Most companies are exploring the tools and developments kits that make it easy to implement Amazon's Alexa or Google's Assistant voice personal assistants. Now, Harman unveiled its own effort of a voice-activated speaker, working with Microsoft's Cortana and featuring improved audio features.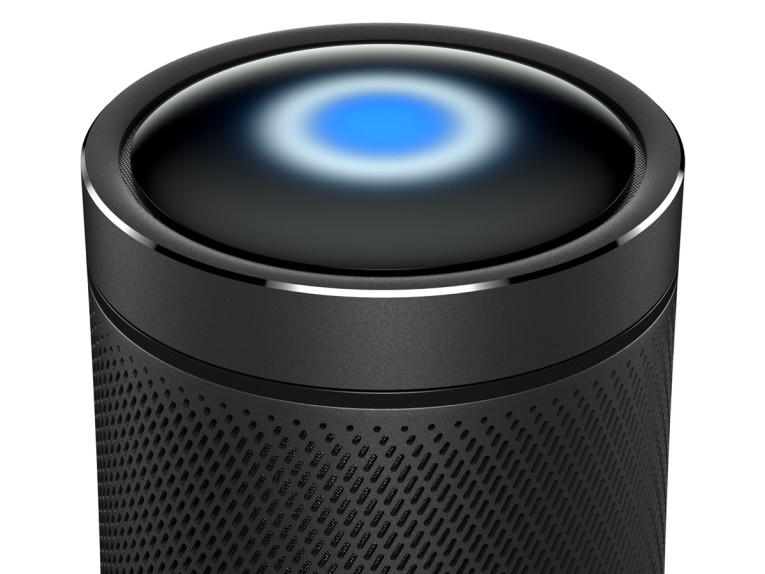 In a simple press-release, Harman revealed details of its upcoming Harman Kardon Invoke voice-activated speaker, implementing the Cortana personal digital assistant from Microsoft. Its almost hard to grasp that Harman International is now a wholly-owned subsidiary of Samsung Electronics, making the announcement of this new product from Harman Kardon Lifestyle Audio somewhat strange, but justifiable considering that the development effort was ongoing prior to the acquisition and that the collaboration with Microsoft had been pre-announced in December 2016.
The announcement basically confirms that the Invoke speaker combines Harman Kardon's brand and audio heritage with Cortana's "intelligence", in a solution "developed for busy people balancing the competing demands of work and home."
"We're excited to work with Microsoft to develop a premium speaker that will deliver an exceptional experience to every customer using 360-degree Harman Kardon sound and the intelligence of Cortana," says Michael Mauser, President, Lifestyle Audio Division at Harman. "Voice-enabled technology is the future; by teaming up with Microsoft, we're delivering on our promise of elevating a connected life through smart technology, superior sound and the stunning design that is Harman Kardon's hallmark."
Invoke, is a voice-activated speaker that can play music, manage calendars and activities, set reminders, check traffic, deliver the latest news and much more. One of its major differentiators - denoting that Microsoft is finally realising the value of some of its unique technology - is the Skype integration, enabling users to make calls to cellphones, landlines and other Skype-enabled devices. Of course users will also be able to control their smart home devices using voice to do things like turn out the lights or control the temperature but no details on which home automation technologies will be supported directly since little is know yet about the Cortana Devices SDK and Cortana Skills Kit.
According to Microsoft, Cortana is "used by more than 145 million people across devices and platforms with best-in-class natural language recognition and deep integration with Microsoft's suite of knowledge and productivity tools, helping the user stay productive whether at home, the work place through a Windows 10 PC or on the go with a mobile device." Still, just like any any other voice recognition technology, those figures should be understood basically as something that is available to the owners of those devices and those users eventually experimented using it at some point, since its functionalities are still extremely limited. The voice-activated speaker market is widely understood to become a decisive incentive for people to use it more and experience a more reliable recognition due to superior implementation of far-field voice capture and better overall performance in quieter home environments.
Invoke is outfitted with Harman's Sonique far-field voice recognition technology, a proprietary 360-degree adaptive implementation featuring 7 microphones to enhance voice commands even in environments with high ambient noise. It uses beam forming, echo cancellation, and noise reduction algorithms to ensure Cortana can understand what users are saying, even in challenging environments.
"We are excited to partner with Harman Kardon to create a speaker that combines premium audio and stylish design with the intelligence of Cortana," says Jordi Ribas, CVP, AI Products at Microsoft. "This is our next step in bringing Cortana to even more devices to help users be more productive wherever they are."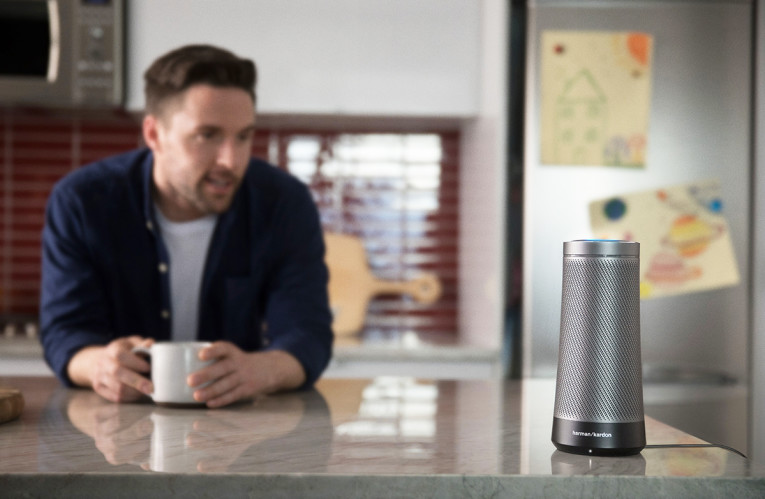 Available in Pearl Silver (White) and Graphite (Black), Invoke has a sleek, modern design, crafted from premium materials, with a metallic speaker cabinet that delivers power and projects sound a full 360-degrees, filling even a large room or space. Inside the Invoke there are 3 woofers and 3 tweeters to provide a full range response, optimized for 360-degree dispersion. Two of the woofers are passive radiators, tuned to enhance low frequency response.
Harman also confirms that Invoke is equipped with easy to use features, like a 'touch to surprise' user interface panel at the top of the speaker (questions arise from this, given the ability of other VPA's to "surprise" already...), interactive Cortana lighting, and intuitive buttons. "It is the first of its kind to feature Skype integration, allowing users to make and receive crystal-clear, hands-free calls," Harman highlights.
According to the announcement, "Harman Kardon Invoke with Cortana by Microsoft will be available in the USA only at select retailers and Microsoft Stores in fall 2017."
www.harmankardon.com/invoke
|
www.microsoft.com/cortana