Amadeus, French provider of high-end audio solutions and services, launched their new PMX D Series active speakers - three different models, with 8, 12 or 15-inch coaxial drivers - built-in 24/96 DSP and Analog, AES3 and audio networking Dante I/O. This is the same innovative company who gave us the extraordinary
Amadeus Philharmonia high-end speakers
, which were also shown at the company stand during Prolight+Sound 2016.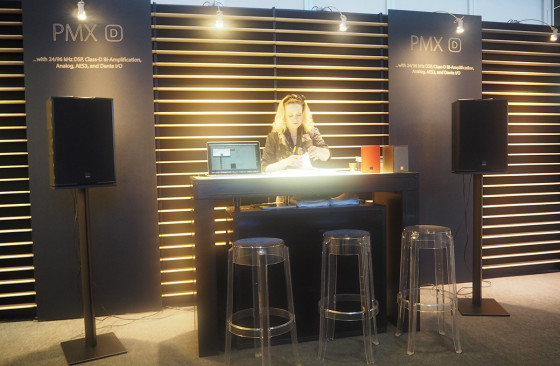 Amadeus, based in France, is one of the premiere manufacturers of high-end sound reinforcement systems and custom studio speakers. Their new PMX D Series self-powered active speakers might look pretty much like many other conventional sound reinforcement speakers at first sight. But knowing this company we have good reason to expect a lot more innovation. In fact, their new speaker design features built-in 24/96 DSP, and Analog, AES3 and Dante inputs, but having a networked connection option is just the start. 
With three different models, containing 8, 12 or 15-inch coaxial drivers, the PMX D Series is perfectly adapted to sound reinforcement applications in concert halls, auditoriums, conference rooms and theaters. Designed to be included within fixed or long-lasting installations, each PMX speaker system can also be used in touring applications as a stage monitor.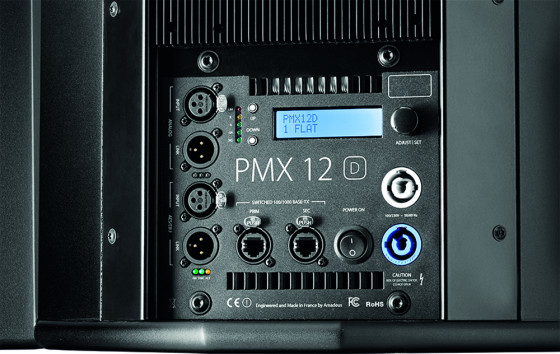 The heart of every PMX D Series system is its coaxial neodymium transducer, combining the features of the best cone speakers and compression drivers into a one-piece, point-source solution. Each transducer is specifically designed in accordance with the highest technical standards, resulting in uniform angular coverage and high acoustical load, optimized to reduce all forms of distortion and coloration, at all input levels.
Michel Deluc, Amadeus' Director of Research & Development, says, "We were among the first manufacturers of electroacoustical equipment to look into audio transfers over Internet Protocol. We are committed to minimizing latency as well as unnecessary AD/DA conversions that impact signal quality. This started ten years ago, the year we wrapped up development of our first line of bi-amped coaxial systems featuring EtherSound I/O, which was designed for the French Institute for Research and Coordination Acoustic/Music. The technological gains offered by the Dante protocol and its widespread adoption by professionals led us to consider its implementation within our systems."
The PMX 8 D system hosts a coaxial driver with 8-inch, and 1-inch tweeter with compression driver. The PMX 12 D and PMX 15 D systems host a coaxial driver with 12-inch, or 15-inch woofer respectively, and 2-inch tweeter with compression driver. Each of the new PMX D Series speakers integrates perfectly with the soon to be released Amadeus ML 12 D, ML 15 D and ML 18 D subwoofer systems.
The PMX D Series is bi-amplified using two dedicated high resonance digital amplifiers, featuring outstanding efficiency, with each amp delivering 400 Watts under 8 ohms for the PMX 8 D, and 1500W (LF) + 400W (HF) for the PMX 12 D and PMX 15 D systems. These PPM-PWM fixed frequency class-D amplifiers are equipped with a high efficiency switched mode power supply.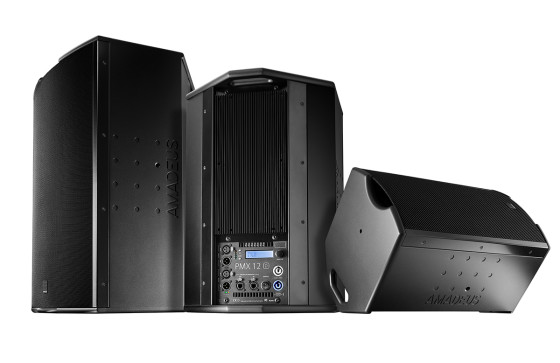 Each speaker channel is under control by a powerful, 64-bit digital processing unit capable of a 118 dB dynamic range. Each of these on-board DSP units include a module dedicated to managing core system parameters including system EQ, time alignment between sections, limiting, and transducer thermal protection. This level of control makes the PMX D Series fully protected and able to operate at the full extent of its abilities.
Given that digital-to-analog conversion should happen at the latest possible stage in an electro-acoustical speaker system, the PMX D Series also integrates two digital inputs/outputs conforming to the AES3 digital audio data transfer standard. These are coupled with a high resolution 24-bit/96kHz converters placed as close as possible to the electronic amplifiers, thus working in perfect combination with them.
In addition to legendary Amadeus reliability and sonic excellence, PMX D Series incorporates a newly refined Dante I/O section, offering options for full integration with leading third-party networking. Audio signals are selectable from one channel of analog, two channels of AES3 digital, and two dual redundant Dante networked digital inputs. Input signals are individually selectable for each channel. As the first company to include Audinate's Dante technology in a high-end active coaxial speaker series, Amadeus joins 275 other manufacturers utilizing Dante, making it the industry-leading audio over IP networking solution with more than 675 Dante-enabled products now available worldwide. Each Dante Ethernet RJ-45 network input allow remote control of the PMX D' processor for an optimal adjustment via dedicated software to the acoustical properties of the listening space. The software is an App that runs on Macintosh, Apple iPad and Windows computers.
PMX D speakers ship with a highly resistant black (water-soluble) paint finish, but are also available in several different standard colors. Every PMX D Series speaker can also be ordered in a "made-to-measure" finish, based on registered or non-registered colors and/or materials. To offer more possibilities, the cabinet and the acoustical fabric covering the front grill can each have a different color.
The new PMX D Series is now available from licensed Amadeus distributors and dealers throughout Europe and Asia.
www.amadeusaudio.fr