Building on its pedigree of high-end mastering solutions such as the Eclipse 384, Antelope Audio introduced a true analog monitoring and summing system at the 137th Audio Enginnering Society (AES) Convention in Los Angeles, CA. Explaining the name, Satori, a Japanese Buddhist term referring to enlightenment, Antelope states the unit was "designed to deliver an 'epiphany' experience to the sound engineer."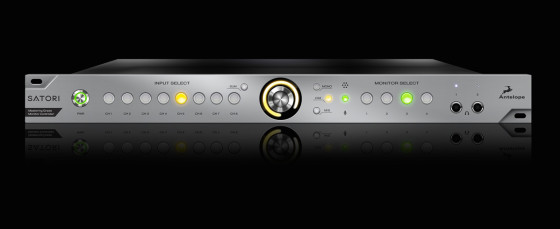 "We wanted to design a clean and transparent monitoring controller that would not compromise the quality of our converters and will provide sound engineers with a genuine listening experience," commented Igor Levin, founder and CEO of Antelope Audio. "Satori is a part of our concept for creating a coherent signal path all the way from the analog source through conversion, recording, and playback. Along with Satori, this philosophy is expressed in our latest product additions: the MP32, the Pure2, and the Orion32."
Combining Antelope's renowned relay-controlled stepped attenuator with versatile connectivity options and great selection of stereo effects such as mid-side monitoring, the Satori is among the most advanced monitoring controllers in the world, equally suited to both commercial and project studios.
Satori expands upon the acclaimed design architecture of the Eclipse 384—Antelope's award-winning mastering AD/DA and monitoring controller. Carefully designed analog circuits and fast, transparent relay attenuators ensure the audio integrity throughout the whole signal path. The 0.05 dB platinum relays provide supremely accurate volume control and perfect left/right (L/R) balance, even at the lowest listening levels.

Four independent headphone outputs provide individual source selection and volume control, enabling separate feeds for musicians or vocalists. The headphone drivers on Satori employ the same audiophile-grade circuitry found in Antelope's line of premium home audio products, and are able to drive both low and high impedances.
Satori also offers talkback and level trims, as well as stereo effects like mute, mono, dim and mid-side. The mid-side effect is rarely implemented in monitor controllers, yet routinely requested by mastering engineers. Gain offset is available for any input and output, making A/B testing extremely easy and efficient. In addition to providing outstanding monitoring capabilities, Satori includes a fully analog eight-channel summing mixer. This kind of analog summing, with warm punch and excellent dynamics, enables engineers who work completely "in-the-box" to mix signals in the analog domain for a more natural blending of instruments.
With a generous amount of connectivity options, Satori fits perfectly in any studio, with eight stereo inputs, four stereo outputs, and a range of connectivity options including XLR, 1/4" TRS and D-Sub 25. In addition to four stereo speaker outputs, Satori features a dedicated subwoofer output. The unit also features D-Sub 25 connectivity, solving the issue of connecting to multi-channel converters such as Orion32.
Satori's delicately machined aluminum volume knob and large LED front panel push buttons provide easy access to the most commonly used monitoring functions such as input and monitor selectors, gain adjustment and level trimming. The unit also ships with the next generation of software application for Mac and PC, enabling flexible and accurate control. The software control panel allows fast and responsive source and speaker switching, accurate volume control, stereo effects selection, headphone controls and user-recallable presets. Analog summing is also fully controllable via the software application.
Satori is scheduled to ship later in Q4 of 2014 and will be priced at $1,475.
antelopeaudio.com