Microchip Technology Inc., announced the support of Qobuz Connect in the Microchip JukeBlox Platform. The combined solution delivers lossless audio in CD quality directly to wireless speakers and AV receivers for an enjoyable music listening experience.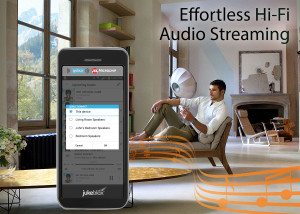 The key benefit of Qobuz Connect is that once a track has been selected, the audio stream is delivered directly from Qobuz's cloud servers to the wireless speaker instead of sustained streaming from a phone, tablet and audio devices. This frees up the user's handheld device for other activities and prevents battery depletion. Users are free to move throughout the Wi-Fi network without losing connection resulting in audio playback stopping.
Qobuz is a new French online music service that gives access to all the music labels (majors and independents) and all artists in all genres of music in high-quality audio streaming. Qobuz Hi-Fi service is currently available in United Kingdom, Germany, France, The Netherlands, Belgium, Luxembourg, Ireland, Austria and Switzerland. Qobuz offers subscriptions to unlimited music streaming in True CD quality (16-bit / 44.1 kHz), lossless downloads in True CD quality (16-bit / 44.1 kHz) of its entire catalog (more than 24 million titles), and HD downloads in 24-bit up to 192 kHz of over 25,000 albums.
Qobuz brand new mobile applications are available for both Android and iOS. For the first time ever, Android users can also enjoy the quality of lossless audio streaming wirelessly. Qobuz users can control and play their music through their phone, tablet and audio devices simply and effortlessly, at the touch of a button.
"We are very pleased to be working with Qobuz and adding the first online music service that gives access to high-fidelity music streaming," says Sumit Mitra, vice president of Microchip's Wireless Products Group. "By making Qobuz Connect available on the JukeBlox platform, virtually any consumer electronics company can add it into new or existing products in the field with just a firmware upgrade, and enhance the audio listening experience for Qobuz users."
"We are proud to be launching Qobuz Connect with Microchip. Qobuz Connect is an innovative feature that helps make the most of Qobuz's unique user experience in our dedicated applications, all the while listening to Hi-Fi sound quality, wirelessly with your connected home audio system," says Alexandre Leforestier, Co-Founder and General Manager of Qobuz.
Qobuz is available today for €/£9.99 a month for a Premium Subscription and €/£19.99 for a Hi-Fi Subscription. Qobuz Connect is also available for Qobuz users who purchased music on Qobuz.com.
Qobuz-Page
www.microchip.com/JukeBlox-Page-121514a