Promoted every year by market research firm Futuresource Consulting, Audio Collaborative is a premier must attend event for consumer audio, pro audio and entertainment industry professionals. The event returns to London for the sixth time, November 7, 2019, with a full day of invaluable insights, expert discussions and networking opportunities. There are more key industry executives attending, more high-profile companies sponsoring and getting involved, and the topics couldn't be more relevant. Plan ahead and freeze that day on your agenda.
Click here for an overview of content and sessions from last year.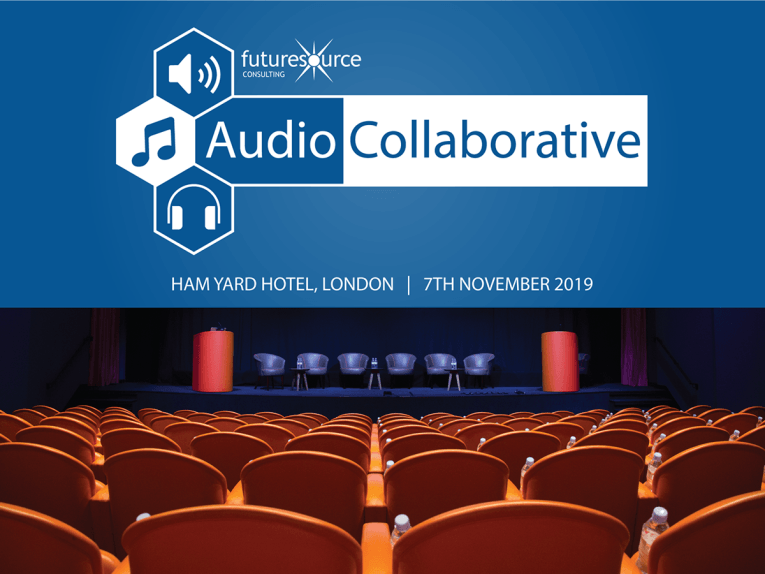 Audio Collaborative is a one-full-day format conference, where Futuresource leading market analysts and researchers share some of the latest stats and trends on the topics in the agenda, followed normally by a panel debate, mixed in between keynotes from leading industry executives and industry experts. Between the sessions, attendees can visit the sponsor's room presentations, see some technical demos, chat with the experts, and network with both speakers and attendees at the bar and food area. All during the event, Futuresource experts will be available to make introductions and comment further on the growth and the crossover of business opportunities for the entire audio ecosystem.
It's the best possible use of one's time, there are no concurrent conflicting sessions to manage, and the conference room facilities at The Ham Yard Hotel, located at the heart of London, are of great quality, including comfortable seating!
Past participants and attendees have included senior executives from the content and broadcast industry, service provider community, audio hardware and related tech industries. Renowned for always addressing the hot topics and issues of the day, this year's event promises to be no different. Data rich Futuresource presentations will be accompanied by expert insights and panels from industry heavyweights.
Futuresource already confirmed that Carsten Olesen, President of the Consumer Audio Division at Harman International, will be delivering the keynote at its sixth 'Audio Collaborative' conference. "It is a great honor to keynote this dynamic event," says Olesen. "I look forward to the discussions with industry stakeholders on what the future holds for the audio industry."
For the 2019 edition, Futuresource already confirmed Qualcomm as a platinum sponsor of the event. The American multinational semiconductor and telecommunications equipment company has been supporting Futuresource's Audio Collaborative event for a number of years now and this is the first year they will be participating as platinum sponsor.
Also sponsoring the event for the second time, Audiogum is a B2B technology company that works to create premium software solutions for audio device manufacturers and streaming services. They offer flexible solutions to enrich the user experience of audio products, and specialize in: content aggregation, advanced recommendations and playlisting. Audiogum also provide natural language understanding for audio content.
For the 2019 edition of Audio Collaborative, joining Qualcomm and Audiogum, L-acoustics and XMOS are also confirmed as sponsors.
XMOS stands at the interface between voice processing, biometrics and artificial intelligence. Backed by some of the best names in high tech venture capital, flexible microcontroller technology, purpose-designed algorithms and differentiated software come together to deliver world leading voice and audio solutions to the consumer electronics market.
Founded in 1984 near Paris, France, L-Acoustics is the global leader in premium professional sound reinforcement technologies. Recognized for pioneering the line source array, L-Acoustics continues to shape the future of the professional audio industry with L-ISA Immersive Hyperreal Sound technology, a multidimensional, object-based approach to designing, mixing, and processing sound that results in extremely natural and intelligible audio and a more vibrant, and authentic connection between artists and their fans.
Guillaume Le Nost from L-Acoustics will be joining the '3D, Binaural & Surround Sound' panel, discussing what is next for the consumer and professional audio industry. Guillaume Le Nost played a pivotal role in the earliest R&D efforts that led to the development of L-ISA Immersive Hyperreal Sound.
"Audio is playing an increasing role in consumer and pro users lives – the industry continues to innovate at a fast pace striving to meet users future listening needs – it is such an exciting time for the sector," comments Sarah Carroll, Co-Founder of Futuresource Consulting. As always Futuresource, our event sponsors, speakers and associations are looking forward to the spirit of collaboration that our event brings, exploring the nascent technology trends, the key business opportunities and getting to the heart of what the future could bring."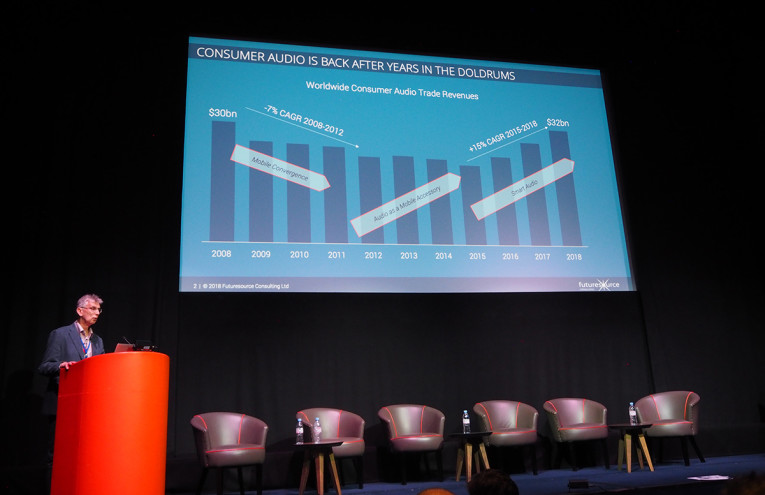 Agenda Topics for Audio Collaborative 2019 include:
Audio Tech Consumer Lifestyle
- Home audio trends - smart audio/displays, multiroom, product convergence - data and insights
Smart Home Technology Evolution
- From command and control to AI and truly ambient experiences
Hearables & Disruptive Technologies Redefines the Premium Headphones and Hearing Health Market
- Predictions and key applications
It's Not Just About Music
- Podcast explosion and audio book renaissance
The Continued Rise of the Home Studio and Prosumer Content Creator
- Opportunities for device manufacturers and the impact on the pro segment
3D, Binaural and Surround Sound
- What is next for the consumer and pro audio industry
Pro Loudspeakers
- Key verticals driving growth - consumer and pro brands colliding
Active Noise Cancelling at the Source
- Reducing noise pollution in the home, automotive and work
The Office of the Future and the Rise of Remote Working
- Emerging opportunities for audio and video collaboration solutions and devices
The Future Role of Audio in Automotive
- Opportunities and challenges for the audio industry
The Rise of the Super Content Aggregators in Music, TV, Video and Games
- Impact on the entertainment and hardware competitive landscape
Hot Topics and Unique Perspectives
Futuresource confirmed that Laurence Harrison, Director of Automotive Partnerships at Radioplayer will be speaking on 'The Future Role of Audio in Automotive' panel, and will be joined by Bill Wyman, VP of Global Marketing - Car Audio at Harman.
The automotive industry is witnessing an era of rapid change and innovation. As the industry gradually transitions towards a shared and autonomous future, cars are becoming increasingly connected. With widespread adoption of smartphone mirroring solutions such as Car Play and Android Auto, streaming music services are rapidly gaining traction. With at least 50% of radio listening time typically taking place in car, this raises the question, is radio's traditional key role in the car under threat? This issue, as well as the overall evolution of in-car audio systems will be explored in the panel.
Laurence Harrison leads Radioplayer's work with the automotive industry across Europe and Internationally, building partnerships with the leading car manufacturers and multimedia technology suppliers, particularly around smart radio development in connected and autonomous cars. He is also Chairman of the WorldDAB Automotive Group, leading the work on developing the future in-car radio user experience. Laurence will be discussing the opportunities and challenges for the automotive industry as it begins to evolve.
Also confirmed, Kurt Thielen, CEO at Zebralution will be joining the Audio Collaborative speaker line-up on the 'It's Not Just About Music' panel. Kurt is the founder and CEO of Zebralution, one of the biggest digital distributors for music and audiobooks in the world. Zebralution works with all audiobook publishers, big and small in Germany, but the focus is becoming increasingly international, expanding to English and foreign language territories.
Joining the Audio Collaborative speaker line-up on 'The It's Not Just About Music' panel discussing podcast explosion and the audio book renaissance, will be Hannah Telfer, Managing Director at Penguin Random House. Telfer looks after Penguin Random House Audio, the Penguin Live and Penguin Connect events businesses, audience insight and their audience platforms. She will be joining Jason Phipps, Commissioning Editor for Podcast - BBC Sounds at BBC, and Ruth Fitzsimons, Managing Director at Podfront UK, a new venture in the UK co-founded by Stitcher and Wondery, two of the top US podcast platforms.
Futuresource also confirmed that Mirek Stiles, Head of Audio Products at Abbey Road Studios will be joining the Audio Collaborative speaker line-up. Mirek runs Abbey Road Studio's Audio Products department leading development of a range of software and hardware releases based on Abbey Road's historic recording IP. Mirek also sits on the board and acts as an advisor on the Abbey Road Red incubation program and is currently exploring and experimenting with Spatial Audio over headphones, ambisonics and multi-microphone array recording techniques.
Industry experts from Dolby, Meridian Audio and Bang & Olufsen will also join the Audio Collaborative conference.
Andreas Ehret, Director of Technology Marketing at Dolby will be joining the '3D, Binaural & Surround Sound' panel alongside Guillaume LeNost from L-Acoustics and Mirek Stiles from Abbey Road Studio. The panel will discuss the changing listening dynamics in both consumer and professional applications - what technologies/experiences are on the horizon and what does it mean for content creators and listeners alike.
Peter Belimpasakis, Director of Category Management at Bang & Olufsen will be sitting on the 'Audio Tech Consumer Lifestyle' panel alongside Urbanista's CEO, Anders Andreen. The panel will look at the changing wants and needs of consumers and the new design and technology features that will continue to enhance and satisfy the user listening experience.
Laurence Hobden, Research & Applied Technologies Team Leader at Meridian Audio will be joining 'The Future Role of Audio in Automotive' panel alongside Bill Wyman at Harman and Laurence Harrison at Radioplayer. This panel will be discussing the role of audio in automotive in the era of the connected car - from in cabin listening experiences to streaming content services to the car.​
Click here
for the complete list of speakers.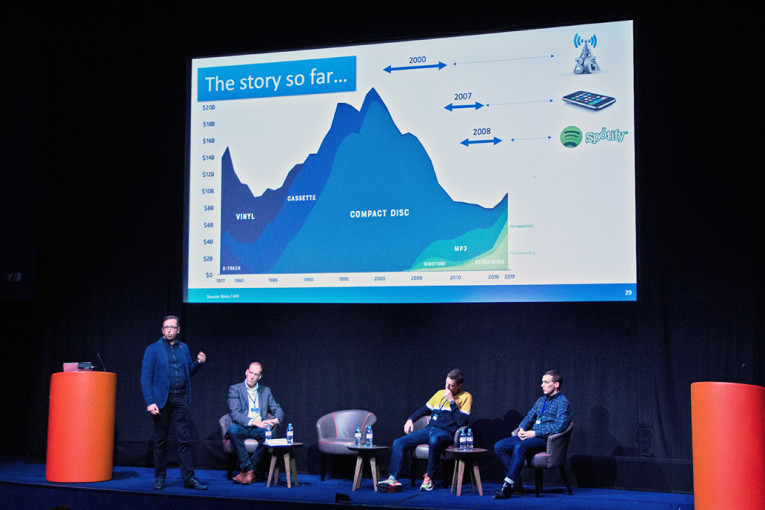 Audio Collaborative 2019
The Ham Yard Hotel
When - 08:30 - 17:00 on the 7th November 2019, with a post event networking session to follow
How Much - Early Bird Rate £185 (excl. VAT) - Ends 30th Aug 2019. Conference fee includes buffet lunch, canapés, refreshments and entrance to the post event networking session.
This year all guests will be given the brand new JBL GO 2 bluetooth speaker for free, as part of a giveaway from event partner Harman.
To register for this event, please go here:
www.futuresource-consulting.com