Audio Precision introduced a series of calibrated measurement microphones to its portfolio, creating a robust solution for end-to-end testing of electro-acoustic components, products and systems. This expansion of Audio Precision's electro-acoustic test offering includes free-field, pre-polarized microphones, combining mic capsules with low-noise preamplifiers, an ideal complement to the APx line of audio analyzers, software and accessories.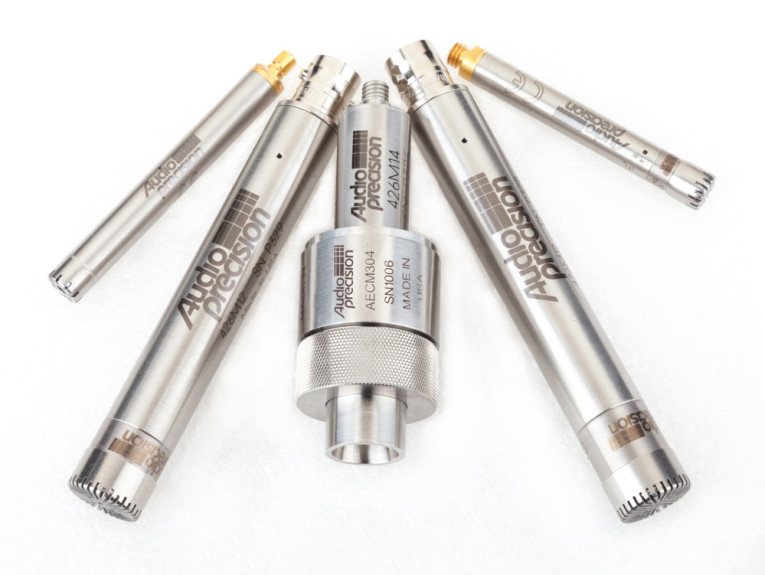 The AP microphone family includes two 1/2-inch and two 1/4-inch measurement microphones, as well as an occluded ear simulator. All units are pre-polarized, TEDS-compliant and CCP powered. The microphones are calibrated, ensuring the utmost of confidence in measurement results when paired with calibrated instruments such as the APx515 Audio Analyzer and the new APx1701 Transducer Test Interface (
reviewed by audioXpress here
). Each mic is delivered with its own certificate of calibration.
Each Audio Precision measurement microphone and microphone system is TEDS programmed to the IEEE 1451.4 standard for SMART transducers, v1.0 format. TEDS — Transducer Electronic Data Sheet — data contains microphone identification and calibration information that can be read by a connected instrument, such as the Audio Precision APx1701 Transducer Test Interface.
When compared to traditional, externally polarized microphones, pre-polarized systems offer a number of advantages. Specifically, pre-polarized mics offer a lower cost per channel (cabling, power supplies, and preamplifiers), are better suited to environments with changing, or high, humidity, and offer reduced set-up and test time owing to easy access to CCP power, interchangeability with other CCP sensors and measurement efficiency.
"The addition of measurement microphones to our product portfolio is truly exciting," says Dave Schmoldt, Audio Precision Chief Executive Officer. "For AP system users, it creates an expanded solution for evaluating the analog, digital and electro-acoustic performance of their audio components, products and systems."
www.ap.com