Have you recently completed a project and are interested in sharing your build or product design concept with others? Consider writing an article for
audioXpress
magazine.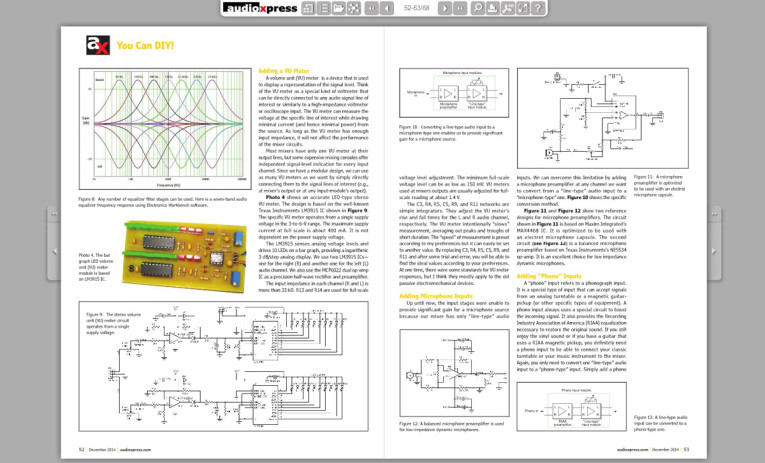 audioXpress
publishes articles about DIY audio, audio electronics, and product design for any application area—from home audio projects to guitar amps and processors, studio equipment or sound installations. We welcome new ideas on analog or digital circuits, hardware and software, wired and wireless. We also publish articles on sound theory, tubes, and vintage audio. Our readers are audio enthusiasts, audio engineers, musicians, and people who love to build and understand their own sound systems and the gear they use professionally. And, we know many of you are working on your own great projects.
Every year, we have several special focus content-related issues:
March features Test & Measurement articles
May highlights Glass Audio and tube-type projects
August focuses on Acoustics
September highlights speaker projects all things loudspeakers
November focus is on digital signal processing and ICs
We are always looking for informative articles to appear in upcoming issues of our monthly audio magazine. We think an article about your project might be a great fit. Publishing an article would mean additional exposure for your design and your design skills, and it's a chance for you to be paid for publication.
DIY Appeal for Article Submissions
audioXpress mission is to be a reference information source for innovative solutions and technologies in audio electronics, acoustic, and electro-acoustic development and design, serving the needs of an expanded audience — from DIY and audio enthusiasts to audio product designers and audio engineers, the industry, and its partners (agents, consultants, integrators, and opinion leaders).
As with any technical magazine, we need direct collaboration and we are continuously looking for article submissions in R&D areas and engineering briefings of interest to our readers. audioXpress is the right channel to discuss technology at an early stage with an interested audience, particularly for development platform providers.
In the tradition established by audioXpress founder Edward T. Dell (1923–2013), when he decided to re-brand Audio Amateur as Audio Electronics in 1996, and later merge Glass Audio and Speaker Builder to create audioXpress, we are continuously looking for the best DIY projects.
Share your experience and knowledge in
- amplifiers
- preamplifiers
- electroacoustic
- signal processing
- test and measurement
- acoustics
- effects and dynamics processors
- modifications of microphones
- acoustic panel treatment projects (with measurements)
- room correction projects
- computer audio projects and interfaces
Send your articles, suggestions and contributions to:
João Martins
-Editor-in-Chief
If you are interested in learning more about this opportunity, please
send us an e-mail