With Black Friday deals ramping up, enticing consumers into a flurry of retail activity, Futuresource Consulting announces the key findings from its latest global consumer electronics retail channel trends report. The study looks at the main CE retail market trends, with online-only growing exponentially in market share, new key product categories, and the response from CE chain stores, the winners when it comes to audio hardware, currently accounting for more than 40% of retail value.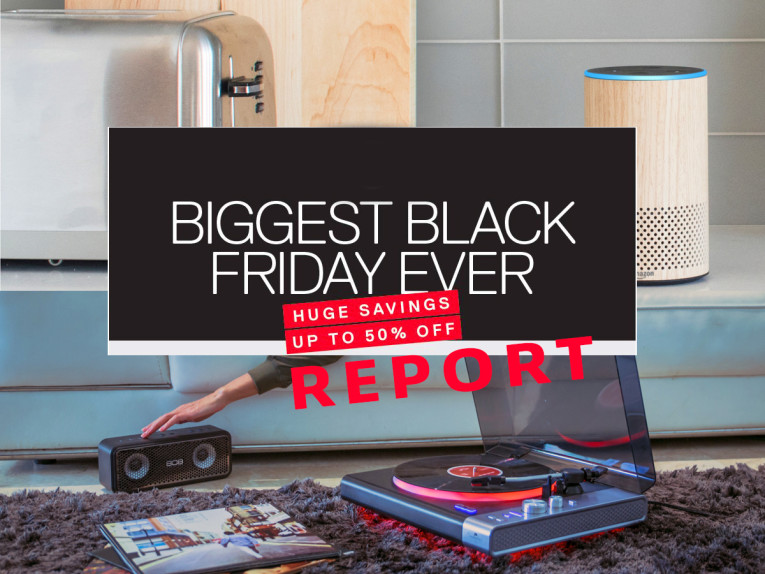 Futuresource has just published its 'Global CE Retail Distribution Report' covering Europe, North America, and Asia Pacific, focusing on audio (Headphones, Soundbars and Wireless Speakers), smartphones, TV, and home appliances. The report also addresses channel segmentation, in-store purchases made with no digital interaction, purchases made from retailers with a physical footprint, through online delivery or click and collect pick-up, and purchases made through online only retailers. It also includes an in-depth analysis of the Amazon business model.
"From phones to fridges, Black Friday now dominates the consumer electronics calendar, not only in North America, but also making its presence felt across Europe and beyond," says James Manning Smith, Research Analyst at Futuresource.
The Rise Of Online
In both Europe and the USA, continued digital innovation is enabling online-only retailers to capture market share. This is a clear and present threat to other players, particularly traditional retailers, who must balance the needs of a network of physical stores, multi-channel services and an online storefront.
"This year, online-only is the one channel that will grow its market share," says Manning Smith. "That's in terms of both retail value and unit volume, across the USA, Germany, UK and France. Looking out to 2021, when we focus on all online activity, Futuresource forecasts show CE retail volumes will increase by almost 50% in Europe, and will account for nearly two out of every three CE purchases."
Focusing on the product categories, historically TV sales have been driven through physical retailers, due to their size and the consumer's desire to experience a TV's capabilities before purchase, particularly when considering a premium TV. CE chain stores continue to lead the way in this category, where products are showcased to present them as effectively as possible to consumers, compared with mass merchants. However, the online-only channel will continue to grow, accounting for one in every five TVs sold by 2021.
CE chain stores are also the winners when it comes to audio hardware, currently accounting for more than 40% of retail value. In the same way that consumers like to experience their TVs before making a purchase, the shopper decision journey for higher priced audio products will often include the need to see, feel and hear the quality before a purchase. When it comes to low cost audio products such as headphones and Bluetooth speakers, online-only stores will begin to attract more consumer spend. This will largely be at the expense of the mass merchant channel.
Smartphones are a key category for online-only retailers, as their small size makes them cheap and easy to ship. Handset standardisation is also a key factor, with consumers less likely to want to view a handset in store, when compared with a TV or home audio product. In terms of value share, the telecom channel will remain the largest retail channel for smartphones out to 2021, but online-only will be close behind and will command a larger volume share by 2021.
Despite growing pressure from online, Best Buy remains the largest CE retailer in the USA, with a double-digit market share, while Amazon and Walmart fight it out for second position. In Germany, UK and France, Media Saturn leads the way, with Amazon and Dixons Carphone in second and third positions.
The Impact Of Amazon
"On a global scale, Amazon is in the driving seat, topping the charts for sales of TVs, audio products, smartphones and household appliances," says Simon Bryant, Associate Director at Futuresource. "It's the only significant retailer to have a share across all seven countries covered in our retail report; namely the USA, UK, Germany, France, Japan, India and China. Despite not securing the top slot for any product category in any country, the cumulative effect of Amazon's global reach has ensured its success."
Amazon was founded on innovation in retail, and continues to push new solutions for a seamless shopping experience, ensuring that it remains top of mind when consumers embark on an online shopping experience. Alongside PayPal and eBay, Amazon has been instrumental in driving ecommerce revenue across the board.
"Amazon continues to diversify its business interests, from content to media devices, to logistics and advertising," says Bryant. "Although not limited to pure retail, everything Amazon does leads back to retail and reinforces its core retail position.
"Moreover, with consumer interest in voice personal assistants on the rise, Alexa presents another key opportunity for Amazon to further digitalise and decentralise the pure online shopper journey. The long-term purpose of this investment is to integrate Amazon retail into the smarthome, through voice-enabled hardware, ensuring Amazon becomes a key component of a consumer's everyday life."
As retail continues to move online, CE chains, buying groups and mass merchants must invest heavily in online, multi-channel and omnichannel strategies. Despite investment, retailers are expected to experience declining profitability, with future consolidation required, to help maintain physical storefronts in a world that continues to move online.
www.futuresource-consulting.com