According to a new research report by Global Market Insights, Inc., the earphone and headphone market share is set to exceed USD 18.2 billion by 2023 and to exceed $25bn by 2024. Advancements in wireless technologies and the rising adoption of portable devices such as smartphones, mobiles, laptops, and tablets will prominently drive earphones and headphones market size over the coming six years. Global shipments will grow at nearly 4% CAGR estimation, the market research firm predicts.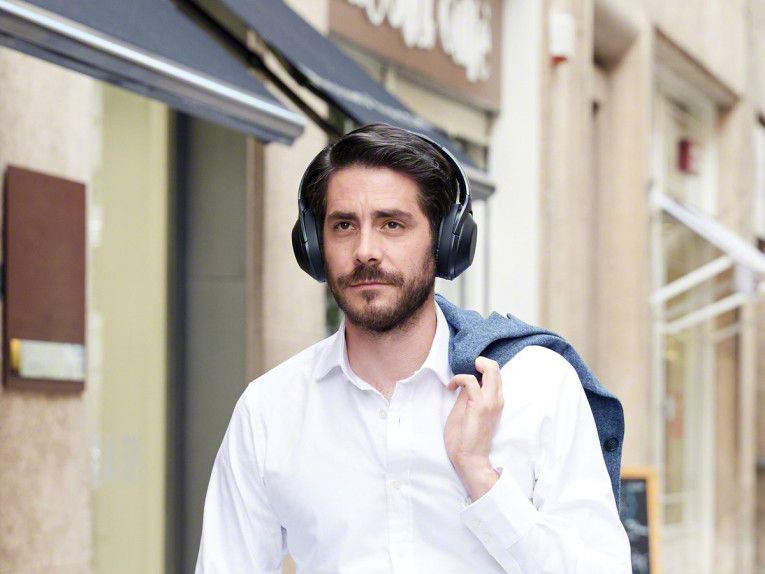 Growing consumer preference for mobile phones, and portable audio players will accelerate earphone & headphone market demand over the years to come. Flourishing Wi-Fi and Bluetooth sectors will further add towards the product demand in the near future, Global Market Insights says. Rapidly expanding home audio equipment sector will contribute significantly towards earphone & headphone market revenue over the coming six years. Product innovations along with successful execution of marketing and branding strategies executed by the major players will benefit the industry. High per capita income along with elevated economic growth across emerging economies is expected to create brighter growth prospects for market.
In terms of technology, the industry is segmented into wireless and wired Earphone & Headphones. Wired earphone & headphone market, worth USD 10 billion in 2015, is forecast to record an annual growth of 4.6% over 2016-2023. Technological innovations in wireless products to improve the hearing experience coupled with rising efforts to curb noise pollution will drive wireless earphone & headphone industry revenue over the next few years.
Earphones market, worth USD 7.7 billion in 2015, is expected to contribute significantly toward the overall industry growth over the next few years. Its lightweight, compact, and portable features are projected to accelerate the revenue. Headphones are expected to collect a revenue of over USD 6 billion by 2023, driven by growing vendor efforts to improve their distribution channel services. The demand of these products are highly dependent on the product differentiation and the cost parameters.
Taking into consideration the regional trends, North America industry accounted for 36% of the global revenue in 2015, primarily driven by U.S. As per the report, U.S. earphone & headphone market is projected to register a substantial growth rate of 4.8% over 2016-2023. Stringent legislations passed by OSHA (Occupational Safety and Health Administration) aimed at procurement of high quality parts for manufacturing of earphones and headphones will contribute significantly towards the regional revenue.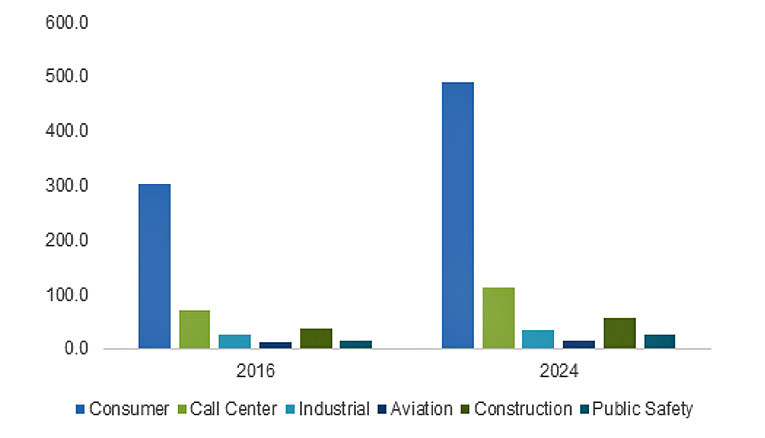 China earphone & headphone industry, which contributed a major chunk of Asia Pacific earphone & headphone market share in 2015, is expected to record a CAGR of 5.6% over 2016-2023. Strong economic development leading to rise in product demand will steer the regional growth.
Earphone & headphone industry may face growth challenges on account of the industry being highly fragmented and competitive. A key challenge in the earphones and headphones market is the availability of counterfeit products. Since a few years, several product replicas have given rise to competition for core giants and creating a dent in their market share. The presence of low-cost knockoffs also poses a threat for the earphones and headphones market growth.
Moreover, the product substitution at a lower price may further hamper the industry trends in the years ahead. However, strategies adopted by the market players such as high R&D investments, mergers & acquisitions, improved customer services, technological inventions, and multiplying the distribution channels will fight back the growth restraints.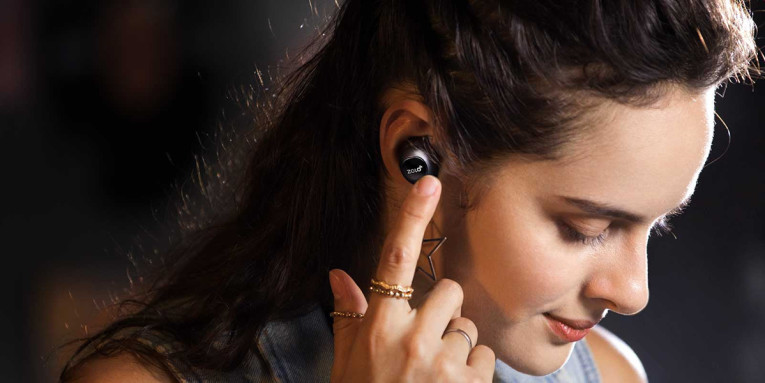 Global Market Insights' Earphones and headphones market research report includes in-depth coverage of the industry with estimates & forecast in terms of volume in units and revenue in USD from 2012 to 2024. Key industry participants include Apple, Ultimate Ears, Philips, Sennheiser, Bose, Shure, Harman, Grado Labs, Audio-Technica, Panasonic, Pioneer, Sony, Skullcandy and more. The report features 300 pages with 296 market data tables & 31 figures & charts, including Regional Outlooks for U.S., Canada, UK, Germany, France, Italy, China, Japan, India, South Korea, Mexico, Brazil, Saudi Arabia, and South Africa.
www.gminsights.com/industry-analysis/earphone-and-headphone-market