One of the most important highlights at CES 2017 was at the Fraunhofer IIS booth, showing final versions of several MPEG-H solutions, in preparation for the rollout of the first broadcast services adopting the standard next year. On display was an MPEG-H enabled LG UHD TV, scheduled to be available this year, and the final version of the MPEG-H enabled 3D Soundbar reference design. Fraunhofer IIS also developed a trademark program for products incorporating its MPEG-H TV Audio System.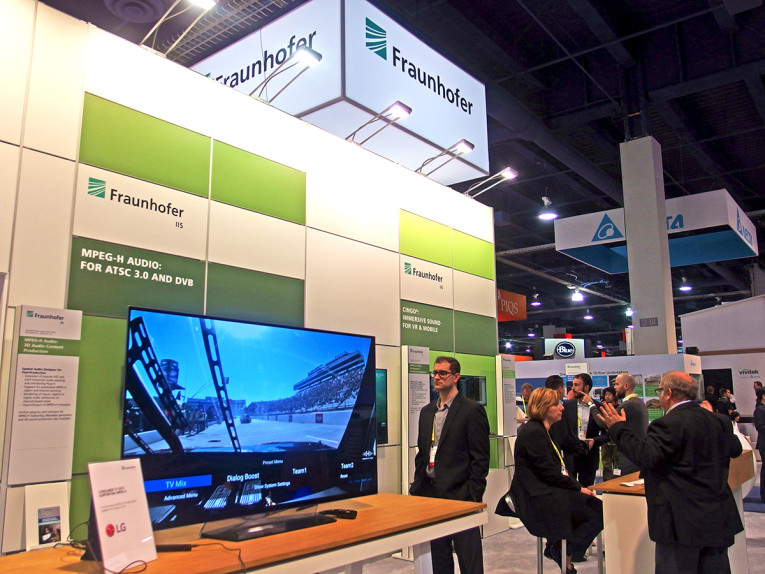 Fraunhofer IIS, the main inventor of the mp3 and AAC audio codecs, is using a Texas Instruments (TI's) 66AK2G02 DSP + ARM System on Chip (SoC) to transform the consumers' audio experience. The solution is integrated in Fraunhofer's new MPEG-H enabled immersive soundbar and audio video receiver (AVR) reference design, allowing convenient delivery of 3D sound into consumers' homes, bringing audio quality to new levels.
In Spring 2017, the MPEG-H TV Audio system will officially be on the air in South Korea's new terrestrial UHD TV system based on ATSC 3.0. MPEG-H, now also part of the DVB standard, is intended to push television broadcasting globally to new heights with its interactive, immersive features, and universal delivery to a multitude of consumer devices. MPEG-H audio was also confirmed to be part of the next generation of DVB standards to support 4K UHDTV,
as confirmed by the Digital Video Broadcasting (DVB) consortium in November 2016
.
In an effort to make the AVR reference design available to original equipment manufacturers, Fraunhofer is implementing MPEG-H and Fraunhofer's 3D soundbar processing technology on TI's 66AK2G02 SoC, an industry-leading platform for AVRs and soundbars.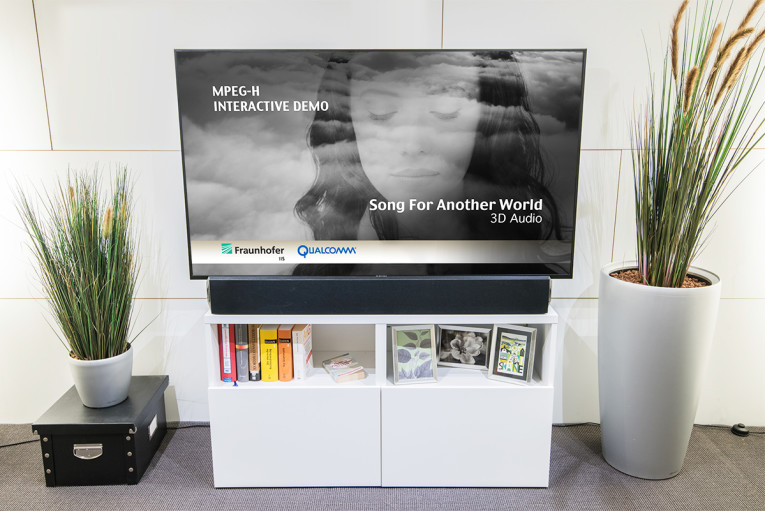 The advanced capabilities of the MPEG-H system enable the delivery of streaming and television audio content at comparably low bit rates, which provides a cost-effective benefit for broadcasters and streaming services. But, more importantly, for consumers, the MPEG-H system adds 3D audio components to deliver a truly immersive experience; enables consumers to adjust the sound mix to their preferences (e.g. choosing between different commentators in a sporting event, or to adjust dialogue volume to suit personal preferences); and provides Universal Delivery, allowing to tailor playback to sound best on a range of devices and environments.
"Our 66AK2G02 SoC featuring ARM Cortex-A15 core and C66x DSP is a great balance and match for the feature-rich MPEG-H system. Leveraging TI's Processor SDK based framework for audio, Fraunhofer is able to bring up MPEG-H and Fraunhofer 3D soundbar processing technology on the platform quickly," says John Smrstik, marketing manager, TI processors. "Our 66AK2G02 SoC is well positioned for 3D audio applications found in soundbars and AV receivers where performance, flexibility and ease of development need to be top of mind."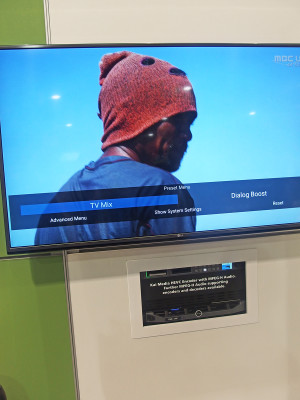 "The combination of MPEG-H and our soundbar processing in one device brings true immersive sound conveniently into the living room. This will support manufacturers with making MPEG-H enabled devices widely available," says Jan Nordmann, Senior Director, New Media at Fraunhofer USA Digital Media Technologies.
At CES 2017, together with the MPEG-H solutions, Fraunhofer IIS was also demonstrating technologies such as Fraunhofer Cingo for virtual surround sound, Fraunhofer Symphoria for automotive 3D audio, and AAC-ELD and EVS for telephone calls with CD-like audio quality.
MPEG-H Trademark
In preparation for the start of the world's first TV broadcast services with next-generation audio features – South Korea's new MPEG-H-based ATSC 3.0 broadcast channels scheduled to go on the air in February – Fraunhofer IIS has developed a trademark program for products incorporating its MPEG-H TV Audio System.
Consumer products such as TVs, soundbars, audio-video receivers, set-top boxes, digital media adapters, or mobile apps and devices may display the trademark to indicate that they have been tested to work together and support the features of the MPEG-H system used for TV broadcasts.
The Telecommunications Technology Association of South Korea (
www.tta.or.kr
) will become the first authorized test center under the program. The test centers will verify that new products meet the program specifications and are qualified to bear the trademark after internal testing by manufacturers using the program's tools.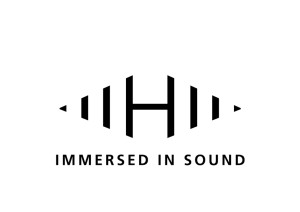 The MPEG-H TV Audio System provides immersive sound and the ability for the consumer to personalize the audio mix. Broadcasts include information about mix adjustments that are presented to consumers in a control interface on their viewing devices. To that end, implementing a next-generation audio codec now requires close cooperation of a manufacturer's audio engineers, its experts handling user interfaces, and those responsible for HDMI and other connections to work together to display this information and process consumer selections.
"We are offering this program to the industry as a way to test that products have implemented the MPEG-H TV Audio system successfully despite the broader scope of work required," explains Robert Bleidt, Division General Manager at Fraunhofer USA. "Given the industry's desire to have TV sets in Korean consumers' homes in time for the Olympics next year, production schedules are tight. Our program will help manufacturers meet their deadlines and help consumers purchase products that will work together to watch the new MPEG-H broadcasts," he added.
Fraunhofer will offer an online listing of trademarked products and provide consumer education about connecting and using products with the MPEG-H TV Audio System. The program is voluntary and offered under a no-fee license from Fraunhofer. End-product hardware and software manufacturers may learn more about the program by contacting Fraunhofer
using this email
.
www.iis.fraunhofer.de/audio