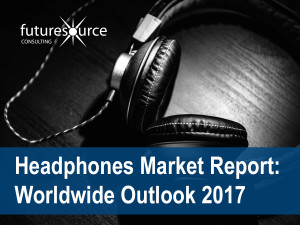 The overall market for headphones is mature in terms of units, but there are pockets of significant growth. Demand for wireless headphones continues to energize the global market driving up sales, increasing prices and fueling innovation of smart features. Sales of wireless headphones have accelerated rapidly this year and are on track to reach $9.5 billion, up 83% on 2016. These are some of the finds detailed by Futuresource Consulting in its latest Headphones Market Report: Worldwide Outlook.
The worldwide headphones aftermarket is expected to grow 4% to reach 363 million units in 2017, whilst retail value is anticipated to grow much more at 19% to generate revenues worth $15.5bn. The emergence of true wireless and wireless neckbands form factors support consumers' lifestyle needs as use cases for headphones have expanded beyond simple music listening to other applications including watching videos, taking/ making calls, accessing voice assistants, navigation purposes and during commute or sport use.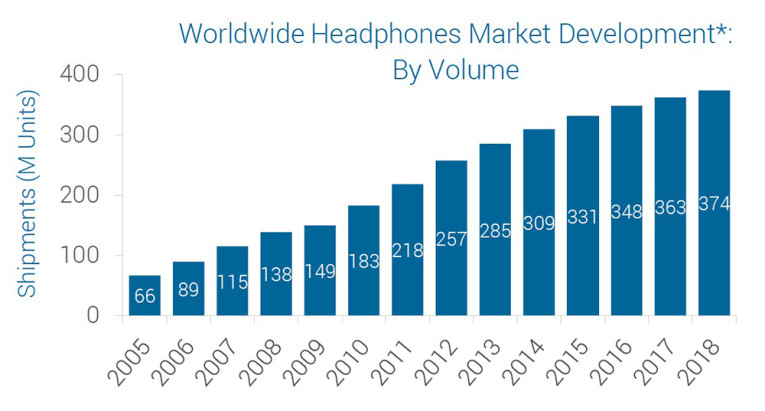 The enthusiasm for wireless among consumers is also driving sales of headphones with features such as adaptive noise cancelling, integration of voice assistants and addition of smart user interfaces, e.g- proximity and swipe controls.
By 2021, adaptive noise-cancelling is expected to account for 28% of noise-cancelling as headphones for live translation and hearing aids become more popular and more brands enter the space. True Wireless is expected to reach 10.2m units in 2017, accounting for 8% of wireless segment; Apple cornered the market with AirPods in H1 2017 having 87% share in units and 3.3m units shipped. Convenience and ease of use in wireless continued to drive growth for other features; wireless sport grew 95%, whilst wireless noise-cancelling grew 79% in H1 2017.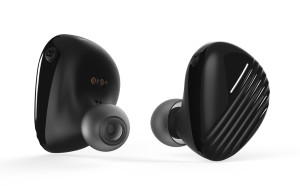 The ease of integration and low cost of proximity sensors has helped these to form the largest segment in smart features this year, available in Apple AirPods and products from Bragi, Pioneer and Plantronics. Access to Voice Personal Assistant in headphones is also gaining momentum, with new products from Bose, Samsung and Bragi launching in Q4 2017.
The report reveals that another interesting area for future development is being pioneered by companies including Jabra and GN Hearing. Both are leveraging their knowledge and experience in the audio and hearing aids industries to develop products that might appeal to the large population of hearing impaired consumers.
"All of these new features stem from the developments in wireless technology," explains Futuresource analyst and report author Zlata Jelisejeva. "They improve the listening experience for consumers and help to reduce dependence on the smartphone for simple controls such as pause and play of music or adjusting volume. When headphones can be connected to smart watches, the need for carrying a smartphone will reduce even further."
A challenge for manufacturers is to create products that satisfy consumers' growing needs with simple designs to ensure that user experience is not compromised, without duplicating the functionality of smartphones.
The Worldwide Headphones Market Report supplies comprehensive market data for 2015 and forecasts until 2021 and is now available on the Futuresource report portal. To request more information
send an email
.
www.futuresource-consulting.com