Oscium announced the iMSO-204x, that transforms a smartphone, tablet or computer into a mixed signal oscilloscope. This is the first Oscium solution with universal platform support (iOS, Android, PC, Mac). Recognized for the flexibility to work with touch-screen interfaces, Oscium's oscilloscopes have traditionally worked with iOS only but with this new product the company is adding also support for Android, PC and Mac platforms, expanding its appeal on any workbench.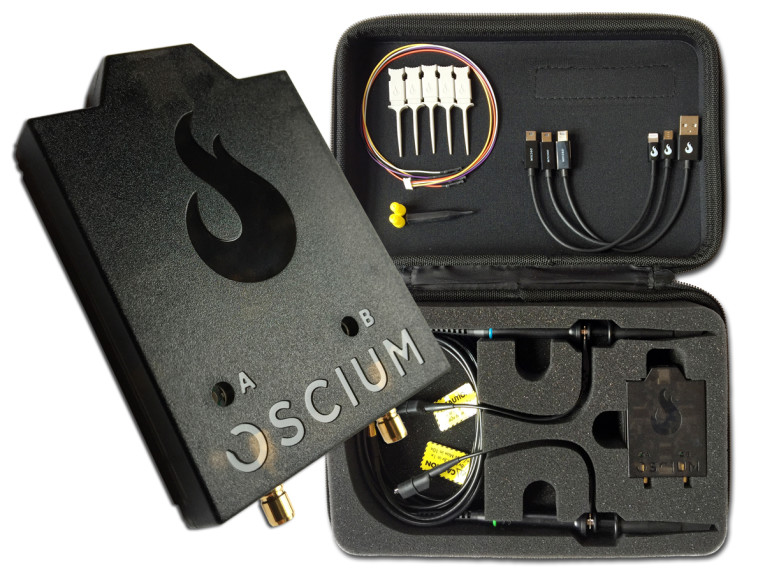 Oscium revolutionized test and measurement with the introduction of the first capacitive touchscreen oscilloscope. The company designs innovative test equipment accessories that connect to a smartphone or tablet transforming the host device into a portable troubleshooting tool for field technicians. Now Oscium continues to make waves not just in user experience but in platform access. The new universal platform iMSO-204x supports 2 Analog plus 4 Digital Channels, up to 50 MSPS sample rate and is perfectly portable and easy to use.
"The transition to cross platform delivers what the marketplace wants. And that is, a universal oscilloscope that works with the platform of your choice," Matt Lee, co-founder of Oscium, says
iMSO-204x hardware can be purchased for $399.97 from Oscium directly or from one of the company's resellers. iMSO software is free to download, regardless of platform. Free software apps for smartphones and tablets are downloaded on either Google Play or in the Apple App Store. There are no software license fees or limit to the number of hosts that can have the software.
Inside the iMSO-204x Oscilloscope package, Oscium includes the main hardware device that connects via USB, using Mini-B to Lightning, Mini-B to Micro-B, and Mini-B to USB A connectors, two 1x/10x analog probes, screwdriver, four analog tip covers, logic harness (4 digital + 1 ground), and SMD grabbers (5 pieces).
Active in the market since 2010, Oscium currently offers also the LogiScope (logic analyzer), iMSO-204x and iMSO-104 (handheld oscilloscopes), WiPry-Pro Combo (combination spectrum analyzer & dynamic power meter) and the amazing WiPry 5x WiFi Spectrum Analyzer (2.4 & 5 GHz) with cross platform support.
www.oscium.com/oscilloscopes/imso-204